Tuesday Tidbits
Network NOVA
Tuesday, January 4, 2022
Dear Friends,
Happy New Year! It's "opportunity time" with the start of a new year, new maps, new legislators, and new challenges. I hope you took time to replenish your reserves as we continue our fights for Democracy and Truth. In today's Tidbits, you will find important conversations Tuesday morning and evening, as well as a full day of important and constructive actions to Take Back January 6th! I'll check in with the BADASS Briefings on Thursday. If you have events and action items to reach our goals of Democracy and Truth, please forward!
Thank you.
Onward warriors,
Stair
PS: Don't forget to register for the Friday Power Lunch 2022 Kickoff to Paving a Way Forward, January 7, 2022: www.tinyurl.com/FPL-2022
Tuesday January 4th, 11 am – Press Conference on Campaign Finance Reform Recent polling by the Wason Center on Virginia voters' perceptions on the need for campaign finance reform and a review of campaign finance bills which will be introduced in the next General Assembly will be presented.Organized by the VA Chapter of American Promise (MoneyOutVA) and VAOurWay, and joined by Shruti Shah, President and CEO of the Coalition for Integrity. Shruti will provide a brief overview of Virginia's campaign finance system.Start off advocacy in the new year with a bang! Register here.
---
Register here
On January 6, a faction of elected officials turned their backs on America by inciting armed right-wing militants to attack our Capitol and then tried to block an investigation to cover up their role in this violence. So this January 6, exactly one year later, Americans across race, place, party, and background all across the country are holding candlelight vigils to say: We are the UNITED States of America. We can never let this happen again. Join DemCast in getting this message out here, NOW!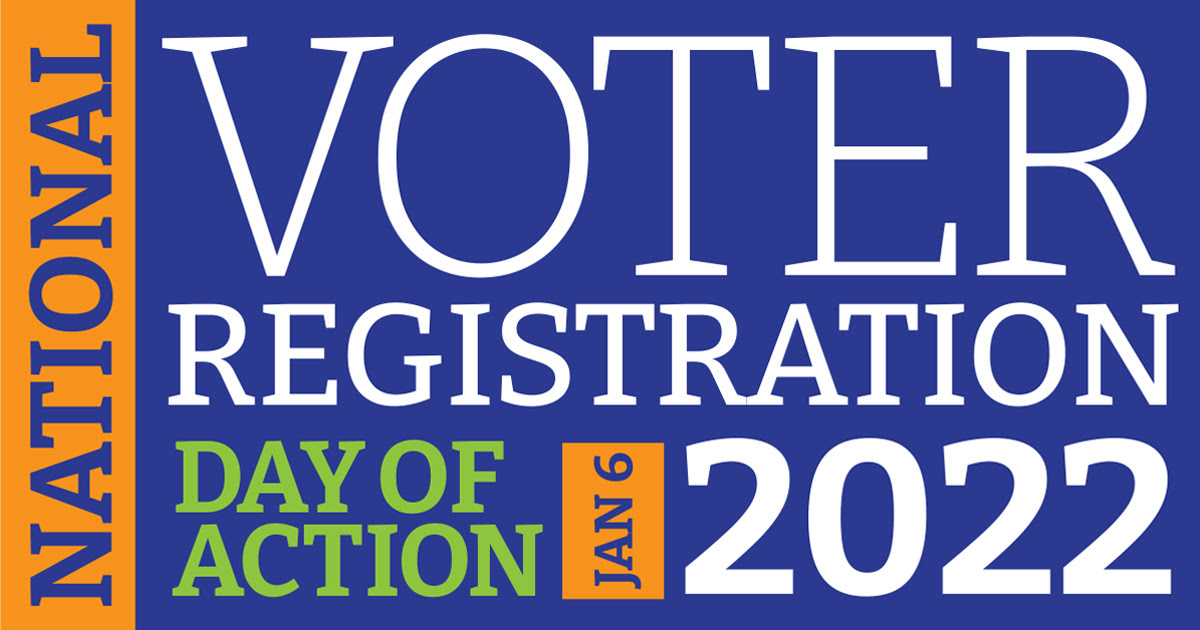 JANUARY 6 VOTER REGISTRATION DAY OF ACTION with National Voter Registration Roundtable, including Field Team 6, Women's March Action, Activate America, Center for Common Ground, Sister District, They See Blue, Register Her, Southwest Voter Project, The Civics Center, and many others working in coalition. Thursday, January 6, 2022: 2pm – 3pm ET special Social Storm -#RegisterDemocrats…all from the comfort of your social media accounts!Thursday, January 6, 2022: 5-6pm ET Postcarding Party – learn everything you need to know about voter registration outreach through postcards.
End Citizens United / Let America VoteJanuary 6, 2022; 3pmET Sign UpJoin Joan's Democracy Cafe Phone Banks for voting rights with ECU/LAV
Marking the Anniversary, Fighting the LiesCall to ActionJanuary. 6, 2022, at 7pm ETOn January 6, 2022, Defenders of Democracy Against Disinformation, Hear Yourself Think, and many other co-sponsoring grassroots groups invite you to mark the one-year anniversary of the attack on the Capitol and take action to protect our democracy from attacks to come. The focus will be on countering one of the most significant sources of the disinformation that created the conditions for the Jan. 6 attack. Highlights: Begins on Jan. 6, 2022, at 7pm ET — when, in 2021, Facebook closed Donald Trump's account.Keynote video from Congressman Jamie Raskin (MD), manager of the 2nd Trump impeachment and member of the House Select Committee on Jan. 6.Breakout sessions with live training on actions to reduce the normalization and revenue of Fox News.Concludes at 8pm ET — when, in 2021, the Capitol Police declared the Capitol secure. To register, sign up here.
---
DemCast is an advocacy-based 501(c)4 nonprofit. We have made the decision to build a media site free of outside influence. There are no ads. We do not get paid for clicks. If you appreciate our content, please consider a small monthly donation.
---