It is time for change as we redistrict, reorganize and take a good look at the work ahead. Opportunities abound. The Friday Power Lunch returns this week with a great show about Living, Learning and Bringing about Change. Hope to see you there. 
Sincerely, Stair
---
Friday Power Lunch Living, Learning & Creating Change in Real Time
12/03/2021, NOON Register here
As we continue to dissect, analyze, and evaluate the lessons to be learned from the 2021 election, we can't lose sight of the events and actions that need our immediate attention. Our guests this week will help us jump right into today's hot topics.

Josh Stanfield (Political Strategist) will give us an update on the federal lawsuit challenging the constitutionality of running this year's House elections under a decade-old, Republican-gerrymandered map and what that means for 2022 elections.

One group that is looking to make change in 2022 is the Virginia Young Democrats. We'll hear from three women on the Executive Committee who are ready to shake things up: Maureen Coffey (President), Denver Supinger (National Committee Representative) and Camila Alfonzo Meza (Latino Caucus).

Kay Ferguson (ARTivism Virginia) will tell us about the Violation Vigil Project, where over 15 groups have come together to bring awareness to the 350+ violations by the Mountain Valley Pipeline through visual and aural representations. This collective artivism campaign will culminate with a Violation Vigil in Richmond on December 11 at 1pm.

We will end the show with a conversation with Shannon Downey (Badass Cross Stitch). Shannon spent 2021 traveling the nation in an RV talking activism and bringing her brand of badass craftivism to towns across the country during the pandemic. Shannon will share her badassary observations as she embarks on her 2022 craftivism tour that kicks off in Richmond this weekend.

#CreatingChange – #ARTivism – #noMVP – #ViolationVigilPlease: Share our Facebook Post – Amplify our Tweet – Love our Instagram
---
Catholic Sisters Against Title 42
Friday, December 3 9:45 AM ET – Lafayette Square, Washington, D.C.
Catholic Sisters and justice-seekers are delivering a message to President Biden in front of the White House: End the Misuse of Title 42. Sisters and immigrant-led organizations will share stories and encounters from the border. Join in prayer and act for justice for our migrant siblings.
*Please wear a mask and practice social distancing*
---
Latkepalooza is back! Get your tickets here!
Sunday, December 5th 3:30 – 5pm ET – Clare & Don's Beach Shack
Join Marcus and Rachel Simon for their annual event – the latkes and sufganiyot are calling!
---
Virginia Statewide Summit on Racial Equity
Tuesday, December 7 8:30 am – 12pm ET – Virtual
Sign up here.
Join stakeholders from across the state to hear stories that illustrate racial equity programming at work.
---
Pressing Forward
Thursday, December 9 7pm – Virtual
Register here
The change in Virginia's lawmakers from the recent election brings much uncertainty. What's next for our priorities? Join Charlottesville NOW to hear from Senator Jennifer McClellan, Delegate Hala Ayala, and Delegate Sally Hudson as we chart a path forward.
---
Join the Violation Vigil Project
Call to Action: Stop the Violence caused by the Mountain Valley Pipeline
Let's work together now in a creative manner to reject MVP's request for a new 401 Water Quality Certification from Virginia.
Register for the Violation Vigil Project here.
After registering, you will be assigned one of the 350+ violations that Mountain Valley Pipeline has committed in Virginia against our water ways. The visual interpretation of the violation, a large poster, will be provided to you. These images will be part of the visuals for an in-person rally on December 11, 2021 in Richmond, VA. You will bring your sign with you to Richmond that day for the event – which lasts from 1-4pm. You will receive more details and updates will be available after registration.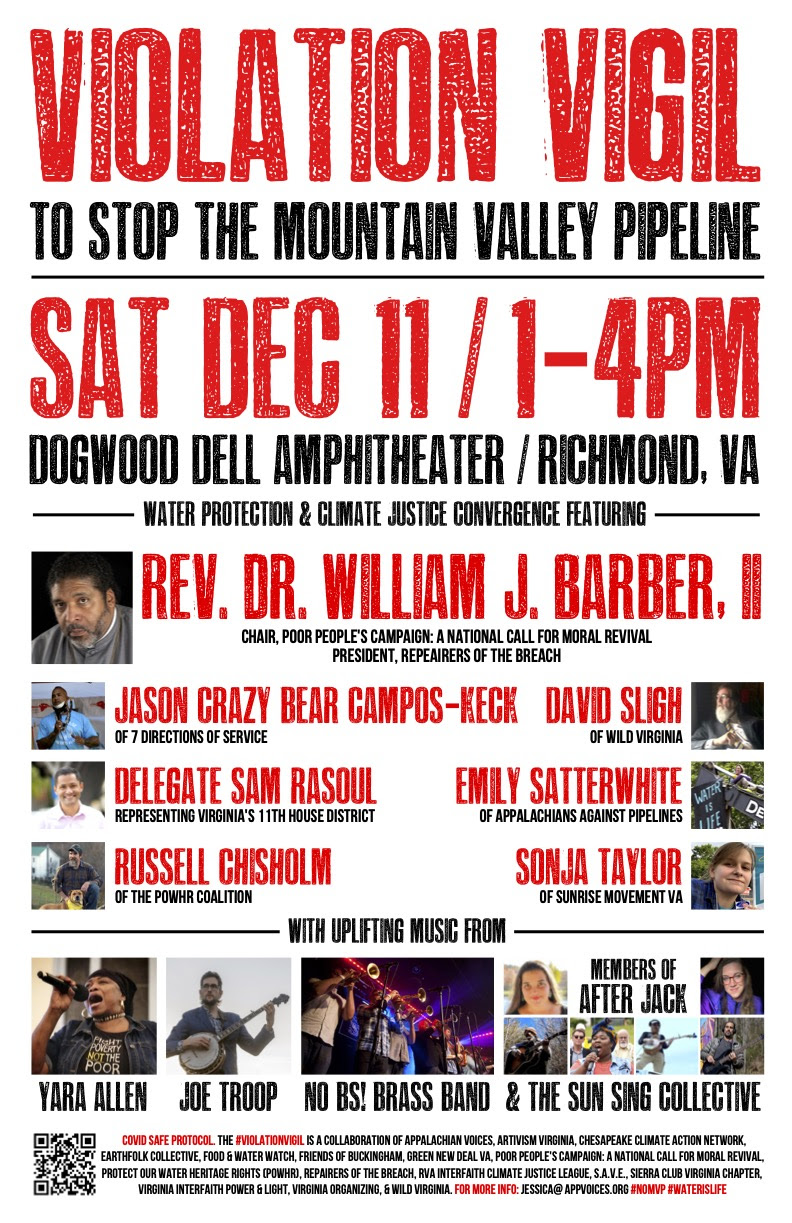 Join and share the Facebook Event here.

Gather in Richmond on December 11, 1pm with fabulous speakers and musicians. Dogwood Dell Amphitheater – Byrd Park – 600 South Boulevard
Speakers:
Rev. Dr. William J. Barber II – the Poor People's Campaign & Repairers of the Breach
Jason Campos-Keck – 7 Directions of Service
VA Delegate Sam Rasoul
David Sligh – Wild Virginia
Sonya Taylor – Sunrise VA
Emily Satterwhite – the POWHR Coalition
Russell Chisholm – the POWHR Coalition

Musicians:
Yara Allen
No BS! Brass Band
Joe Troop
Members of the SUN SiNG Collective & of After Jack
Collaborators:
7 Directions of Service
Appalachian Voices
ARTivism Virginia
Chesapeake Climate Action Network
Earthfolk Collective
Food & Water Watch
Friends of Buckingham
Green New Deal VA
POWHR Coalition
Richmond Interfaith Climate Justice League
S.A.V.E.
Sierra Club Virginia
Virginia Interfaith Power & Light
Virginia Organizing
Wild Virginia
---
Virginia Grassroots Coalition Meeting
Sunday, December 12, 4:00pm
---
Supporting Rural Democrats: Creative Solutions Strategy Session
Tuesday, December 14th, 6:30pm – 8:00pm
The Rural Caucus of the Democratic Party of Virginia, Together Virginia, and Rural GroundGame invite you to our virtual event. We are grateful to be joined by a number of Special Guests including Senator Tim Kaine, Representative Abigail Spanberger, and Representative Don Beyer.
We welcome your feedback and suggestions before this event and look forward to seeing you and anyone in your network who is committed to advancing and improving the presence of Democrats in rural communities. To fill out our survey beforehand, please go to bit.ly/3IbfQlQ.
---
---
DemCast is an advocacy-based 501(c)4 nonprofit. We have made the decision to build a media site free of outside influence. There are no ads. We do not get paid for clicks. If you appreciate our content, please consider a small monthly donation.
---