Thanksgiving vacation now seems like now a distant memory as this week is already jam packed with important events from organizing around the attack on school boards to protecting Virginia's air and water. Also, the Friday Power Lunch returns this week.

Hope to see you in community, Stair
---
Call to Action in Fairfax
Hip Hip Hooray for our School Board Today!
The group supporting removal of the books which Fairfax County Public Schools recently returned to its libraries (following review by two committees that found the books were appropriate for juvenile readers) is organizing a rally before the School Board meeting this Thursday to protest the FCPS decision to reinstate the two books.
Please SIGN this petition, join us on Thursday at the meeting and forward to all in Fairfax County.
---
Starbucks Superstars
Wednesday, December 1 10am – Barcroft Plaza Starbucks
Starbucks Superstars will be meeting WEDNESDAYS 10-12pm at Barcroft Starbucks for December. We will be designing, strategizing and writing.
Please sign up.
---
Support the Student Advocacy Fellowship Program
Wednesday, December 1 6:30 PM Virtual House
Join Susan Dykstra, Jane Materna, and Susan Feit for a virtual house-party to support and celebrate the Student Advocacy Fellows. We will hear about past fellows' experience in NARAL Pro-Choice Virginia's "Rise Up for Repro" Student Advocacy Fellowship and highlight some of their capstone projects!
Register here.
---
NO NEW FOSSIL FUELS
Wednesday, December 1 7pm ET – Virtual
Join CCan for a discussion on the disproportionate impacts building of pipelines has on frontline communities and how you can help stop a pipeline.
Atlantic Coast Pipeline, The Mountain Valley Pipeline and Chickahominy Pipeline will be discussed. More important information and to register here.
---
Catholic Sisters Against Title 42
Friday, December 3 9:45 AM ET – Lafayette Square, Washington, D.C.
Catholic Sisters and justice-seekers are delivering a message to President Biden in front of the White House: End the Misuse of Title 42. Sisters and immigrant-led organizations will share stories and encounters from the border.Join in prayer and act for justice for our migrant siblings.
*Please wear a mask and practice social distancing*
---
Friday Power Lunch
Friday, December 3, noon
This week we will be welcoming and having conversations with
Officers from the Virginia Young Democrats: Maureen Coffey, Camila Alfonzo Meza, and Denver Supinger about their plans for 2022
Josh Stanfield (Activate Virginia) about the federal lawsuit challenging the constitutionality of running this year's House elections under a decade-old, Republican-gerrymandered map.
Kay Ferguson, (ARTivism Virginia) will explain the Violation Vigil Project, a full coalition (15+ groups) artivism campaign,with poignant, visual and aural representation of the over 350 violations caused by the MVP illustrating that NO "Reasonable Assurance" & NO Past "Compliance" leads to NO MVP. with its many actions. There will be a gathering in Richmond. December 11, 1pm with fabulous speakers and musicians.
Shannon Downey, (Badass Cross Stitch), will discuss her tour and encourage craftivists to join her in Richmond this weekend.
Please register
---
Latkepalooza is back! 
Sunday, December 5th 3:30 – 5pm ET – Clare & Don's Beach Shack
Get your tickets here!
Join Marcus and Rachel Simon for their annual event – the latkes and sufganiyot are calling!
---
Virginia Statewide Summit on Racial Equity
Tuesday, December 7 8:30 am – 12pm ET – Virtual
Sign up here.
Join stakeholders from across the state to hear stories that illustrate racial equity programming at work.
---
Call to Action: Stop the Violence caused by the Mountain Valley Pipeline
Join the Violation Vigil Project
Let's work together now in a creative manner to reject MVP's request for a new 401 Water Quality Certification from Virginia. 2021covers a few upcoming events. One I want to single out is the Violation Vigil Project with its many actions. This is a full coalition artivism campaign with poignant, visual and aural representation of the over 350 violations caused by the MVP illustrating that NO "Reasonable Assurance" & NO Past "Compliance" leads to NO MVP.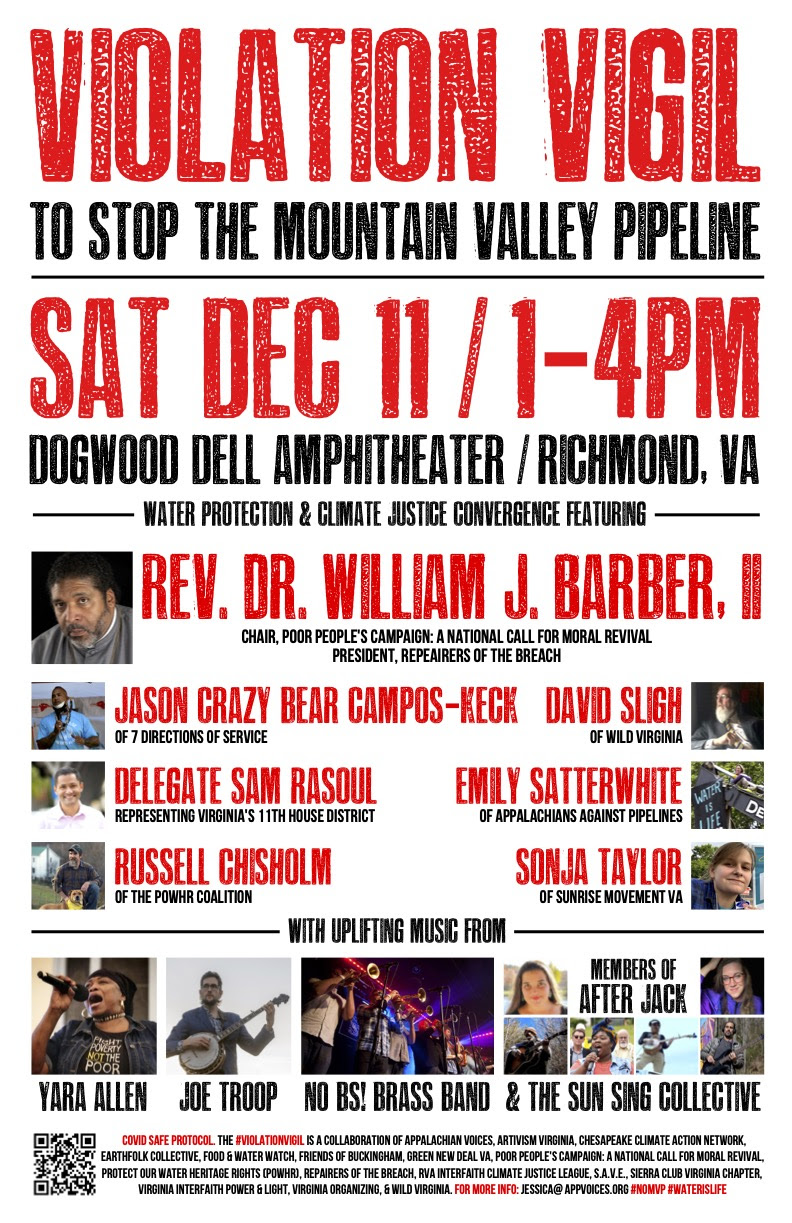 Register for the Violation Vigil Project here.
After registering, you will be assigned one of the 350+ violations that Mountain Valley Pipeline has committed in Virginia against our water ways. The visual interpretation of the violation, a large poster, will be provided to you. These images will be part of the visuals for an in-person rally on December 11, 2021 in Richmond, VA. You will bring your sign with you to Richmond that day for the event – which lasts from 1-4pm. You will receive more details and updates will be available after registration.

Join and share the Facebook Event here.

Gather in Richmond on December 11, 1pm with fabulous speakers and musicians.
Dogwood Dell Amphitheater – Byrd Park – 600 South Boulevard
Speakers:
Rev. Dr. William J. Barber II – the Poor People's Campaign & Repairers of the Breach
Jason Campos-Keck – 7 Directions of Service
VA Delegate Sam Rasoul
David Sligh – Wild Virginia
Sonya Taylor – Sunrise VA
Emily Satterwhite – the POWHR Coalition
Russell Chisholm – the POWHR Coalition.
Musicians:
Yara Allen
No BS! Brass Band
Joe Troop
Members of the SUN SiNG Collective & of After Jack
Collaborators:
7 Directions of Service
Appalachian Voices
ARTivism Virginia
Chesapeake Climate Action Network
Earthfolk Collective
Food & Water Watch
Friends of Buckingham
Green New Deal VA
POWHR Coalition
Richmond Interfaith Climate Justice League
S.A.V.E.
Sierra Club Virginia
Virginia Interfaith Power & Light
Virginia Organizing
Wild Virginia
---
Virginia Grassroots Coalition Meeting
Sunday, December 12, 4:00 pm
---
DemCast is an advocacy-based 501(c)4 nonprofit. We have made the decision to build a media site free of outside influence. There are no ads. We do not get paid for clicks. If you appreciate our content, please consider a small monthly donation.
---