Friends,

As you know, we lost a champion of desegregation and equal rights last week. Linwood Holton, 61st Governor of Virginia.

Senator Tim Kaine joined Friday's Power Lunch and shared touching memories of his father-in-law and how Holton was an example of the importance of doing the right thing and it will come back around to you. Please enjoy.
I have always felt blessed to be friends with Linwood Holton and his family. My mother, Cynthia Stair Newman was Linwood's Ambassador of Buzz. Mom cruised the state for 6 weeks in a mobile home (the 'High Jinx') with the 3 statewide candidates' wives (imagine the stories), wore green and blue scarves with Linwood signature, Win with Lin was coined, and was instrumental in the then new slogan: "Virginia is for Lovers". Mom later served as Linwood's Secretary of State, 1970-74. Linwood Holton's work for Virginia was what my mother & Virginians embraced at the time.

As Senator Tim Kaine has said so eloquently: Linwood was our moral pillar and an early giant of civil rights. Virginia, let's remember Linwood, when we vote today: #WinWithLin & #KeepVABlue.

Sincerely,Stair
There is still an opportunity to share our Don't Texas Virginia/Grow VA Bluer Fundraiser with friends and family far and wide. Remind them that Virginia is the bellwether state and we have an opportunity to show the nation that the radical right has no place in our schools, boardrooms or courts.
---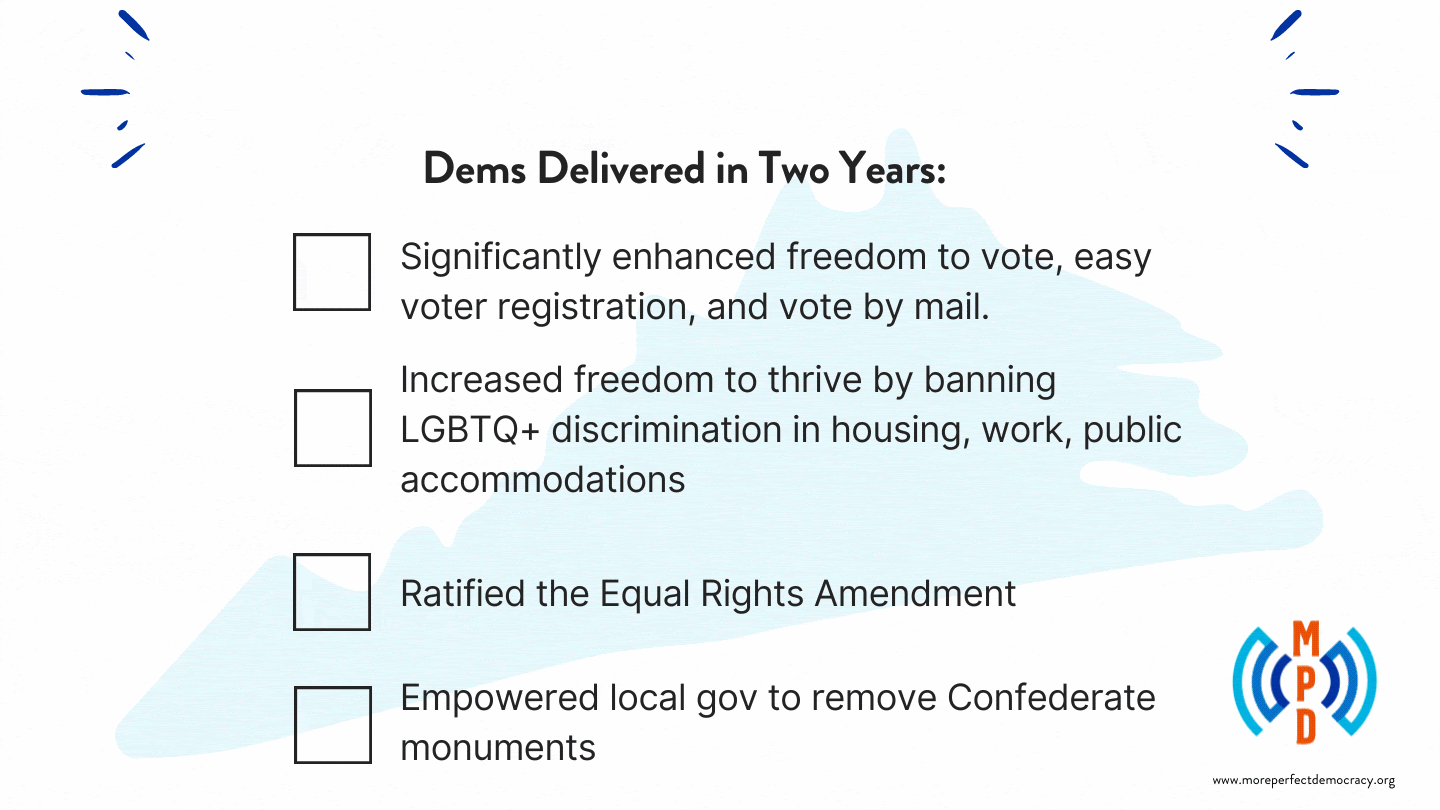 There is also time to amplify the positive messages about the good work Democrats have done in Virginia. Let's get out and own the airwaves!
Do what you do best!Work the polls, call friends, get on a phone bank, message and engage on Facebook or help with the tweeting below.
The first series below parallels Qasim Rashid's Twitter Thread.
Please use the hashtags, retweet, quote tweet, comment and
. Copy the hashtags and click on the tweet below – add a hashtag or a tag if you like.
Copy/Paste each of the following and tweet (tag and make comments as you like.)
Please use the #'s, retweet, quote tweet, comment and 
.
---
DemCast is an advocacy-based 501(c)4 nonprofit. We have made the decision to build a media site free of outside influence. There are no ads. We do not get paid for clicks. If you appreciate our content, please consider a small monthly donation.
---