Join Us at the Point – Wed Oct 13
We're better together! Join us this Wednesday at our October IC-South Side Social for a bonfire at the Point (Promontory Point).
Indivisible Chicago-South Side's October Social – this week!
Date: Wednesday, October 13th
Time: 5:30-8:00 pm. Join us for all – or part – of the evening.
Food: We'll have hot dogs, veggie dogs, and marshmallows for roasting. Feel free to bring other food and drink.
RSVP: We'd love to hear if you plan to attend – RSVP via email. However, you're welcome to just show up at the last minute.
---
THIS WEEK: Let's Send Our Reps a Message
HELP US SEND A MESSAGE to our Congressional Reps supporting the Build Back Better Act.

The Build Back Better Act will invest in climate action, lower drug prices, broaden Medicare, create a pathway to citizenship for millions, expand childcare, and so much more.  But corporate lobbyists and billionaires are fighting hard to dilute this legislation.

Every Democrat in Congress needs to stand firm against lobbyists and Republicans to make sure Build Back Better is passed ALONG WITH the bipartisan infrastructure bill.
Indivisible Chicago members will be going to our representatives' offices across Chicago on Thursday, October 14, to deliver this vital message in person. We'll also be sharing photos on social media and asking our members to call our representatives with the same message. Stay tuned for updates.
To ensure that our progressive goals will be met, our representatives must unify the votes on the Infrastructure bill and Build Back Better!
ACT: Join this important action, as we deliver this letter on Thursday (specific times being determined). Contact: Sarah Lincoln (sarahtlincoln@gmail.com) or Wendy Posner (wpaj@mac.com) to sign up and get driving details.
---
Meet Kina Collins – with Indiv Downtown!
Indivisible Downtown Chicago (formerly Indivisible Printers Row) invites us to meet Kina Collins, who is challenging longtime incumbent Congressman Danny Davis in Illinois's 7th district. Read all about Kina Collins, then meet her in person on the evening of Monday, October 18.
 
Event: Get to know Kina Collins, Candidate for Congress, IL-07
Date/Time: Monday, Oct. 18th, 7:00 p.m.
Place: Sociale restaurant, 800 S Clark St (Clark & Polk)
---
Phone Voters for Democracy
Join Sarah, Teri, Betsy, and others from our group in one of these weekly events. Connect to day-of training and constant friendly support via Zoom. All you need is your laptop and a phone.
Constituent calls count. The time is now — take that extra step to get voters to push their senators to save our democracy!
Tuesday:Phonebankto West Virginia voters – Joe Manchin territory – in support of the new bill, the Freedom to Vote Act. Tuesday, October 12th, 3:00 pm and every Tuesday at 3:00. Via Indivisible Chicago, in partnership with Common Cause. Learn more/Sign up
Wednesday:Phonebank to Arizona voters – Kyrsten Sinema Land – in support of the Freedom to Vote Act. October 13th, 5:00 pm and every Wednesday at 5:00. Via Indivisible Chicago, in partnership with Common Cause. Learn more/Sign up
Choose your day: If you can't make the above phonebanks, choose a Common Cause phonebank on another day! Learn more/Sign up.
---
 Letters, Postcards Get Out the Vote
Research shows that handwritten postcards and letters to voters are effective in getting out the vote (GOTV), and they can be a powerful tool for reaching the voters that we want to encourage.
Write to voters in one or all of these ways:
---
Register Voters on the South Side
ILVOTE invites Indivisible Chicago-South Side members to volunteer – find many opportunities to register, inform, and motivate voters!Join IC-SS member Julia Kline, who organizes many of these efforts with ILVOTE and Neighbors Who Vote. For South Side voter registration efforts, Get info/Sign up.
---
Twitter Town Hall for Voting Rights
Are you on Twitter? Use your social media to build support for the Freedom to Vote Act.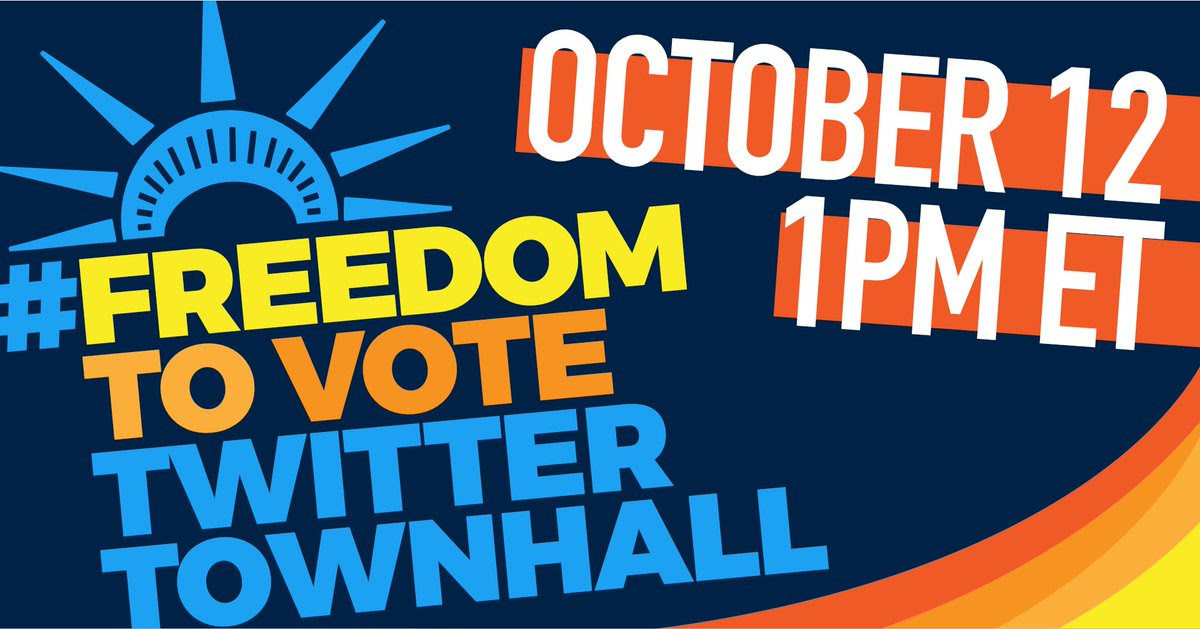 On Tuesday, October 12th at 12:00 noon CT, join the Declaration for American Democracy Coalition (DFAD) for a Twitter Town Hall on the new #FreedomToVoteAct! Follow along by searching #FreedomToVoteTownHall or on @DFADCoalition's timeline. Join state & national organizations and movement leaders on the front lines of the fight for voting rights.
---
Stay Informed on Voting Rights
Stay informed on the urgent need to strengthen and defend our democracy – including voting rights, fair elections, and counteracting the filibuster loophole as an obstacle. Check the IC-SS Democracy Doc – new resources weekly: websites, articles, podcasts, videos, and more.
 
---
Organizations & Opportunities
Indivisible Chicago-South Side shares information and action announcements from other organizations on issues important in our country, state, city, and communities.
---
March for Citizenship Now with ICIRR
From ICIRR: Illinois Coalition for Immigrant and Refugee Rights (ICIRR) members and dozens of other organizations from Illinois take to the streets on Tuesday, October 12 at 4pm as part of a national day of action.
This is the year for President Biden and Democrats in Congress to keep their promises by passing a pathway to citizenship, and stopping deportations NOW. On Tuesday, October 12 we will march to hold them accountable to the commitments they made to our communities!
LOCATION/TIME: Meet at Michigan Ave. and Ida B. Wells Dr. in downtown Chicago at 4:00 pm on Tues, Oct 12.
INFO: IMMIGRATION MARCH: It's time for Congress to deliver LEGALIZATION & CITIZENSHIP, NOW 
---
Policing in Chicago: Webinar on ECPS Ordinance
From the Community Renewal Society: Join Community Renewal Society for a virtual teach-in on the Empowering Communities for Public Safety (ECPS) Ordinance.
This ordinance will establish a civilian oversight body over the Chicago Police Department, which will help shape police policy. This new ordinance creates one of the most progressive police-government-community partnerships in the country. Learn more about ECPS and how you can get involved by attending our virtual teach-in this Thursday.
Date/Time: Thurs, Oct 14th, 6:00 pm. Get info/Sign up.
---
(Re)Imagine South Shore: Monthly Oct-Dec
From South Shore Works (to people who live and/or work in South Shore): The South Shore Chamber of Commerce, along with the Neighborhood Network Alliance and South Shore Works, looks forward to moving South Shore forward, as we push through changing times. We have looked at our assets and opportunities, vision, and will be talking through barriers, strategies, and actual actions to take next.
You can RSVP for all the upcoming [virtual/online] sessions, or just one or two of them – they will all build on one another, so it will always be a different focus for each meeting: Saturdays Oct 30, Nov 13, Dec 11. (One session was already held earlier this month.) Get info/Sign up.
---
White Nationalism in Illinois: View Recording
From Indivisible Illinois, Indivisible Rural IL, and partners:  Have you noticed that behind most Republican efforts these days is thinly veiled racism? In Illinois, we are just a hair's breadth from the ugliness that has taken over the legislatures of some other states. Unfortunately, many examples of white supremacy and KKK organizations are a sad part of Illinois history. And, disturbingly, it is very present right now in rural Illinois.
Last week, Indivisible Rural Illinois presented am eye-opening one-hour webinar, A Brief History of White Nationalism in Downstate Illinois. Watch the recording here (the program begins at about minute 7:40).
---
DemCast is an advocacy-based 501(c)4 nonprofit. We have made the decision to build a media site free of outside influence. There are no ads. We do not get paid for clicks. If you appreciate our content, please consider a small monthly donation.
---