IC-SS Weekly Update: Sept 6, 2021
Reflections: Rest and Act
Fires, floods, war, bounties, voter suppression.Every day, the news affects our soul. Meanwhile, we're living and working under the strain of a pandemic. We hope you've been taking a small respite this holiday weekend.
In the face of countless news developments, you may be reflecting on how you can make a difference – figuring out where you yourself can take action and have an impact.
Perhaps you'll step up activities you've already been doing. Maybe you'll try out a new activity – or try again with an activity you've avoided to see if it feels different this time.
Our nation is at a turning point for democracy. We the people must fight NOW for the right to choose our leaders and for the rights of all people to live safely and with dignity.
Join with Indivisible Chicago-South co-leaders and members in the actions we share. And please email us with other action ideas.
---
Stronger Together: IC-SS Socials
Thanks to the 18 folks (!) who attended our most recent Social and to all 32 people who've been at any of our summer events.
At our Aug 31 event, we wrote 30 postcards to Senators Durbin and Duckworth, imploring them to pass voting rights bills by removing the filibuster as an obstacle. We also ate, drank, discussed issues, and shared ideas for action.
SAVE THE DATE. Our next IC-South Side Social will be Thursday, September 23rd at 6:30 pm. More info in our next newsletter.
---
Postcards & Letters to Voters
Write letters or postcards to voters.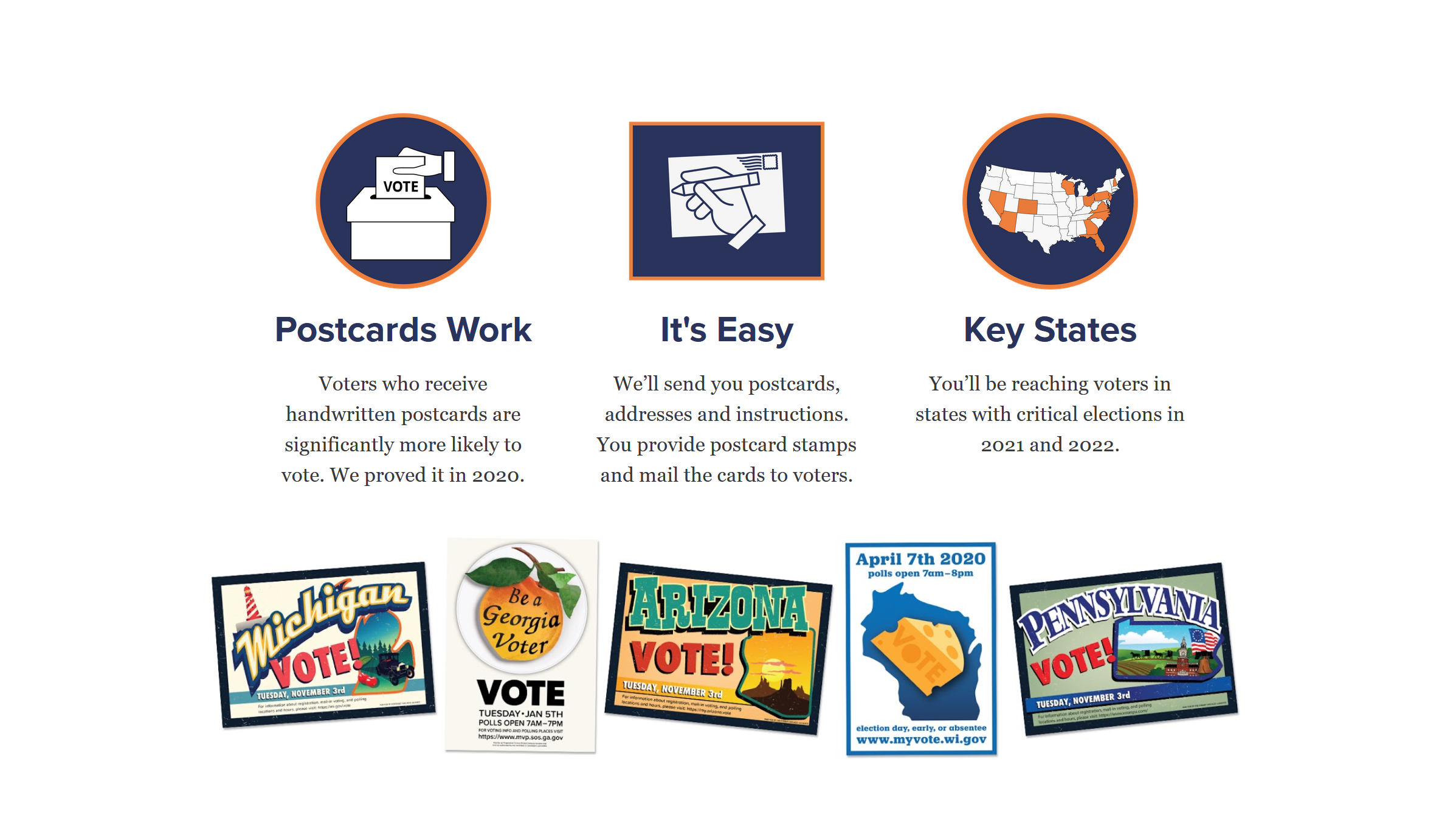 ---
A Special Kind of Phonebanking
Perhaps you phonebanked for candidates before the 2020 election… or earlier. But have you done patch-through phonebanking for an ISSUE, rather than a candidate?
Patch-through phonebanking is a great way to have an impact in other states – states that could be key to getting the Senate to pass democracy legislation. It's a different experience, and you may find you like it!
Sarah Speaks
Take a minute and listen to Indivisible Chicago-South Side Co-Leader Sarah Lincoln describe her experience with patch-through phonebanking to strengthen & defend our democracy.
Try It Out This Week – or Next!
Join Sarah Lincoln, Teri Watkins, Betsy Rubin, and other friendly faces from our group in one of these weekly events. You'll connect to day-of training and constant friendly support via Zoom. All you need is your laptop and a phone.
Tuesday:Phonebankto West Virginia voters in support of For the People Act. Tuesday, Sept 7th, 4:30 pm and every Tuesday. Get ALL the training & support on Zoom from Indivisible Chicago, in partnership with Common Cause. Learn more/Sign up
Wednesday:Phonebank to voters in various states in support of For the People Act. September 8th, 3:00 pm and every Wednesday with alternating start times at 3:00 pm or 5:00 pm. Get ALL the training & support on Zoom from Indivisible Chicago, in partnership with Common Cause. Learn more/Sign up
Choose your day: If you can't make Indivisible Chicago's phonebanks, choose a Common Cause phonebank on a different day of the week! Learn more/Sign up.
And of course, let's call our own "MoC"s!
One of the quickest, simplest, and most important things we can do for voting rights is to call our own members of Congress (MoCs) – our senators and our rep in the House. We're talking 5 minutes!
ACT: Check out these tips and scripts posted by citywide Indivisible Chicago last week: Get info/Make quick calls.
---
Help California Shut Down the Recall
Trump allies, QAnoners, conspiracy theorists, and anti-vaxxers have banded together to recall California's Democratic Governor, Gavin Newsom. The election to determine if he will be recalled, and if he is recalled who will become Governor of California, is on September 14th, and ballots are being mailed now.  
Progressives in California, including many Indivisible groups, are taking action to tell Californian voters what is at stake and to urge them to vote "No" on the recall. Now, they are asking for help from Indivisible members from across the country. Find YOUR way to help:
Phonebank with CA Dems to stop the recall. Get info/Sign up
Textbank with Movement Labs to stop the recall. Get info & training/Sign up
---
Register Voters with ILVOTE
IC-SS member Julia Kline, a leader with Neighbors Who Vote, organizes with ILVOTE, a certified state civic organization for voter registration. ILVOTE "works to increase voter awareness and promote voter turnout for every election at the federal, state and local levels." 
You Can Help: Volunteer
ILVOTE invites Indivisible Chicago-South Side members to volunteer – so many opportunities to register, inform, and motivate voters! For South Side voter registration efforts, Get info/Sign up.
---
Learn about Defending Democracy
 
  Get informed on the urgent need to strengthen and defend our democracy. Check the IC-SS Democracy Doc – new resources weekly: websites, articles, podcasts, videos, and more.
---
Organizations & Opportunities
Indivisible Chicago-South Side shares information and action announcements from other organizations on issues important in our country, state, city, and communities.

Submit a Comment to the Dept of the Interior
IC-SS member Ellie Hall shares this action:
For years, the US Department of the Interior has leased the right to extract fossil fuels on government lands to the oil, gas and coal industries. Now, the Department of the Interior is reviewing that policy and is accepting comments on the issue from the public. As the NRDC suggests, post a comment to the Department of the Interior and ask them to:
1. Make all federal public lands permanently ineligible for fossil-fuel leasing from now on. And allow no more permitting in Arctic wildlife habitats and natural treasures like Greater Chaco in New Mexico and Big Cypress National Preserve in the Florida Everglades.
2. Set the U.S. on the path toward ending all fossil fuel extraction on our public lands and ocean waters as swiftly and equitably as possible.
Post your comment to the Department of the Interior here.
—-
Additionally, you can swiftly send a letter to Interior Secretary Deborah Haaland, via the NRDC action page.
Help Elect Lauren Underwood
Rep Lauren Underwood, IL-14, has been a powerful voice in Congress and she is facing a very tight race in 2022. Help ensure she stays in office! Here are some ways to help:
Coming Up: Marie Newman Fundraisers
 Help re-elect Rep Marie Newman to Congress in IL-03.
Attend the SUPPORT MARIE NEWMAN FOR CONGRESS fundraiser on September 9.
When: Thursday, Sept. 9th, 5:00 pm
Where: Address provided upon RSVP
Attend the MARIE OUT LOUD fundraiser on September 14.
When: Tuesday, Sept. 14th, 6:00 pm
Where: Sidetrack, 3349 North Halsted
---
DemCast is an advocacy-based 501(c)4 nonprofit. We have made the decision to build a media site free of outside influence. There are no ads. We do not get paid for clicks. If you appreciate our content, please consider a small monthly donation.
---