July 10: Rally for Election Protection
You are needed in the fight for voting rights – we all are. Dozens of states are imposing restrictions on voting, often targeting Black and Brown communities. Last week, the Supreme Court upheld voting restrictions that disproportionately affect Black voters and other voters of color.
If passed by the Senate and signed by President Biden, the For the People Act (S1) would override most state-level voter suppression and would also end partisan gerrymandering. There are enough votes to pass S1 by a simple majority, but unless Senate Democrats do something about the filibuster, Republicans will use it to block the bill.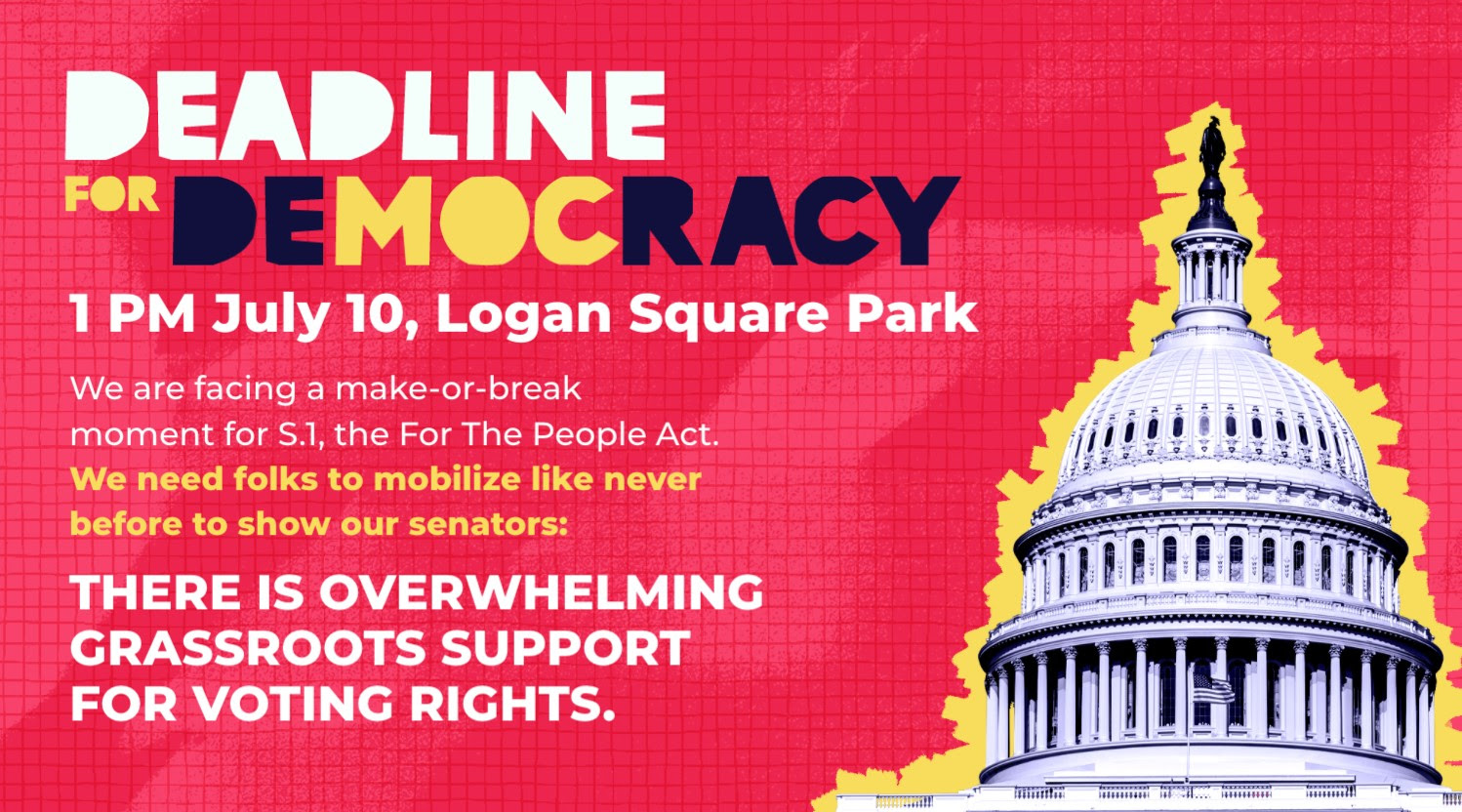 On Sat., July 10th, join us in the fight to defend and extend democracy in the U.S. – come to the Rally for Election Protection, organized by Indivisible Chicago and a coalition of organizations demanding the Senate pass S1, For the People Act.
Event: Rally for Election Protection, a Deadline for Democracy* event
Date/Time: Saturday, July 10th, 1:00 pm
Place: Logan Square Park, 3150 W. Logan Blvd., Chicago
Description: Speakers, performances, food trucks, tables with opportunities to act on the spot!
RSVP: Read more/Sign up
Let us know if you need help finding transportation or if you have any questions.
*Chicago's Rally for Election Protection is among hundreds of Deadline for Democracy events held nationwide during the Senate summer recess, with organizers including national Indivisible. The Chicago July 10 event is organized by Indivisible Chicago Alliance, ACLU of Illinois, and Activate: Chi.
ACT NOW to help promote the July 10 Rally for Election Protection and encourage a robust turnout to make an impact on our senators and inform the public. You can:
⬜ Talk about the event with family and friends – invite them to go with you! You can share this link with them: bit.ly/ElecProtecRally
⬜ Share the Facebook event & use the INVITE feature to invite your FB friends.
⬜ Tweet or quote-tweet this Indivisible Chicago tweet
---
Join us for Democracy: A Conversation
Part 1, July 15 – Online

Join Indivisible Chicago-South Side for a two-part online event, Democracy: A Conversation. Our aim: to contextualize the fight to pass the For the People Act and the John Lewis Voting Rights Act.
Part 1 – What's a Healthy Democracy?

Date: Thurs. July 15
Time: 7:30-8:30 pm (+ added time for discussion)
Special guest:Tom Ginsburg, Professor of International Law, Professor of Political Science at the University of Chicago
Topic: Professor Ginsburg will talk about what a healthy democracy should look like, how the current state of our democracy falls short, and what legislation currently being discussed will (and will not) do to help close the gap between the ideal and our reality.
Our moderator will be IC-SS Co-Leader Esther Peters, Associate Director of the Center for East European and Russian/Eurasian Studies at UChicago.
Part 2 – On the Ground: How Do We Get to Democracy?
Date and details TBA.
To register:
Register here for Part 1 of Democracy: A Conversation, to be held Thurs., July 15th, 7:30 pm. You'll receive the Zoom link as part of your confirmation.
What Will You Do This Week?
Join IC-South Side co-leaders & members in democracy activities.
Wednesday afternoon: Phonebank to voters in support of For the People Act. Wednesday, July 7th, 5:00 pm and every Wednesday with alternating start times at 3:00 pm or 5:00 pm. Get ALL the training & support on Zoom from Indivisible Chicago, in partnership with Common Cause. Learn more/Sign up
OR: Choose a Common Cause phonebank on a different day of the week! Learn more/Sign up.
---
Saturday: Come to Logan Square Park (3150 W Logan Blvd) for the Rally for Election Protection. Sat., July 10th, 1:00 pm. See top box in today's newsletter. Teri, Betsy, Esther, and Sarah will be there – will we see you too? Learn more/Sign up.
Postcards & Letters to Voters
📨 Write postcards or letters to voters.
---
Learn about Defending Democracy

Get informed on the urgent need to strengthen and defend our democracy. Check the IC-SS Democracy Doc – new resources weekly: websites, articles, podcasts, videos, and more.
---
Organizations & Opportunities
Indivisible Chicago-South Side shares information and action announcements from other organizations on issues important in our country, state, city, and communities.
---
Town Halls with IL State Rep Curtis Tarver, II
Illinois State Rep. Curtis Tarver, II has announced a series of town halls to be held outdoors this summer. All events are planned for Wednesdays from 6:00-7:00 pm outdoors – BYOC (bring your own chair). To confirm dates and locations, please phone Rep. Tarver's District Office at 773-363-8870.
July 7: Kennicott Park, 4434 S. Lake Park Ave.
July 14: Nichols Park, 1355 E. 53rd St.
July 21: Buckingham School, 9207 S. Phillips Ave.
July 28: Calumet Park, 9801 S. Avenue G
---
South Side Quiz #4: Test Yourself!
How did you do on last week's quiz? Try one more!
Can you find the following community areas, currently shown as blanks on the South Side map?
Ashburn
Avalon Park
Douglas
Garfield Ridge
Grand Blvd
Morgan Park
Near South
South Lawndale (Little Village)
---
Indivisible Chicago-South Side
Email: Indiv.Chi.South@gmail.com
Follow IC-SS on Facebook and Twitter
Co-Leaders: Sarah Lincoln, Esther Peters,
Betsy Rubin, Teri Watkins
About: Group & Co-Leader Statements
---
DemCast is an advocacy-based 501(c)4 nonprofit. We have made the decision to build a media site free of outside influence. There are no ads. We do not get paid for clicks. If you appreciate our content, please consider a small monthly donation.
---