Pause Misinformation
Social media connects people and helps build movements, but it can also spread misinformation. For World Social Media Day on June 30, use these GIFs to encourage everyone to pause before they share.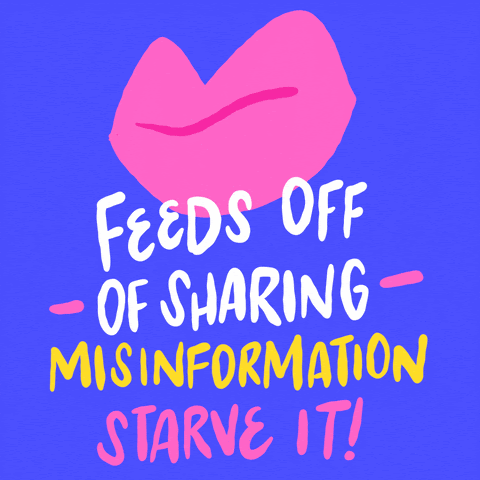 Forward this email?With 15,000 pieces of content and counting, we reach an audience of millions every day. But we can grow even more with your help. Can you forward this email to a friend? Let them know that we make great GIFs, free to use for the progressive movement — and all they need to do is sign up and start sharing.
Economic Justice In partnership with We Make the Future
With our partners at We Make the Future, we're working to reinstill hope in our democracy and counter cynicism and despair. Use these GIFs to help build a movement where everyone is safe and free, with a care system and economy that works for us all.
Celebrate Progress In partnership with Building Back Together
America is getting back on track. With shots in arms and checks in pockets, small businesses are reopening and Americans are headed back to work. Use these GIFs to celebrate the progress we've made, and recommit to doing what it takes to get all Americans everything we deserve.
Meet the Artist Jeremy Speed Schwartz
Jeremy Speed Schwartz is an award-winning animator and interactive artist based out of Atlanta.  As a founding member of the League of Imaginary Scientists, he has built systems to help people travel through wormholes, evolve into post-human cyborgs and converse with slime molds on Twitter. Find him on GIPHY: @jeremyspeedschwartz
We're all in on GIFs. But here's why:
Since you get these emails, you already know that GIFs are — like Joe Biden would say — a BFD. But did you know how big? We've launched a new dashboard to help you understand the power of GIFs, and why you should think they're as important to your organizing strategy as we do.

Check out our new Giflytics Brand Leaderboard to see a slice of how major organizations are building awareness in this channel and learn a bit about how powerful these little images can be.
---
DemCast is an advocacy-based 501(c)4 nonprofit. We have made the decision to build a media site free of outside influence. There are no ads. We do not get paid for clicks. If you appreciate our content, please consider a small monthly donation.
---