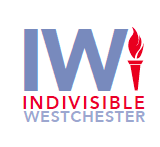 Postcard to West Virginia
We have 2000 postcards going to activists in West Virginia, asking them to contact Sen. Joe Manchin to support HR1, For the People Act, which would guarantee every citizens' right to vote and override the voter suppression laws being passed nationwide. 
Ban Hybrid Voting Machines
Click here for more information about the May 12th call rally and to add you name to the signup sheet. Time is running out – the legislative session ends soon.
Support Election Transparency
New York's State Senate is close to moving on two bills that will make a huge difference in election transparency. They also remedy an injustice that disqualified more than 13,800 New York ballots in the 2020 General Election.
Click here to email your state senator in support of these bills.
S284A would amend the Election Law to avoid disqualifying a registered voter's entire ballot solely because it was cast at a poll site in their county that is different from the voter's assigned polling place.
S286A would provide public access by request to ballot images within a short period after an election.
School Board Elections Matter
Vote in your local school board election on Tuesday, May 18th
Research the candidates for board positions
Do the research on your local school district elections and budgets. Please note that your primary residence must be in the district in order to vote in school board elections. Call the School District for absentee voting information.
Click here to register.
COVID Resources
Westchester County has plenty of vaccines on hand for those eligible for the vaccine.Gov. Cuomo says vaccines for 12-15 year olds could be available for kids 12-15 years old by this Thursday.Schedule an appointment here.View the Westchester County COVID dashboard here. The NYS COVID vaccination hotline is (833) NYS-4 VAX; (833) 697-4829. 
#Filibuster Fridays
Each Friday, activists across the county send social media messages to members of Congress to tell them why we must end the Filibuster! 
---
Our mailing address is:
Indivisible WestchesterPO Box 101Larchmont, NY 10538
---
DemCast is an advocacy-based 501(c)4 nonprofit. We have made the decision to build a media site free of outside influence. There are no ads. We do not get paid for clicks. If you appreciate our content, please consider a small monthly donation.
---