NEWS & UPDATES
Our next Community Conversation:
I'm Not Ok- Are You? Our Community's Mental Health Crisis. 
While there may be light at the end of the pandemic tunnel in the form of vaccines and treatments, the consequences of the pandemic and events of 2020 will linger indefinitely. One of the most concerning consequences is the growing mental health crisis facing our nation.
In addition to the fear of contracting the virus, 2020 was fraught with economic hardship, political turmoil, personal loss, and social isolation. The combined effect of these factors has taken an insidious toll on the mental health of our community.
This Community Conversation will discuss how the experience of 2020 may have affected us personally as well as our community at large. The discussion will provide tips on how to recognize when someone may need help, and resources to turn to for assistance. Panelists will talk about how we move beyond our desire for a "return to normalcy" to a place where we can better support the mental health of our community as a whole.
The one-hour discussion, moderated by Jennifer Webb (former member, FL House of Representatives) will include panelists: Barbara Daire (President/CEO, Suncoast Center, Inc.); LaDonna Butler (Founder, The Well for Life); and Carl Lavender (Chief Equity Officer, Foundation for a Healthy St. Petersburg)
Discussion will be followed by a 15-minute optional exercise designed to help attendees leave the session feeling relaxed and renewed.

Free to public. Please register in advance for this virtual event.

Register by clicking here.
---
Statewide Event:
Redistricting In Florida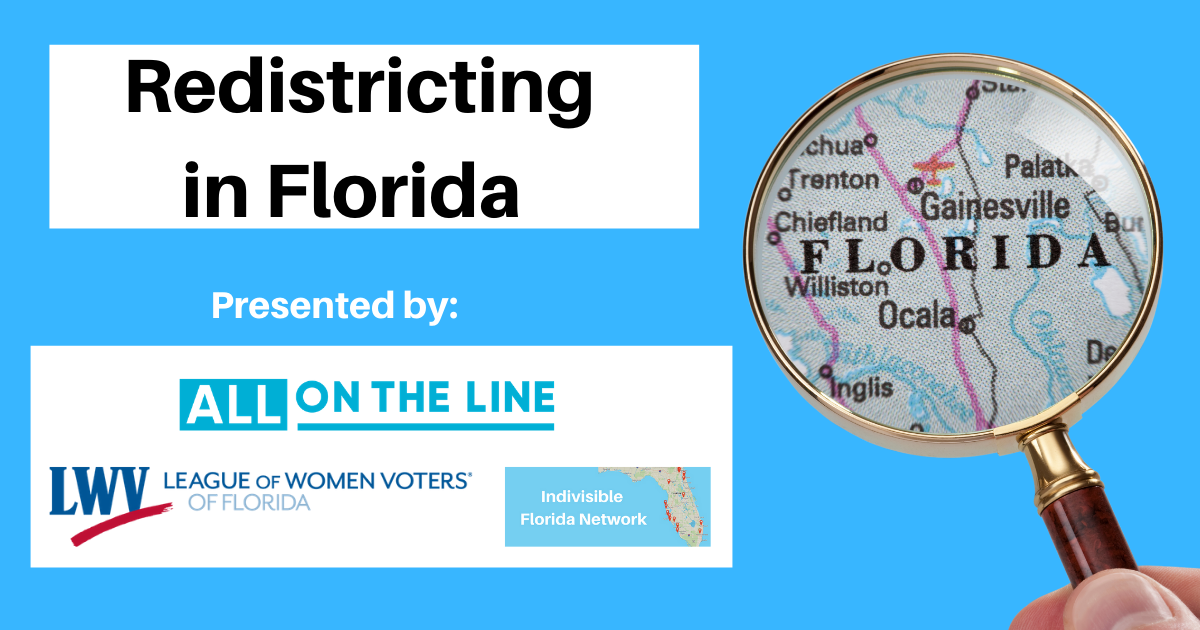 Thursday, May 13th 7pm to 8pm eastern
Via Zoom
In the last redistricting cycle, the Florida Legislature claimed to have the "most open and transparent redistricting ever." Yet after the cycle was over, and litigation of the new maps followed, it was clear that the process produced boundaries that allowed politicians to pick their voters.
The Florida Supreme Court ultimately overturned these intentional partisan gerrymanders and selected fair Senate and Congressional maps for the state. This violation of public trust cannot be repeated, which is why we need your help to demand a transparent and fair map-drawing process in 2022.
Join ALL ON THE LINE FLORIDA, LEAGUE OF WOMEN VOTERS, and the FLORIDA INDIVISIBLE NETWORK for a timely discussion of what we can do to prepare for redistricting and demanding a transparent and fair map drawing process for 2022.
Sign-up link:
https://www.mobilize.us/indivisiblefloridanetwork/event/383993/
---
Tropicana Field Redevelopment Plan
Indivisible FL-13 Co-organizer Scott Brown has written a summary of the proposals received by the City Of St. Petersburg in response to the City's Request For Proposals (RFP) for the redevelopment of the Tropicana Field site.
Scott's summary of proposals received.
Link to the City's Tropicana Field Site Redevelopment page.
Indivisible FL-13 is considering what our advocacy in the Tropicana Field site redevelopment should look like and we welcome any input. Please send input to Mike Thomas at mike.indivisiblefl13@gmail.com.
---
WEEKLY DEMONSTRATION AT SENATORS MARCO RUBIO AND RICK SCOTT'S TAMPA OFFICE
Demonstrators must wear masks and practice social distancing. Parking meters around the courthouse accept cash or credit cards. FMI on the Tuesday Demonstration and to get on John Stewart's excellent and informative mailing contact him at sjstew@gte.net or  (727) 894-2832.
 
Every Tuesday from 10:30-11:30 AM
Sam M. Gibbons U.S. Court House
801 N. Florida Ave.   Tampa, FL 33602
---
Indivisible FL-13 Contact Information:
Indivisible FL-13 is a member of the Indivisible Florida Network and the Pinellas Coalition For Immigration Justice.
Pinellas Coalition For Immigration Justice WebsitePinellas Coalition For Immigration Justice on FacebookIndivisible FL-13 WebsiteIndivisible FL-13 Facebook Group (lightly moderated)Indivisible FL-13 Facebook Page (official communications)Indivisible FL-13 on Twitter
Email Indivisible FL-13 at info@indivisiblefl13.com

Useful Tools:
Pinellas County Progressive Calendar

Resist Bot, fax your representatives via text message. Text RESIST to 50409

Fax your congressperson for free at FaxZero.com

Get action alerts from Countable.us

Register to vote, vote by mail!
Florida 13 Congressperson Phone Numbers:
Senator Marco Rubio (R):                DC (202)224-3041   Local (813)287-5035
Senator Rick Scott (R):                    DC (202) 224-5274 
Representative Charlie Crist (D):     DC (202) 225-5961  Local (888)205-5569
---
DemCast is an advocacy-based 501(c)4 nonprofit. We have made the decision to build a media site free of outside influence. There are no ads. We do not get paid for clicks. If you appreciate our content, please consider a small monthly donation.
---