Georgia Voter Suppression – Illustrated Edition
---

---
Now back to our regular programming.
This week's top Political Cartoons cover Georgia voter suppression bills, the George Floyd trial, Matt Gaetz and FOX conspiracy theories. Enjoy the cartoons individually, as a GIF or as a video.
Deepak
DemLabs
Georgia voter suppression
"Republicans passed and signed the 98-page voting law last week following the first Democratic victories in presidential and Senate elections in Georgia in a generation. President Biden won the state by just 11,779 votes out of nearly five million cast. The new law will, in particular, curtail ballot access for voters in booming urban and suburban counties, home to many Democrats. Another provision makes it a crime to offer water to voters waiting in lines, which tend to be longer in densely populated communities." – NY Times
---
George Floyd
---
Gaetz
"Rep. Matt Gaetz's communication director resigned abruptly Friday amid a storm of controversies that have hit the Florida Republican, including news of a federal investigation into an alleged sexual relationship with a teenage girl and potential violations of sex trafficking laws." – AZ Central
"Part of the investigation is examining whether Gaetz, 38, had sex with a 17-year-old and other underage girls and violated federal sex trafficking laws, sources told the AP, adding that federal agents suspect Greenberg may have enticed the girls and introduced some to Gaetz. Investigators are reported to be examining whether the two men had sex with the same girls. Among rare lawmakers to express support for Gaetz is the freshman Georgia representative Marjorie Taylor Greene, another rising figure propelled by media appearances and baseless conspiracy theories." – The Guardian
---
Pandemic
---
Fox
Fox host Laura Ingraham quote-tweeted an anti-vaccine activist to spread the conspiracy theory that Gates is helping fund vaccine research to enable "digitally tracking Americans' every move." On April 24, she pushed the same conspiracy theory on her show, saying Gates wants "a pretty vast mass surveillance system to be put in place" to fight the coronavirus.
Carlson said Democrats want a COVID-19 vaccine to be mandatory: "Their message is clear and has been from day one: 'COVID-19 is an imminent mortal threat to everyone in America, young and old, healthy and sick. A mandatory vaccine is our only hope. Until that arrives, you must do exactly what we say.' That's their position — it's not science, it is propaganda." – Media Matters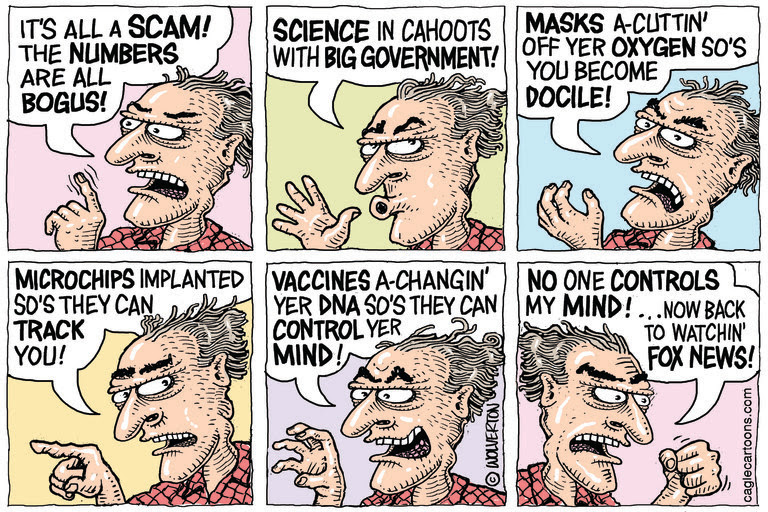 ---
Recent Articles:
Cash cows block rural internet
Mobilizing Latinx voters? Use relational organizing with WhatsApp.
Canvassing for H.R. 1 over Facetime
Friends don't let anti-vaxxer friends stay at risk. Conversation guide shows how to engage.
Are you being tricked into funding the spread of disinformation? Check the GDI Index.
---
DemCast is an advocacy-based 501(c)4 nonprofit. We have made the decision to build a media site free of outside influence. There are no ads. We do not get paid for clicks. If you appreciate our content, please consider a small monthly donation.
---