Follow DemLabs on our NEW social media!
This week's top Political Cartoons cover racial killings and Republican voter suppression bills. You can view the cartoons individually or as a GIF or a one minute video.
Deepak
DemLabs
Resource: This video was created with two free apps – iMovie and Lumen5.
Violence against Asian Americans
"Activists say the attacks fit a pattern of racism and misogyny directed at Asian American women, as well as a broader trend of hate-fueled gun violence. Targets of recent mass shootings motivated by prejudice: Latinos at a Walmart in El Paso. A synagogue in Pittsburgh. A gay night club in Orlando. A Black church in Charleston, S.C. A Sikh temple in Wisconsin.
Georgia has some of the country's loosest gun laws. There is no waiting period for firearm purchases, a policy adopted by 10 states and the District of Columbia. Like most states, it does not bar people convicted of a hate crime from buying a weapon." – WaPo
Political cartoons – GIF
Political cartoons – VIDEO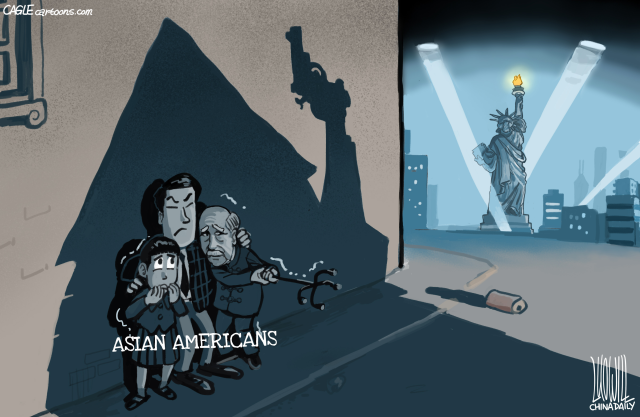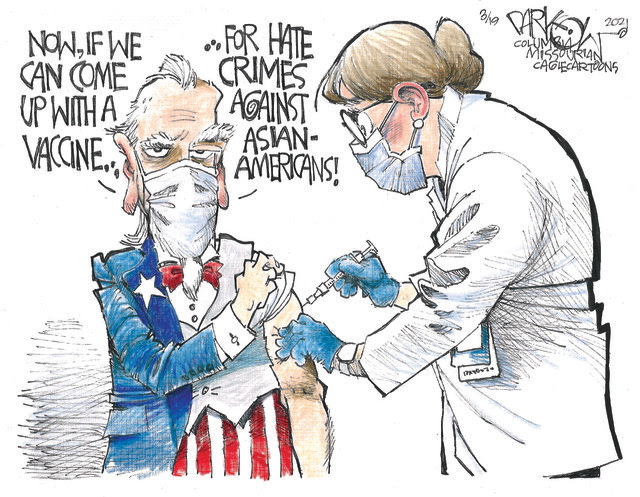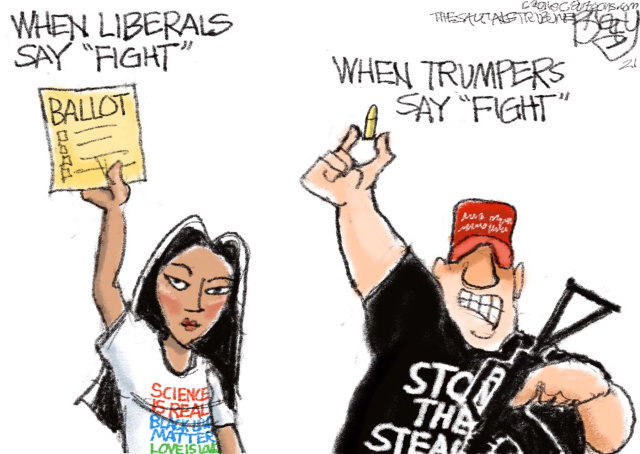 Republican voter suppression
"Republicans across the country responded to record voter turnout by unleashing a flurry of legislation aimed at restricting ballot access, citing concerns over unfounded allegations of rampant voter fraud that they themselves stoked for months.
At least 253 bills with provisions restricting voting access have been introduced, pre-filed, or carried over in 43 states, mostly by Republicans, according to an analysis by the Brennan Center for Justice at New York University Law School, dwarfing the number of similar bills filed at this point in 2020." – Salon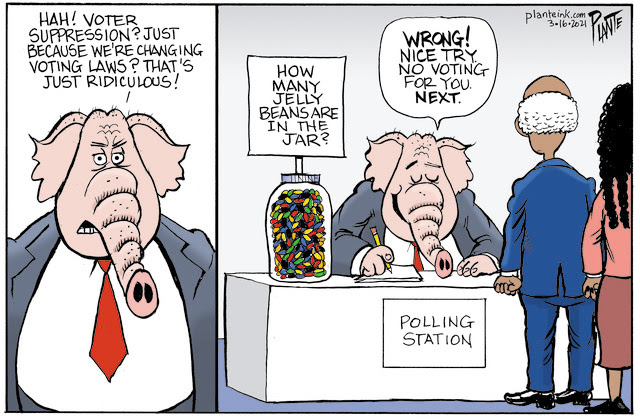 Anti-Vaxxers
"With COVID-19 vaccines finally being administered to the general public, the end of America's hellish pandemic year is finally in sight. But the country's anti-vaccine hordes are saying not so fast, claiming that the lifesaving injections are actually part of a scheme hatched by Bill Gates and Satan himself. In Los Angeles, where Dodger Stadium has been repurposed into one of the country's largest vaccination sites, roughly 50 mostly mask-less anti-vaxxers managed to temporarily shut down the operation this past weekend by forming a human wall around the main gate and blocking cars from entering." – Vanity Fair
McConnell obstruction
"Minority Leader Mitch McConnell's threat Tuesday to unleash never-before-seen "chaos" on the Senate if Democrats take aim at the legislative filibuster was viewed by progressives as a strong signal that the Kentucky Republican is beginning to get nervous about losing his most powerful tool of obstruction as support for weakening—or outright abolishing—the archaic rule continues to mount." – Salon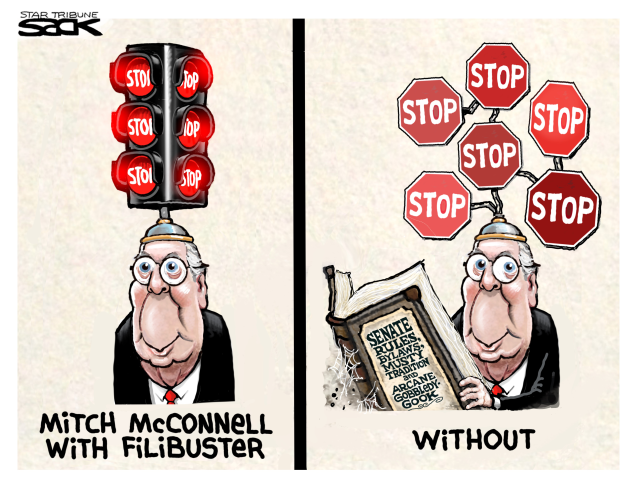 Ultra-Millionaire Tax on Fortunes Over $50 Million
"The ultra-rich and powerful have rigged the rules in their favor so much that the top 0.1% pay a lower effective tax rate than the bottom 99%, and billionaire wealth is 40% higher than before the COVID crisis began. A wealth tax is popular among voters on both sides for good reason: because they understand the system is rigged to benefit the wealthy and large corporations," said Senator Warren.
"As Congress develops additional plans to help our economy, the wealth tax should be at the top of the list to help pay for these plans because of the huge amounts of revenue it would generate. This is money that should be invested in child care and early education, K-12, infrastructure, all of which are priorities of President Biden and Democrats in Congress. I'm confident lawmakers will catch up to the overwhelming majority of Americans who are demanding more fairness, more change, and who believe it's time for a wealth tax."
Putin
"President Joe Biden says he believes Russian leader Vladimir Putin is a killer with no soul — and vowed that Putin soon "will pay a price" for interfering in the 2020 U.S. election and trying to boost the reelection chances of then-President Donald Trump." – CNBC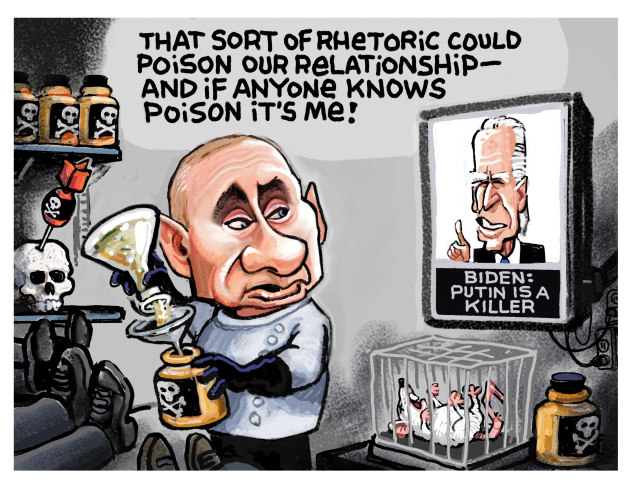 ---
DemCast is an advocacy-based 501(c)4 nonprofit. We have made the decision to build a media site free of outside influence. There are no ads. We do not get paid for clicks. If you appreciate our content, please consider a small monthly donation.
---