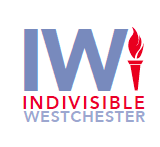 The Westchester County Police Reform & Reimagining Task Force is looking for public comment regarding its recently released report.
The Westchester Coalition for Police Reform's February meeting includes a panel discussion among the Chairs of Police Reform Task Forces representing some of Westchester's largest municipalities.
Date: Thursday, February 25th
Time: 6:30-8:00 PM
Click here for the Zoom link. 
Join Moms Demand Action for Gun Sense in America for a discussion on how get NY State and federal lawmakers to enact common sense solutions to end gun violence.
Date: Wednesday, February 24th
Time: 8:00 PM
Click here to RSVP
NYDLC is proud to bring together leading academic and election law professionals to discuss how systemic racial inequalities are being confronted with voting rights legislation, and how much more we have to do!Date: Tuesday, February 23rdTime: NoonClick here to register.In the wake of the November elections, state legislatures around the country are passing laws aimed at restricting voting. How can you help?
The Act can raise $50 billion to rebuild New York's economy by ending tax breaks for the richest New Yorkers.
Click here to register for the Febrauary 23rd event.
Click here to phone bank.
Click here to watch the recent Budget Forum held by the Westchester State Senate Delegation.
Click here to register for the February 24th event.
The 2021 Racial Equity & Social Justice Challenge series, powered by United Way of Westchester and Putnam, YWCA White Plains & Central Westchester, and YWCA Yonkers is a 21-day journey of self-discovery designed to help individuals build more effective social justice habits, particularly those dealing with issues of race, power, privilege, and leadership.Click here to register for the challenge.
COVID Resources
New York State has a website which allows you to determine if you are eligible for the COVID vaccine.
View the Westchester County COVID dashboard here. 
The NYS COVID vaccination hotline is (833) NYS-4 VAX; (833) 697-4829. 
Our condolences go out to Rep. Jamaal Bowman, who lost his mother to COVID this past week. In lieu of flowers, the congressman is asking his network to make a donation to the Boys and Girls Club of Mt. Vernon.
Click here to donate to the Pauline Bowman Fund.
---
DemCast is an advocacy-based 501(c)4 nonprofit. We have made the decision to build a media site free of outside influence. There are no ads. We do not get paid for clicks. If you appreciate our content, please consider a small monthly donation.
---