NOVEMBER 
NEWSLETTER
Moving Forward, Together
---
Okaloosa is #1 in the State for Shifting Vote Margins
We didn't get the win we wanted in Florida, but Democrats in Okaloosa can hold their heads high. Our county was first in the state in terms of shifting votes from red to blue in the 2020 General Election. We want to thank everyone who helped make this happen. Whether you phone banked, texted, waved signs, wrote postcards, attended a car caravan or donated –
YOU helped Democrats be visible in our county and vote in record numbers. Thank you!
It's time to build on this momentum by electing Democrats in Municipal Elections, and to set our sights on getting rid of DeSantis, Rubio, and Scott in 2022. Stay tuned for details.
---
Georgia on My Mind
All eyes are on the January 5th Senate race runoffs in Georgia. Winning these races will give the Biden/Harris Administration the support they need in Congress to get to work for the American people. There are many active efforts in support of Jon Ossoff and Raphael Warnock, the two Democratic challengers for U.S. Senate in the Georgia runoff. Here's how you can help:
DONATE
Make a single donation that will be split between the two of them
---
VOLUNTEER
---
Make calls for the Democratic Senatorial Campaign Committee
---
Flip the West and Commit to Flip Blue are hosting virtual phone banks, and Flip the West is sponsoring a postcard campaign, to support the Ossoff and Warnock campaigns.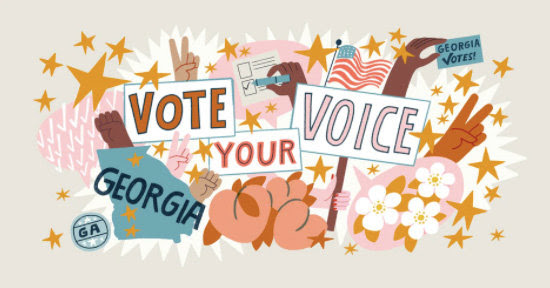 Write Postcards for Flip the West
ttps://www.mobilize.us/flipthewest/event/362341/
---
Two organizations affiliated with Stacey Abrams are looking for donations and volunteers.

The New Georgia Project focuses primarily on voter registration. Fair Fight is focusing on calling and texting voters and election day activities like being a poll worker.
Volunteer with the New Georgia Project
Volunteer with the New Georgia Project
Reclaim Our Vote is a non-partisan campaign working in states with high rates of voter suppression. Their volunteers inform and mobilize voters of color to make sure they are registered and know how to vote. They will be will be textbanking, calling, and sending postcards to voters in November and December.
Volunteer with Reclaim Our Vote
---
We can't succeed without your support! Donate today.
---
DemCast is an advocacy-based 501(c)4 nonprofit. We have made the decision to build a media site free of outside influence. There are no ads. We do not get paid for clicks. If you appreciate our content, please consider a small monthly donation.
---