It's Time To Make A Voting Plan
If you have moved, the deadline to submit a change of address is October 14th. Click here to update your information.
Check your voter registration by clicking here.
Early Voting is Oct. 24th through Nov. 1st. It's a safe and easy way to vote in person.
Vote by mail by clicking here to apply for an absentee ballot.
October 27th is the last day to request an absentee ballot unless you go to the BOE (Board of Elections) directly. You can apply in person up until Nov. 2nd.
Mail your ballot early or drop off your ballot at the BOE, at any one of 17 early voting sites, or on Election Day at polling places across Westchester.
Election Day is November 3rd.
Whether it's voting early, by mail or on election day, tell everyone you know to make a plan to VOTE this year!
We Need Your Help Calling Swing State Voters
George Latimer joins our phone bank as this week's special guest!Last Saturday we talked to Georgia voters where the presidential race is in a dead heat. These calls are crucial as we head into the final three weeks of the campaign. Sign up here and join us – training included!
Texting is another great way to reach voters. Sign up here: www.newyorkforbidenharris2020.com.
Road Trip To Pennsylvania
Pennsylvania is emerging as a tipping point battleground state for Biden and Trump! We are hitting the road to Philly for limited canvassing and lit drops – all socially distanced – to help Biden/Harris win Pennsylvania.
Click here to sign up for a shift between today and November 3rd.
Episode 44: NY State Senator Pete Harckham
State Senator Pete Harckham joins us to talk about his re-election campaign against a man who calls himself "Trump's Translator."
Click here to listen to the podcast. See below for details on how to get involved.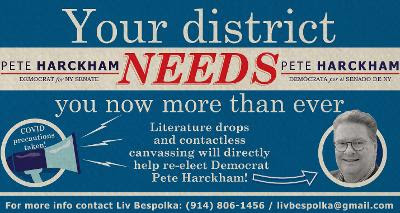 Click here to RSVP for the event.
The Big Send
Thanks to you we have sent tens of thousands of postcards to voters in swing states across America. But we aren't done writing just yet!
Click here to participate in The Big Send, a letter writing campaign to encourage people to vote. The goal is to send 15 million letters to voters! Letters are due by this Saturday, October 17th.

Winning Swing States
Arizona, Florida, Michigan, Pennsylvania, North Carolina, and Wisconsin – are crucial to a Biden victory and the twin goal of flipping the US Senate. Click here to adopt one of these states thanks to Vote Save America.
Fill Out The Census
The Census deadline has been extended to October 31st and it's crucial that everyone fill out the census.
Click here to get started.
Together, we stand Indivisible against the Trump administration.
---
DemCast is an advocacy-based 501(c)4 nonprofit. We have made the decision to build a media site free of outside influence. There are no ads. We do not get paid for clicks. If you appreciate our content, please consider a small monthly donation.
---