Early ballots begin arriving this week.
Here you will find information about the
2020 Arizona State Candidates LD 1 and LD6
We strongly recommend you vote your ballot promptly and mail it or drop in an official ballot drop box by October 16.
If you have not received your ballot by Oct 12 please call 928-771-3250
---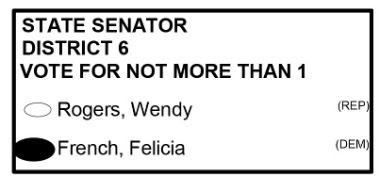 Felicia French – Arizona State Senate LD6Felicia is running for state Senate to improve public education, expand access to quality, affordable healthcare, and make our state government more accountable to northern Arizona's rural communities. Policies drafted at the State Capitol should create more local job opportunities, while also protecting northern Arizona's water and land for our families and future generations.
See more at frenchforaz.com
---
Judy Stahl – Arizona House LD1
A Prescott resident since 1992, Judy is a business owner, educator, mother, and engaged citizen. She has been a hands-on healthcare professional for decades, including five years working with pediatric oncology patients. Judy owns the Prescott Center for Massage Therapy and provides continuing education to professional massage therapists nationally.
​Judy was a prime mover in the campaign to create Arizona state licensure for the massage therapy profession. She is a breast cancer survivor, an athlete, and a strong supporter of theatre and the Arts. Judy is prepared to bring all of her skills, abilities, resolve, and patience to represent ALL of the residents of LD1 in the Arizona House.

Read more at JudyStahl.com
---
My family has lived in Northern Arizona for four generations. My grandfather moved his family to Flagstaff in the 1940s so he could make 3 cents more an hour at a sawmill here. I still live here with my daughter in the house he built.I first ran for office to help save a much-loved community center. The effort was successful, and for over a decade, I've had the great pleasure of public service.I've seen people come together to support each other, to support our schools, churches, and institutions, and to create home-grown solutions to local issues. Together, we brought a Veteran's Home to Flagstaff, helped incubate small businesses, funded after school care, and expanded library hours.I've also seen education funding in Arizona fall to 49th place. I've seen small business owners fight giant obstacles to bring their dreams to fruition. I've seen the Arizona Legislature pass legislation that prevents communities from solving their own problems.This is why I'm running for the Arizona State House. Our families deserve quality schools. Our small businesses need support to help them thrive and grow. Our cities and towns need the freedom to make their own decisions. Together we can preserve the spirit and character of rural Arizona—because we, too, are Arizona!
Read more at CoralEvansAz.com
---
Did you know that early ballots are first to be counted? Did you know unsigned ballots are the leading reason ballots are rejected? 
Be sure to sign your affidavit envelope!
Extended deadline to register to Vote!  October 23
---
DemCast is an advocacy-based 501(c)4 nonprofit. We have made the decision to build a media site free of outside influence. There are no ads. We do not get paid for clicks. If you appreciate our content, please consider a small monthly donation.
---