2020 Election Update from Your County Democratic Party
---
The Final Stretch
Voter registration ended yesterday. Congratulations to all who have so successfully expanded our pool of likely Democratic voters, including especially our Native field organizers and those working on the NAU campus while maintaining careful pandemic precautions. 
Now, we must get these and all likely Democratic voters to vote. We now move into a new stage: Get Out The Vote! Here are a few things you should know and things which you can do to help.
Exciting Stuff
At our 4th Saturday sign distribution event, we passed out 300 Biden/Harris signs (this was the 2d week we'd had any). We're working on getting another 300 for next Saturday. We've also passed out hundreds of Kelly, French, Evans, Begay, Horstman, Ryan, and City Council and Corporation Commission candidate signs.
Huge Mark Kelly signs arrived to join the Solar Team signs and our amazing volunteers got them all installed on Saturday.
The 35,000 Sample Ballots we put in the mail began to arrive in your mailboxes on Saturday.
Joe Biden and Kamala Harris will be campaigning in Arizona on Thursday. No big rallies, but we hope to capture the news cycle with whatever they do. Please watch social media for announcements and share them with your networks.
O'Halleran's campaign has joined Mission for Arizona for GOTV.
French and Evans are taking the LD-6 Democratic campaign to vastly new heights with print and electronic media, including TV advertisements. Our own independent expenditures, thanks to your generous donations to our local party, are attacking their opponents on social media – and watch for our ads in the Arizona Daily Sun and the Payson Roundup.
Work to Be Done
---
Monthly Meeting
We've canceled our monthly action meeting for October because we want EVERYONE to be GOTV Phonebanking next Saturday morning.
Instead, we're going to get together on Zoom at 4:30 to decompress. Keith Brekhus has promised to stop by to talk about what to expect on Election Night. Bring your questions and your cocktails.
---
Events to Watch
Tuesday: McSally/Kelly Debate Starting at 7 pm
Our three Corporation Commission Candidates – Mundell, Shea, Tovar — can change the way Arizona operates. Thanks to our hard-working volunteers, we've got their HUGE signs spread all over the county. Watch AZ Dem Party Chair Felecia Rotellini with these candidates Tuesday noon
Wednesday: Harris/Pence Debate, Starting at 6 pm
---
Help Us Power to the Finish and Continue On
Help us power to the finish!
Some of you may have scheduled your monthly donations to end on Election Day. For your local County Party, the bills for October and those first days of November don't come due until December. And, by then we need to be getting to work to recruit and train our candidates and volunteers for 2022 when we'll be working to re-elect Mark Kelly to the Senate and defend our majorities in the legislature. So please renew those monthly donations.
Also, give us a boost right now — if you can — with an online donation or check in the mail.  Thank you!
If you prefer to mail a check, our mailing address is POB 701, Flagstaff, AZ 86002. Please include your occupation and employer to allow us to comply with campaign finance reporting laws.
---
Articles Worth Reading
---
Countdown:
0 Days Until Voter Registration Ends
2 Days Until Voting Begins
28 Days Until Voting Ends
If you get your ballot in the mail, return it as soon as you possibly can! This will make election night smoother and ease the burden on our fabulous county election workers. If you want to vote in person, please to that early, too. Early-in-person voting starts Wednesday.
Important info about voting in Coconino County here:  CoconinoDemocrats.org/Vote
---
Come early next Saturday since we want Allan to have time to mix his cocktail before our Relax Event at 4:30.  Masks are required. Respect Social Distancing.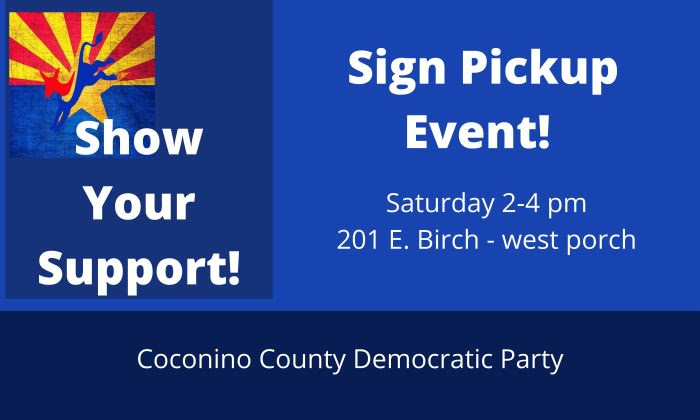 ---
Coconino County Democratic Party
PO Box 701
Flagstaff, AZ 86002
---
DemCast is an advocacy-based 501(c)4 nonprofit. We have made the decision to build a media site free of outside influence. There are no ads. We do not get paid for clicks. If you appreciate our content, please consider a small monthly donation.
---