IC-SS Weekly Update: September 21, 2020
WE. MUST. ACT.
Six weeks to go, and we've lost Ruth Bader Ginsburg. May Justice Ginsburg's brilliant mind and fierce spirit move us to all to act to our full capacity.
Phonebank with Indivisible Chicago
You can make a difference by phoning voters in Michigan, Wisconsin, and the 14th Congressional district in Illinois. The citywide Indivisible Chicago Alliance provides opportunities to act throughout the week – safely from home.
Findopportunities that fit your schedule: 3 States 1 Mission initiative. Indivisible Chicago provides training and support for both novice and experienced callers.
PS If you've already been trained in text-banking, there are texting opportunities too.
---
Contact Senators Duckworth & Durbin
We can't let Donald Trump destroy Ruth Bader Ginsburg's legacy by replacing her with a justice from his shortlist of conservative extremists. Mitch McConnell, who held open a Supreme Court seat for over a year in 2016 to prevent President Obama from filling it, has already declared he'll bring Trump's nomination to the floor for the vote.
Call/email/tweet at Senators Duckworth and Durbin and tell them to block everything Republicans try to do to get this nomination confirmed. Tell them to REFUSE to confirm a new Supreme Court Justice until the new president is inaugurated.
And here is national Indivisible's resource page with easy links to help you get the message to our senators.
Volunteer Tomorrow Sept 22:
National Voter Registration Day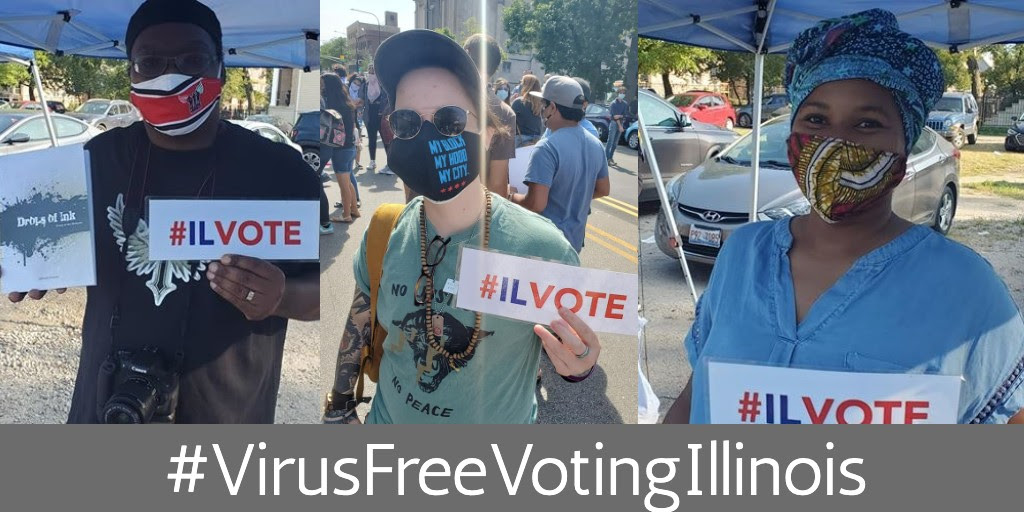 Want to do outdoor voter registration and voter outreach in Hyde Park? Read the Block Club Chicago story about Neighbors Who Vote.
Volunteer with Neighbors Who Vote on Tuesday, September 22, National Voter Registration Day. There will be multiple locations in Hyde Park-Kenwood, including at the Silver Room. Shifts on 9/22: 7:00-9:00 am; 4:00-6:00 pm; 5:00-7:00 pm.
To volunteer on September 22 with Neighbors Who Vote, click on the relevant response to send them an email.
NOTE: If you can't volunteer on 9/22, email NWVoteChicago@gmail.com to learn about other opportunities.
---
When you volunteer:
Wear a mask that covers your nose & mouth. Bring a clipboard (or clipboards) & hand sanitizer if you can. Be non-partisan when you register voters; no political/partisan t-shirts, buttons, etc.
---
Zoom with Us: Sept 29, Oct 8, Oct 14
Finish your postcards – write Vote Forward letters – learn – connect!
---
Tuesday, September 29, 7:00 pm
RSVP here for our special Tues, Sept 29th Zoom party, beginning at 7:00 pm (30 minutes earlier than usual). Schedule:
7:00-7:30: Check in, chat, sip your beverage, and feel free to write postcards or Vote Forward letters.
7:30-8:00: Hear from a member of Yes for Fair Tax who'll inform us about the Fair Tax amendment, a ballot measure that we'll all find on our November 3 ballot.
8:00-on: Stay with us to watch the first presidential debate! (Or hop off if you have another watch party to attend.)
---
Thursday, Oct 8 + Wednesday, Oct 14, 7:30 pm
RSVP here for one or both of our October Zooms: Thursday October 8 and Wednesday, Oct 14, at the usual start time of 7:30 pm.We'll be writing Vote Forward letters, and Steve Kagan will be on hand to answer questions.

But please join us even if you aren't writing. We'll be sharing election info and other opportunities to act. Let's stay strong together as we count down to November 3!
Vote Forward: Sign Up Now!
Want to keep writing to voters in these last weeks before the election? SIGN UP NOW for Vote Forward.
IC-SS member Steve Kagan has described the Vote Forward process:
Have on hand a printer, paper, envelopes, stamps, and a pen.
Print out a pre-written letter for each voter on your list.
Customize the letter by writing what motivates you to vote.
Sign each letter, seal it in an envelope, stamp, and address (using a Vote Forward return address).
Save the finished envelopes until specified mailing date in October.
We invite you to sign up now with Vote Forwardso you can be ready to write with us during our September 29, October 8, and October 14 Zooms – and make a difference in November.
---
Fight to Protect the 2020 Election Results
If Trump loses, he must accept those results. Our democracy depends on it. Protect the Results is a joint project of national Indivisible and Stand Up America to protect the valid results of the 2020 election. Sign up for alerts.
---
Support Civilian Control of Police – 4th Ward
Over the summer, we learned more about CPAC – the ordinance for a Civilian Police Accountability Council. Get CPAC info in the IC-South Side August 31 newsletter.

Now hear the audio of Olivia Sullivan of Winning CPAC-4th Ward speaking at our Zoom last month about efforts to convince both Alderman Sophia King and Mayor Lightfoot to support CPAC.
Interested in helping with the effort? Write to Olivia Sullivan. Help Winning CPAC-4th Ward get to 400 signatures! Sign the CPAC petition to Ald King here.
Write the Last Postcards & Turn 'Em In!
Let's finish up those postcards by September 30. Running behind? Ask your friends and neighbors to help you out.
If you received your postcards from Indivisible Chicago-South Side, eitherby picking them up from Esther Peters or having them hand-delivered by Esther or by Betsy Rubin, then:
You'll need to return them to us in batches of 100 along with the address sheets.
To arrange, you can reply to the earlier emails that you got from Esther or Betsy OR let us know right here.
If you received your cards from a different group or if the postcards were shipped to you in the mail, then please refer to the instructions that accompanied your order.
---
Be sure you are registered. Be sure you vote!
1. Illinoisans, check here to be sure that you are registered.
2. Chicagoans, register to vote or change your voter addresshere.
3. Chicagoans, get info/apply to vote by mailhere.
4. Suburban Cook County voters, get all your voter info here.
5. Illinoisans, get even more info on safe, "virus-free" voting at the statewide Indivisible Illinois Virus Free Voting webpage.
REMINDER: Chicago & suburban Cook County voters can drop completed vote-by-mail ballots in secured drop boxes at early voting sites.
Indivisible Chicago-South Side
Email: Indiv.Chi.South@gmail.com
Follow IC-SS on Facebook and Twitter
---
DemCast is an advocacy-based 501(c)4 nonprofit. We have made the decision to build a media site free of outside influence. There are no ads. We do not get paid for clicks. If you appreciate our content, please consider a small monthly donation.
---