Hi everyone!

In case you're not a Convention watcher, we've included some greatest hits here.
Today's Local Actions – Tuesday 8/18  – "Michelle Obama has a message for us" Edition
Go here for our post: tinyurl.com/Antiracist-events-Ventura
She did a great speech!
Indivisible put together a playlist of the 2020 Democratic National Convention here. (https://www.youtube.com/playlist?list=PLS73jRQ3qBiVgnJUcwUTsTxeEuFhNrWQz&fbclid=IwAR2Y95eG0Waa5MosOeppsi9B1eI77tIVFJOkyTOcxT7lDlehfs-_mnNOwt8)
Read historian Heather Cox Richardson's take here (https://wp.me/P8mqbi-gHC) on how Trump used his day to distract from the DNC, including tweeting "Leave Democrat cities. Let them rot…." and noted this warning yesterday from William H. McRaven, former commander of the U.S. Special Operations Command "President Trump is actively working to undermine every major institution in this country. He has planted the seeds of doubt in the minds of many Americans that our institutions aren't functioning properly. And, if the president doesn't trust the intelligence community, law enforcement, the press, the military, the Supreme Court, the medical professionals, election officials and the postal workers, then why should we? And if Americans stop believing in the system of institutions, then what is left but chaos and who can bring order out of chaos: only Trump. It is the theme of every autocrat who ever seized power or tried to hold onto it."
Don't just vote AGAINST Trump. Vote FOR something better. Start going through Biden's campaign planks. They've been written by Bernie, AOC, Jayapal, and others. We need to start talking to our social circles about what Biden and Harris will do when elected, not just about the horrors of Trump's daily actions. Enough of the pretense about returning to a time that was only great for some. We need to move on to a 21st century that welcomes everyone. https://joebiden.com/joes-vision/
Resistance actions you can do with a phone, and more to protect the US Postal Service.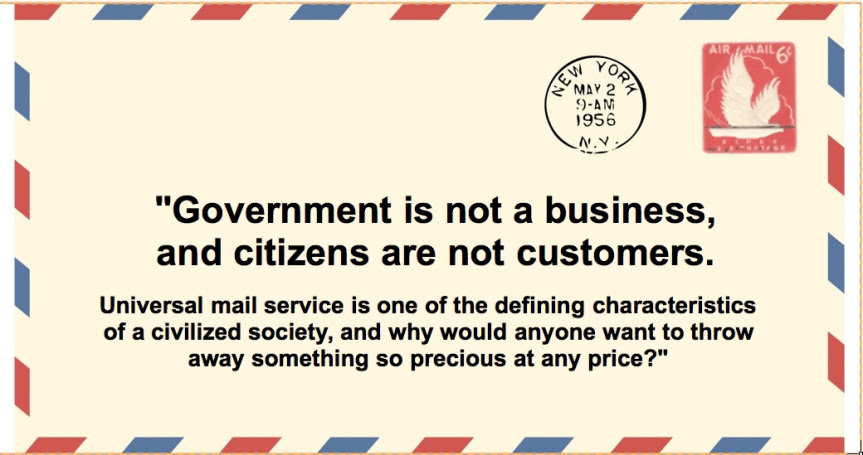 Today, we put together a guide of all sorts of resources we've been gathering to fight back against the GOP/President/Postmaster General's attack on our Postal Service. Go here for the latest information, which we will keep updated. (https://indivisibleventura.org/2020/08/17/mon-8-17-this-is-what-you-can-do-to-help-save-the-usps-and-our-election/)
Update 8/17/2020: So, now there are TWO hearings!- Your calls and emails are starting to work, because even the Senate, home of the guys who started this mess, is holding a hearing during their vacation time! Postmaster General Louis DeJoy will testify at a Senate Homeland Security and Governmental Affairs Committee hearing this Friday about the U.S. Postal Service's vote-by-mail financial requirements. He is scheduled to appear on Monday in front of the House Oversight and Reform Committee, as the House returns early to vote on a bill returning USPS capacity to that of Jan. 1, 2020.
Update 8/18/2020 – RETREAT!: Our collective wrath has convinced the White House and their pet postmaster general Louis DeJoy to pull back "some" of their voter suppression tactics, aka "cost-cutting initiatives", until after the election, as it's giving the GOP the black-eye they've deserved since 2006. (NYTimes) (WaPo)(CNBC)(JustTheNews)
Do we cancel Saturday's rally of support for the post office on the word of this corporate weasel? Hell no! Come out and show your support for the USPS and let GOP voters see how close their legislative pirates are to privatizing an American treasure. Facebook link here.
Tues 8/18/Thurs 8/20 – ONLINE – The Root Institute – Week 3
Subscribe here. – Week 3will touch on health and wealth, as well as a special panel on diversity and inclusion. Featured speakers include Planned Parenthood's Alexis McGill Johnson, author Michelle Gadsden-Williams, Joy Altimere of EHE Health, and more
After this weekend – there's more you can do for Breonna.
After this weekend – there's more you can do for Breonna.

Facebook link here. The hunger strike that began in mid-July to publicize the demand that officers involved in the police shooting of Breonna Taylor be fired and stripped of their pensions, has finally ceased after 25 days.
Do a 1-day fast for Breonna:
Although the hunger strikers have concluded their own own fast after 25 days, they are inviting others from across the country to participate in a Rolling Hunger Strike for Breonna. If you are in a faith community or any other group, invite people to this commitment with the signup. All of us can do what we can to be present and engaged until we see justice.Sign up for 1-day slots for fasting and communicating the message with your social media here.
"Fasting involves making room for awareness and taking the sufferings and hungers of others into ourselves. Fasting is a time-honored form of spiritual centering and a way to "feel" and center more empathy and compassion for the injustice and oppression experienced by Black and brown people in our society, particularly with policing and the justice system. So it is also a profoundly political act of resistance."
Make a call:
Minimal Script: Hello, my name is [___]. [(if true) – "I am a constituent of Mayor Fischer's.") I would like to leave a comment for the mayor about finding justice for Breonna Taylor.I am supporting the hunger strikers for Breonna [by being a part of a continuing rolling fast for Breonna]. Your office never responded to their 25 days of fasting. We amplify their demand that mayor Fischer use his full power to fire Brett Hankison, Myles Cosgrove and Johnathon Mattingly. ***please use this script as is or add your own reasons for supporting this demand and the hunger strikers. Let's make sure the mayor's office knows we are in this fight for Breonna for the long haul!*** More information below…
Here's a  history and guide for actionsto take now. 
#HS4B#NoJusticeNoFeast#Sayhername#resignfischer #Blacklivesmatter
Adriene
Co-Director
Indivisible Ventura
indivisibleventura@gmail.com
---
DemCast is an advocacy-based 501(c)4 nonprofit. We have made the decision to build a media site free of outside influence. There are no ads. We do not get paid for clicks. If you appreciate our content, please consider a small monthly donation.
---