Photo by Tiffany Tertipes on Unsplash
Instead of freaking out about Trump commandeering the USPS into an arm of his campaign and rigging the election, take concrete action right now to ensure that YOUR VOTE is counted in November.
Here are several resources so you don't have to do the legwork. This tweet thread covers everything you need to know to vote in the General Election, including dates to register, and how and when to request and return an absentee ballot, along with links to government website.
You also can check with the 2020 Voters Calendar, which also includes a helpful explanation of what to do if something goes wrong in the process, as well as this handy graphic from the Washington Post. (Please note: States may still be making changes so it's always best to doublecheck the information provided here.)
Register
Register to vote right now instead of waiting closer to the cutoff deadline. All states have different date. If you are already registered, check it now, either on your state or county election websites or at I Will Vote. If you don't find your name, you are not registered and you must re-register.
Make a Plan
Vote by Mail (Absentee Ballot)
REQUEST YOUR ABSENTEE BALLOT AS SOON YOU CAN. Dates and methods for requesting your vote by mail vary from state to state so do your research right now.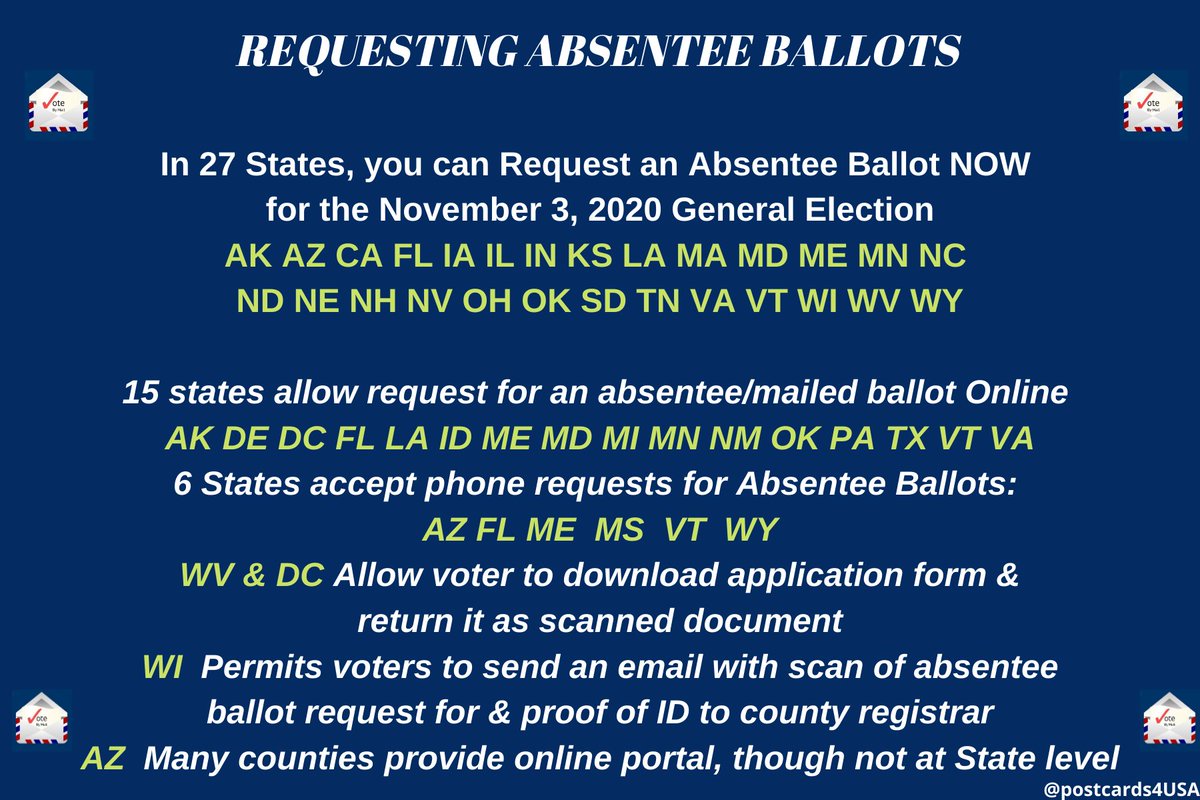 Fill out your ballot as soon as you get it. This means deciding how you will vote on all the races and measures ahead of time. Please remember that your down-ballot candidates are important! Having Democratic candidates at local and state levels bolsters our democracy.
To return your ballot, you will likely have three options:
DROP BOX Using a safe and secure drop box is the best option to return your ballot. Find out if this an option by reading the instructions that came with your ballot or using the resources listed above. Typical locations for ballot drop boxes include city halls and voting centers.
ELECTION OFFICES Another option in many states is to return your ballot by hand, in person at Election Offices and other designated locales throughout the community.
MAILBOX If ballot drop boxes or in-person return are not an option, you must use the USPS. Don't worry about what you've been reading — just make sure to give your ballot two weeks to arrive. Again, that means you need to be ready to fill it out immediately, know which mailbox you will use and have the appropriate stamp postage on hand (some states pay for postage).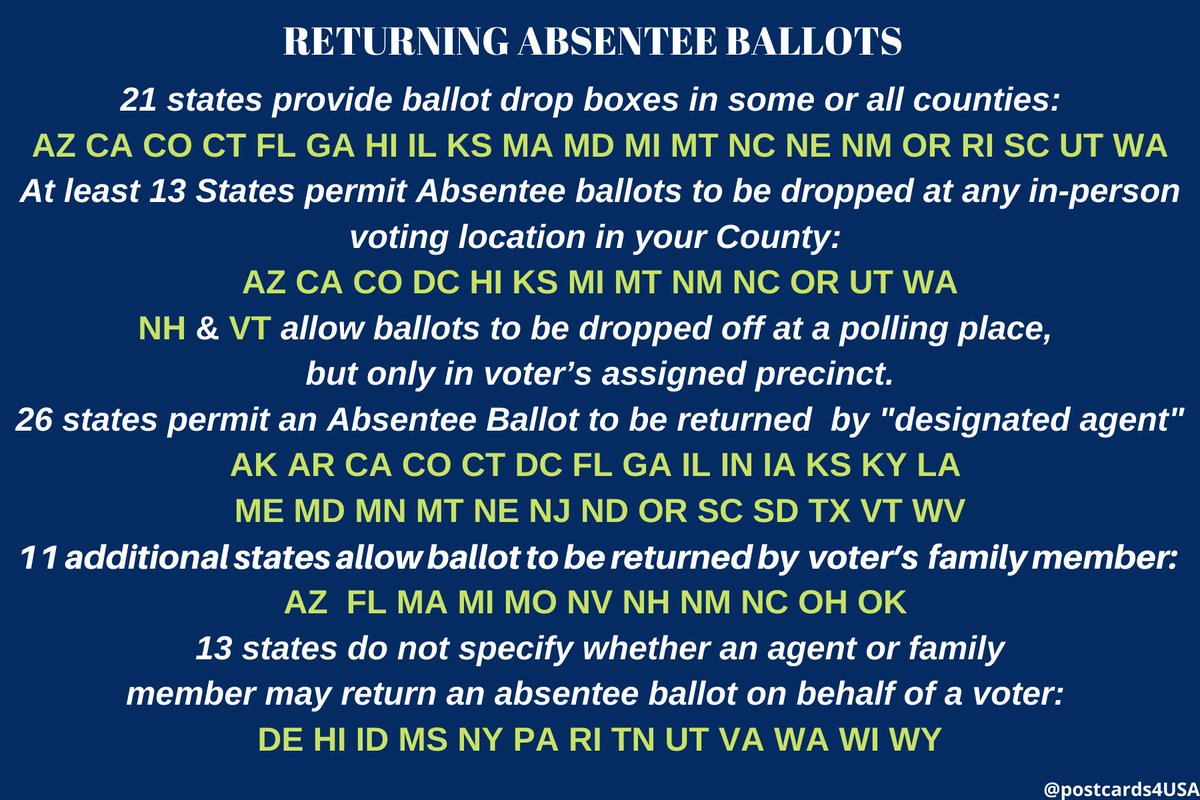 Vote In Person
VOTE EARLY IF POSSIBLE. This requires you to do some research and, again, make a plan!
Find out when polls open and determine whether you can vote at any location.
Study your calendar and pick the day you will vote. (Make it as early as possible!)
Write your plan in the calendar. (Maybe put a big blue star on the day?)
Stay safe!
If you must wait until November 3 to vote, you still need to plan. You must: find your polling place, decide when you will go to the polls, and check if you need any identification in order to vote. (A good resource for ID requirements is Ballotpedia but doublecheck with your own election office.)
Waiting for the Results
Remember that counting the ballots will take time. Politicos and candidates alike expect an enormous turnout for this election, and some of these ballots will not be turned in until November 3. We may not get results for 3 weeks but it is better to take time and count all the ballots correctly. Get your head around this possibility right now since this election night will be like no other.
Take a deep breath and then take the right step to ensure that your vote gets counted. Once you've made your plan, you can take a minute to work on advocacy — getting the USPS running back as normal.
Hound Senate Majority Leader Mitch McConnell! Call (202-224-2541), email, or tweet him, as well as members of the Senate, to insist that they pass the HEROES Act. Passed by the House in May, it includes billions of dollar for election security, vote by mail, and the post office.
Demand Postmaster General Louis DeJoy resign. Not only is he participating in a corrupt scheme, his financial conflicts alone should raise further questions about his suitability to hold this position.
You also may be asking: Why isn't the House doing something? Why don't they impeach Trump?
Here's the unfortunate truth: There's no time to impeach Trump, and even if the House did so, how many GOP senators would vote for removal? To shape your answer: Just take a look to see how many are complaining about Trump gutting the post office to rig the election.
---
DemCast is an advocacy-based 501(c)4 nonprofit. We have made the decision to build a media site free of outside influence. There are no ads. We do not get paid for clicks. If you appreciate our content, please consider a small monthly donation.
---