Hi Everyone! 
It's Wednesday in Ventura County and we're focusing on the sabotage occurring in our national postal system, just in time for a presidential election. Tell your local postal worker that you support them with signs and blue ribbons. Then contact your senators, whether a Democrat or GOP, and tell them to pass the HEROES act, complete with funding for both the Post office and elections offices and, oh yeah, that $600/wk. unemployment insurance.
Also remind them to pass S.2965 – the USPS FAIRNESS ACT. The Post Office wouldn't be in such serious straits if the GOP of 2006 hadn't burdened it with the requirement to pre-fund 75 years of retirement benefits. Who does that, to a service required by literally everyone? (The House has already passed their version.)
While you're on the phone, throw in a request for an investigation of our new, heavily conflicted Postmaster General, Louis DeJoy, FRIEND-OF-TRUMP, who is responsible for everything now taking two weeks to get to you AND DEMAND AN EXTENSION TO THE CENSUS. The House has already introduced legislation (duh!), but not the Senate GOP. (We have no idea what they do all day…)
Note that it's day 23 of the hunger strike for Breonna. Please check out that section of our post and do one of the actions there as well. You can also leave an encouraging message on their Facebook page. tinyurl.com/Antiracist-events-Ventura
Watch this one minute video and share!
Top 13 things you should know about our postal service! It is the leading employer of minorities (39%) and women (40%), and for three years in a row they were in Hispanic Business magazine's annual "Diversity Elite 60" list of best companies for Hispanics, the only federal agency on the list. The USPS is also one of the largest employers of veterans, with more than 97,000.
Tie a DARK BLUE RIBBONaround your mailbox (or on your mail slot) to show solidarity and support to our postal carriers.

Put a sign up in your yard or window that says #USPSForever.

Call your representative and both senators and tell them not to pass any relief package that doesn't contain funding for the USPS.

And tell everyone who wants the Postal Service to surviveto do the same.
SAVE our US postal system and voting by mail!
This election will come down to every last vote, and we can't afford to lose a single one Learn more here about the GOP attacks on our mail service. Other countries allowed people like Trump to "privatize" their mail service and it doesn't end well.
"Minimal script to senators: I'm calling from [___] to demand that Senator [___] do the following things.
Start an investigation into Louis DeJoy, Postmaster General, including his financial conflicts of interest, the restructuring of long-time personnel, and the deliberate slow-down of mail service.
Support the HEROES ACT, including at least $3.6 billion dollars of funding for our elections and 25 billion for the Postal Service.
Pass S.2965-"USPS Fairness Act," – the Senate version of the bill the House already passed (HR 2382– "USPS Fairness Act") which would repeal the GOP's ridiculous 75-year pre-funding mandate that's been killing the postal service since 2006. Our postal service is so important to American unity, it was in the Constitution. It is not a business venture.
(Senator-check – Only 7 senators have signed on! Seriously! Call Harris and Feinstein and remind them to cosponsor this thing.)
Contact:
Senator Feinstein email, DC (202) 224-3841, LA (310) 914-7300, SF (415) 393-0707, SD (619) 231-9712, Fresno (559) 485-7430
andSenator Harris: email, DC (202) 224-3553, LA (310) 231-4494, SAC (916) 448-2787, Fresno (559) 497-5109, SF (415) 981-9369, SD (619) 239-38
Who is my representative/senator?: hq-salsa.wiredforchange.com 
How do I vote? VENTURA COUNTY VOTERS – Answers here!
Watch this well-researched video from our dedicated NON-PARTISAN League of Women Voter members, who explain how voting will work in our county for the Nov. 3rd election. Please share this with those who are anxious or suspicious of the process. (BTW – The League is an awesome group that anyone can supportand/or join, even the non-women out there.) For those who prefer a written informational sheet about this year's voting format, go here.
Wed. 8/12: ONLINE – Afro-Mexico: The (In)visibilization of Blackness in Mexico (5-7pm)
Jorge Gonzalez, Director of the Afro-Mexican department at the Worldbeat Cultural Center will be doing a virtual multi-media presentation that will cover more than 200+ years of Afro-Mexican history. He will share excerpts from his 2012 M.A. thesis from UCSB focused on his field research in the Afro-Mexican region of Costa Chica, Oaxaca. More importantly, the presentation will highlight how the black social movement recently in 2019 was able to obtain constitutional recognition and a census headcount in 2020. As a special guest, the presentation will interview Patricia Ann Talley; a member both Mexico Negro A.C. based in Guerrero, Mexico and the Dr. MLK Taskforce Committee.Since early 2000's, the WorldBeat Cultural Center has been spreading awareness of the Afro-Mexican presence in Mexico via cultural music events, workshops, presentations in both San Diego and Tijuana. In 2009, the Afro-Mexican department was formed with the intent to document and create a future exhibit that will tell the story of the Afro-Mexican presence and movement in Mexico.The presentation will be streamed via Youtube(@worldbeatproductions) and Facebook Live (@WorldBeatCulturalCenter) simulteanously. Following the presentation there will be a short Q & A with both Jorge and Patricia. Afterwards, the National Conflict Resolution Center will invite participants to continue discussing and connecting via Zoom.
Preview YouTube video Part 2: NUESTROS ANDARES POR EL RECONOCIMIENTO Y VISIBILIDAD DE LOS PUEBLOS NEGROS DE MÉXICO
Sharing some information and defensive memes.
QAnon, a toxic Pro-Trump conspiracy theory, is currently hijacking the #SaveTheChildren fundraising campaign to promulgate their own baseless accusations against Democrats and other enemies of Trump, who they claim are involved in child sex- trafficking. Their targets include Hillary Clinton Tom Hanks, Oprah Winfrey and Pope Francis, and improbably, companies like Wayfair. Their nonsense actually led an armed man to storm a pizza place, demanding that they free children from their non-existant basement (Pizzagate). Please, if you see people on your media feed getting all excited by #SaveTheChildren, the same people who are normally complaining about #BlackLivesMatter, immigrants, or having to wear masks, go ahead and share the links above and these lovely graphics.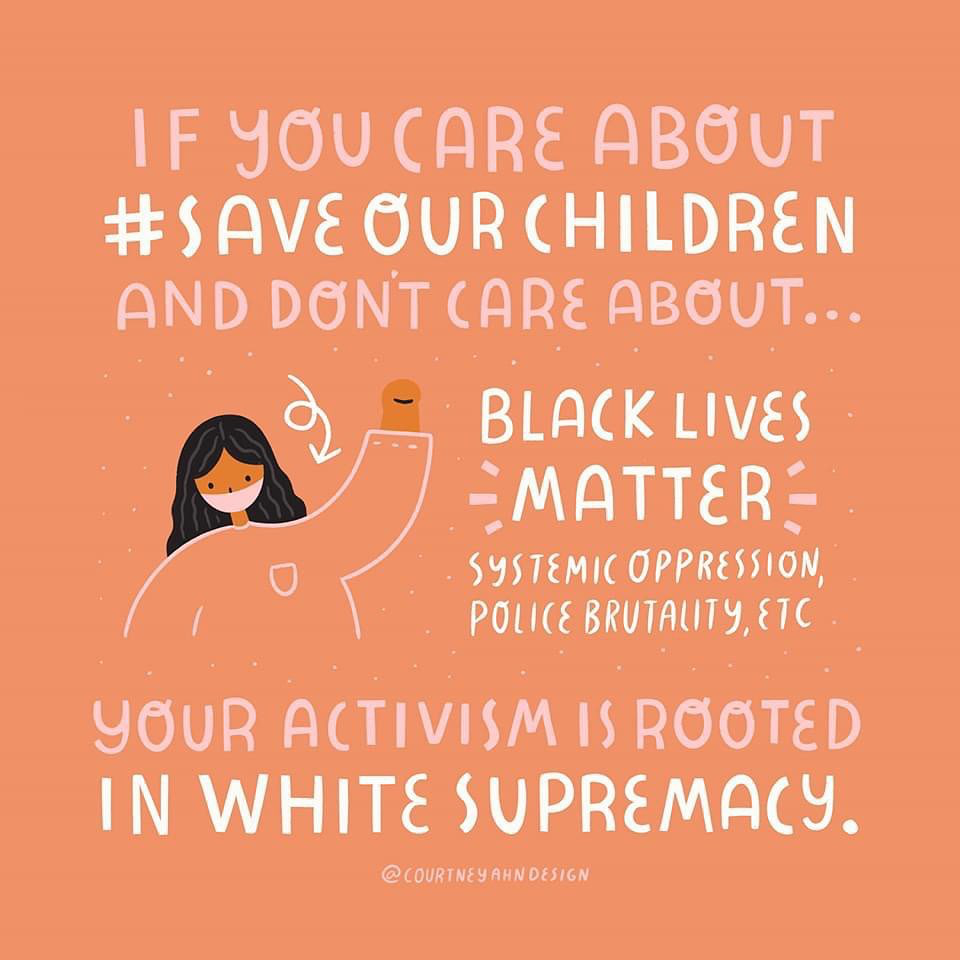 Adriene
Co-Director
Indivisible Ventura
indivisibleventura@gmail.com
---
DemCast is an advocacy-based 501(c)4 nonprofit. We have made the decision to build a media site free of outside influence. There are no ads. We do not get paid for clicks. If you appreciate our content, please consider a small monthly donation.
---