The November 3rd election is THREE MONTHS from today! 
Click here to sign up for Resistance Mondays/NY for Biden virtual phone banking with other Westchester supporters.
Help get out the youth vote! 
Encourage the young progressives that you know to join Young Progressives for Biden.
Mission statement: Young Progressives for Biden hopes to expand the coalition supporting Biden for President; we recognize that to continue advancing key progressive policies includes getting Joe elected in November. This part of the campaign is made up of youth who are dedicated to fundamental aspects of the progressive movement: combating climate change, expanding healthcare, supporting BIPOC and LGBTQ+ individuals, decreasing gun violence, promoting worker's rights, reforming our criminal justice system, and creating an America that works for everyone. Joe will do this as President, which is why Young Progressives for Biden is proud to support him on our way to the White House.
---
Winning swing states – Arizona, Florida, Michigan, Pennsylvania, North Carolina, and Wisconsin – is crucial to a Biden victory and the twin goal of flipping the US Senate. Click here to adopt one of these states thanks to Vote Save America. "No matter where you live, you can directly support the work of organizers, volunteers, and candidates in the six key battleground states that will be most important to delivering a progressive majority in 2020. Just pick a state below, sign up, and we'll get you everything you need to make a big difference this November."
---
Help us reach voters in Wisconsin, Pennsylvania and Iowa. Email us at IWPostcarding@gmail.com and IW will get you set up with cards and lists. Looking for other ways to get involved? The Indivisible Westchester website has a ton of ideas. Flip the West, Open Progress, Westchester for Biden and more are all here in once place. Click here to take action now! 
---
Please support Sen. Pete Harckham in his reelection race against Rob Astorino, Trump's number one supporter in Westchester. #Disasterino
---
---
---
The FBI has reported a 300% increase in cybercrime with the COVID outbreak. We are all spending more time on our computers, the climate is extremely stressful (understatement) and we are heading into a highly consequential election. Here are some simple steps we can take to protect ourselves and add a layer of security between ourselves and hackers.
Please click here to read a new article with important cybersecurity tips.
---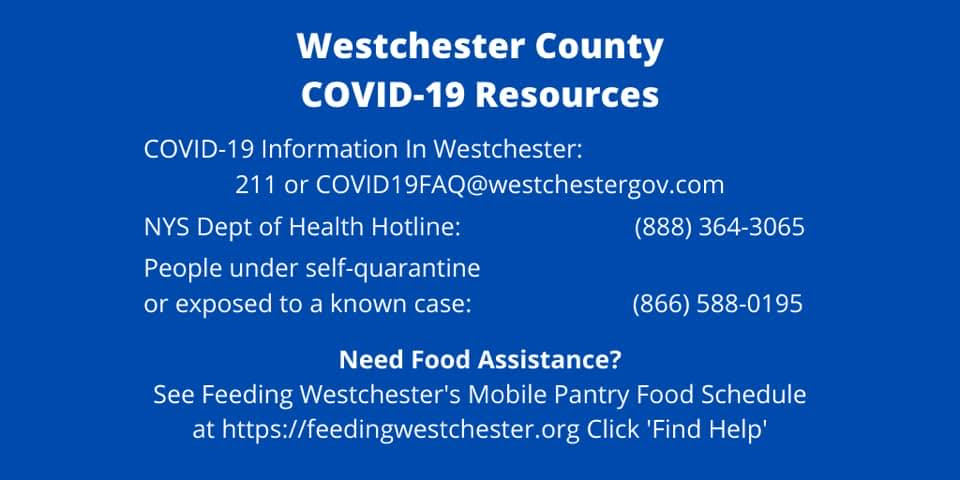 Ways To Help Those In Need:
Here are some Domestic Violence hotlines and resources:
Westchester County

Hope's Door, Inc. (888) 438-8700 – Provides both residential and non-residential domestic violence services. OCFS Licensed and Approved.
My Sisters' Place (800) 298-SAFE/7233 – Provides both residential and non-residential domestic violence services. OCFS Licensed and Approved.
Westchester County Office for Women– Provides non-residential domestic violence services. OCFS Licensed and ApprovedFamily Helpline/Hotline weekdays 9am – 5pm (914) 995-5972Weekend and after hours (914) 995-2099Spanish Language (White Plains) (914) 995–6581
Spanish Language (Yonkers) (914) 231-2882
---
Get a Complete Count
 Make sure to fill out your Census form today – click here to get started. Many Westchester towns are lagging below their 2010 response rates. It's imperative that we all fill out the Census. Please check with your family, friends and neighbors to make sure they've filled out the Census. Email, call or text them a friendly reminder! 
---
Together, we stand Indivisible against the Trump administration.
---
DemCast is an advocacy-based 501(c)4 nonprofit. We have made the decision to build a media site free of outside influence. There are no ads. We do not get paid for clicks. If you appreciate our content, please consider a small monthly donation.
---