NEWS & UPDATES
Why You Really Need To Care About Local Elections Zoom Event
Zoom event on Monday, August 10 on why you really need to care about local elections. Email us at info@indivisiblefl13.com and you will receive a Zoom link on the day of the event.
---
An opinion piece by Indivisible FL-13 Organizer Scott Brown, published on DemcastUSA.com
So many things to fix in the aftermath of Trump …
 Mafia-Don: You Can Play it at Home
---
The SOE Is Hiring: Be An Election Worker
This year in particular, democracy needs all the help it can get. The Supervisor Of Elections is hiring poll workers and it's a near certainty they are going to be short handed come November 3rd no matter how successful Indivisible FL-13's (and others') Vote By Mail efforts are.
More information at https://www.votepinellas.com/Election-Worker.
---
Be a Legal Observer. Help Protect Free Speech.
Legal Observers attend demonstrations at the request of the Organizers. Observers are there to observe and document. They may be called upon to tell the public and the Courts what they witnessed and share what they saw. Sometimes this witnessing helps people arrested without cause.
We all need more Legal Observers. The training is good for those who want to be observers or demonstrators and those who want to learn more.
There will be a Zoom training in early August.
If you want to be a part of the The Pinellas County ACLU Legal Observer group, contact Llani O'Connor of the ACLU. lsaunders1612@me.com or 312.952.9379. Please leave your name & spelling, email & phone.
This is one way you can help protect free speech.
---
Write Postcards To Voters!
Our current post carding push continues and we have more campaigns in the planning phase. We're going to be pushing hard right up until the November election. There's still plenty of time to get involved.
We'd love for you to join us. If you want to learn more about campaign please go to our website via this link:
Pinellas County Postcard Project – https://tinyurl.com/pinellaspostcards
This is the most important election of our lives. Help us turn Pinellas County the brightest shade of BLUE ever!
---
Weekly Defeat 45 Demonstration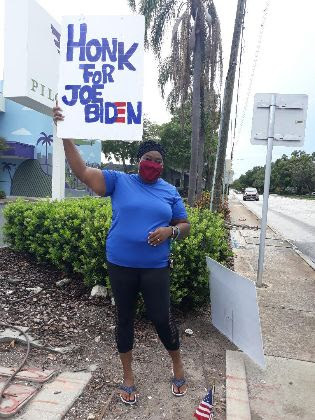 Defeat 45 has been holding weekly demonstrations every Saturday at various locations in Pinellas County.  For information on this week's Defeat. 45 location check out their facebook page at:

https://www.facebook.com/defeat45
---
Indivisible FL-13 Contact Information:
Indivisible FL-13 is a member of the Indivisible Florida Network and the Pinellas Coalition For Immigration Justice.
Indivisible Florida Network
Pinellas Coalition For Immigration Justice Website
Pinellas Coalition For Immigration Justice on Facebook
Indivisible FL-13 Website
Indivisible FL-13 Facebook Group (lightly moderated)
Indivisible FL-13 Facebook Page (official communications)
Email Indivisible FL-13 at info@indivisiblefl13.com
Useful Tools:
Pinellas County Progressive Calendar

Resist Bot, fax your representatives via text message. Text RESIST to 50409

Fax your congressperson for free at FaxZero.com

Get action alerts from Countable.us

Register to vote, vote by mail!
---
Florida 13 Congressperson Phone Numbers:

Senator Marco Rubio (R):                DC (202)224-3041   Local (813)287-5035
Senator Rick Scott (R):                    DC (202) 224-5274 
Representative Charlie Crist (D):     DC (202) 225-5961  Local (888)205-5569
---
DemCast is an advocacy-based 501(c)4 nonprofit. We have made the decision to build a media site free of outside influence. There are no ads. We do not get paid for clicks. If you appreciate our content, please consider a small monthly donation.
---