IC-SS Weekly Update: August 3, 2020
Zoom with Us Tomorrow – Tue, Aug 4, 7:30 pm
Next Zoom parties: Tues, August 4 + Thurs, August 27, 7:30-9:00 pm. Join us tomorrow on Zoom to learn, share, and fellowship. Grab your postcards and write along with us. But postcards aren't required. We invite ALL our members and friends. RSVP here.
On Tues Aug 4th, we'll welcome two special guests: Our friends Bill Mengebier of Indivisible Chicago Alliance and Kathleen Long of Indivisible Evanston will drop by (a bit after 8:00) to talk about GO TIME: vital ways to safely reach voters before the November 3 election – a mere 3 months from now!
---
Got Postcards to Turn In?
 Have you finished your first 100 postcards? 200, 300, or more? Contact IC-South Side Co-Leader Esther Peters to arrange for safe return of your postcards (in batches of 100). You can reply to Esther's previous emails to you OR let her know right here.
---
Tell a Friend
We heard from Kimberly Hinton, who writes, Good morning! I have some ready to drop off and would like to donate funds for stamps. I also have a few friends who would like postcards. Please advise.
Be like Kim – get your friends involved! Here's what to do:
For friends in Chicago or a nearby suburb: Have them place an order via Indivisible Chicago Alliance's order page. They'll select the postcard distribution hub closest to them for safe pick-up or delivery.
For friends outside Chicago or nearby suburbs: Have them order postcards directly from Postcards to Swing States – the postcards will then be mailed to them.
Once you and your friends all have postcards, you can all join our postcard parties via Zoom – or hold your own video chats with your friends. A fun way to interact and motivate one another to write!
---
Postcard writers: Share your postcard photos and stories to appear in the newsletter or on Facebook/Twitter. Just obscure or blur any addresses. Thanks!
---
Resource Round-Up
Here are some resources shared by our members and friends to inform you and give you the chance to act.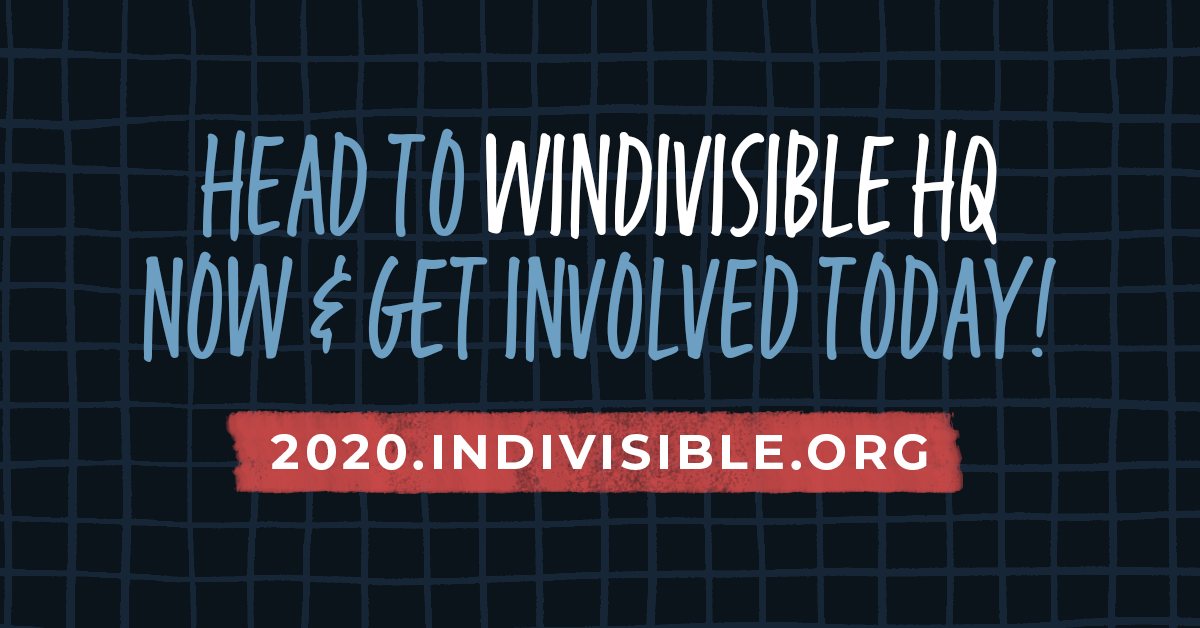 Saturday, August 8th, 10:00am-6:00pm Chicago time. Sign up for the online #Windivisible Bootcamp from national Indivisible. National Indivisible writes: Winning a Democratic trifecta would change everything, so we need to work together to reclaim that power. Ready to win? Join fired-up Indivisibles from across the country on August 8 for a day-long virtual conference to learn the skills needed to participate in Windivisible. Windivisible Bootcamp is for new and experienced Indivisible activists alike.
Vote safely, vote by mail! Information on voting by mail in Chicago and voting by mail in suburban Cook County. (Voters can choose to drop their completed mail ballots into secured drop boxes at Early Voting Sites instead of sending them through US mail. And, yes, you can apply to vote by mail, change your mind, and decide to vote in person.)
Phonebank with Indivisible Chicago Alliance. Call voters in Michigan, Wisconsin, and IL's 14th District (for Lauren Underwood). Get info on phonebanking and other ways to act at the 3 States/1 Mission page.
---
Let's Connect: Member Check-In You may soon be hearing from Teri Watkins, IC-South Side's Acting Co-Leader for membership. In the coming weeks, Teri will be reaching out to members by phone to hear what issues matter most to you and to help connect you to ways you can stay active – safely – as we count down to November 3rd (and beyond).
As always, feel free to send in your questions or ideas.
---
SIGN UP forICA's Postcard Posse
As part of Indivisible Chicago Alliance's 3 States/1 Mission project, IC-South Side is participating in the citywide Postcard Posse, writing postcards to voters in swing states. What to do for postcards:
1. ORDER POSTCARDS. Fill in the form at the Postcard Posse order page. Ask for 100 or more (in increments of 100) and select HYDE PARK as your pickup/delivery point.
 2. REGISTER. Register at the Postcard Posse registration page. Sign up to write on your own, or choose one of our two teams (by zip code): South Side Scribes, Local 15 or 37.
 3. IF YOU CAN, BUY STAMPS. You aren't required to stamp your own postcards, but if you can afford to, you can order online: Here's a link to postcard stamps at USPS.com.
QUESTIONS OR CONCERNS?
Contact us at Indivisible Chicago-South Side
---
DemCast is an advocacy-based 501(c)4 nonprofit. We have made the decision to build a media site free of outside influence. There are no ads. We do not get paid for clicks. If you appreciate our content, please consider a small monthly donation.
---