PASSING THE VIRTUAL HAT!
Please Support Indivisible Hawaii's 
Blue Wave 96-Day Sprint to Win on November 3rd!
Since January Indivisible's Statewide BlueWave Hawaii Team has written over 5,000 Get Out the Vote and Voter Registration letters to key swing states:  Arizona, Colorado, Maine, and North Carolina.  Because of COVID 19 our message now also alerts voters to request a vote by mail ballot and to vote early.  
 
To keep our eye on the prize, we have committed to writing another 5,000 letters and 10,000 postcards to mail before October.
 
In the past, the effort was largely self-funded by passing-the-hat and volunteers supplying postage for the group.  Because folks now work from home we are passing the virtual hat once again to ask you to help fund printing materials and postage.  We have a goal in the next month to raise $3,000 to fund the printing of more letters and postcards and to provide postage. 
 
And, for the next month, Indivisible National will match donations up to $350! 
 
Please donate TODAY and join with Indivisible Hawaii in the BlueWave 96-day Sprint to Winning on November 3rd!  Help us reach our $3,000 goal to ensure a successful Blue Wave project!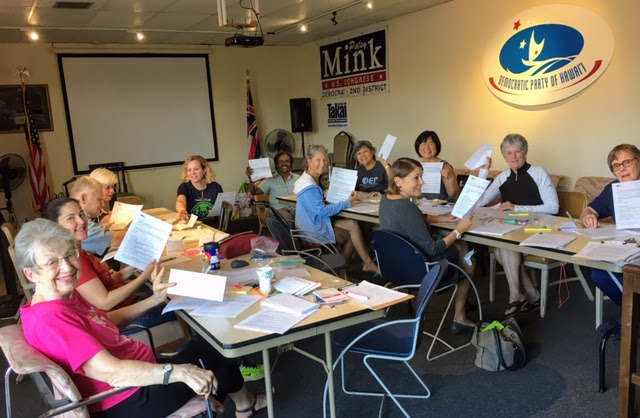 Visit our WEBSITE for info on upcoming events!
---
DemCast is an advocacy-based 501(c)4 nonprofit. We have made the decision to build a media site free of outside influence. There are no ads. We do not get paid for clicks. If you appreciate our content, please consider a small monthly donation.
---