---
This past Sunday marked 100 days until the November 3rd General Election. Click here for 100 ways to get activated before election day. Our democracy depends on it!
---
Click here to register for Monday's Westchester for Biden call.
Click here to sign up for Resistance Mondays/NY for Biden virtual phone banking.
---
Register here for this program that features multiple workshop tracks geared to activists at all levels, from front line volunteers through super-organizers.
---
Winning swing states – Arizona, Florida, Michigan, Pennsylvania, North Carolina, and Wisconsin – is crucial to a Biden victory and the twin goal of flipping the US Senate. Click here to adopt one of these states thanks to Vote Save America. "No matter where you live, you can directly support the work of organizers, volunteers, and candidates in the six key battleground states that will be most important to delivering a progressive majority in 2020. Just pick a state below, sign up, and we'll get you everything you need to make a big difference this November."
---
Help us reach voters in Wisconsin, Pennsylvania and Iowa. Email us at IWPostcarding@gmail.com and IW will get you set up with cards and lists. Looking for other ways to get involved? The Indivisible Westchester website has a ton of ideas. Flip the West, Open Progress, Westchester for Biden and more are all here in once place. Click here to take action now! 
---
We must stop Trumpism here at home. Please support Sen. Pete Harckham in his reelection race against Rob Astorino  – #Disasterino – Trump's number one supporter in Westchester.
---
Protect Your Vote – Act By Tuesday
The entire Westchester Board of Legislators is holding a hearing with the Westchester County Board of Elections on Wednesday to address the numerous problems voters encountered during the June primary.
Call your Legislator by Tuesday and say: 'I am asking Legislator (Name) to ask direct, relevant and comprehensive questions, and demand clear direct answers during the 7/29 public hearing regarding the failures voters experienced in the primary. Find your county legislator here. Then follow this link to view the hearing @ 7/29 @ 10am. Stayed tuned for more actions after 7/29.
---
Click here to RSVP for the third forum in a non-partisan coalition-building series to inform, empower and connect advocates on #ElectionReform. 
Say No To ICE Machines
The Westchester Board of Elections claims a lack of machines caused primary voting problems and wants to buy more insecure, hackable ICE machines. In '19, all polling places were open with enough machines (there are 1,000+ in inventory) and the county is facing up to a $250 million deficit. The Board of Legislators votes Thursday, 7/30 soplease call your County legislator by Wednesday 7/29 and tell them to VOTE NO!
---
Your calls worked! This past week, the NY Legislature passed a number of voting reform bills. Click here to access the list.
---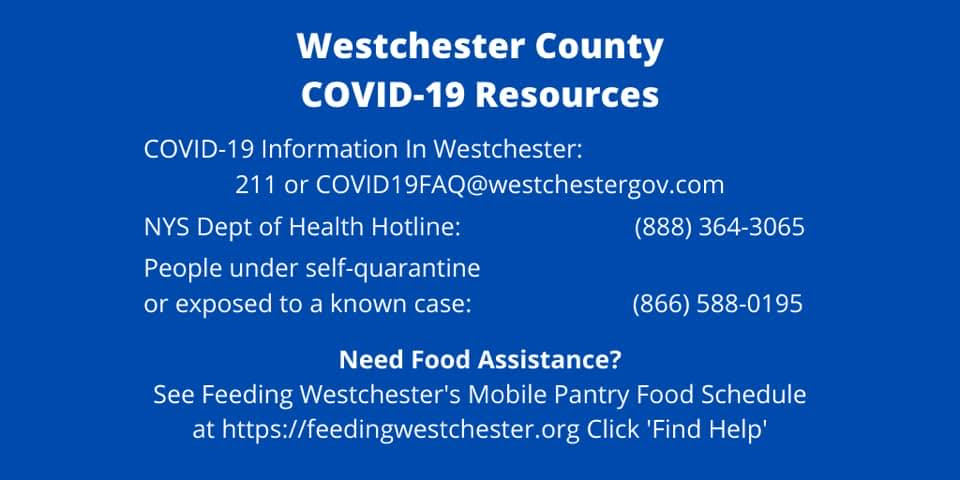 Ways To Help Those In Need:
Masks are in short supply. Help out @ www.sewforny.org
Call (914) 849-GIVE or email wphcmail@wphospital.org to contribute to White Plains Hospital's COVID-19 Relief Fund
New York-Presbyterian Hospital, in addition to accepting masks, gloves and protective eyewear, would also accept funds for food for the health care workers and old iPads to help patients in hospitals stay connected with loved ones. You can email NYP at masks@NYP.net
Greenwich Hospital has created a donation page for financial donations. Http://giving.greenhosp.org/giving/covid-19/support/funds/
Here are some Domestic Violence hotlines and resources:
Westchester County
Hope's Door, Inc. (888) 438-8700 – Provides both residential and non-residential domestic violence services. OCFS Licensed and Approved.
My Sisters' Place (800) 298-SAFE/7233 – Provides both residential and non-residential domestic violence services. OCFS Licensed and Approved.
Westchester County Office for Women– Provides non-residential domestic violence services. OCFS Licensed and Approved

Family Helpline/Hotline weekdays 9am – 5pm (914) 995-5972
Weekend and after hours (914) 995-2099
Spanish Language (White Plains) (914) 995–6581
Spanish Language (Yonkers) (914) 231-2882
---
Get a Complete Count
Make sure to fill out your Census form today – click here to get started. Many Westchester towns are lagging below their 2010 response rates. It's imperative that we all fill out the Census. Please check with your family, friends and neighbors to make sure they've filled out the Census. Email, call or text them a friendly reminder! 
---
Together, we stand Indivisible against the Trump administration.
---
Indivisible Westchester
PO Box 214
Larchmont, NY 10538
---
DemCast is an advocacy-based 501(c)4 nonprofit. We have made the decision to build a media site free of outside influence. There are no ads. We do not get paid for clicks. If you appreciate our content, please consider a small monthly donation.
---