IC-SS Weekly Update: June 8, 2020
Register: Zoom Parties, June 11 + 23
Register now for our online Postcard Parties: Thursday, June 11th and Tuesday, June 23rd, 7:30-9:00 pm. RSVP by email to get the Zoom link – be sure to say which date(s) you'll attend.
What happens at an IC-SS Postcard Party? See old friends, meet new ones, share resources for activism, and find companionship as you pen your postcards to voters in Michigan or Wisconsin.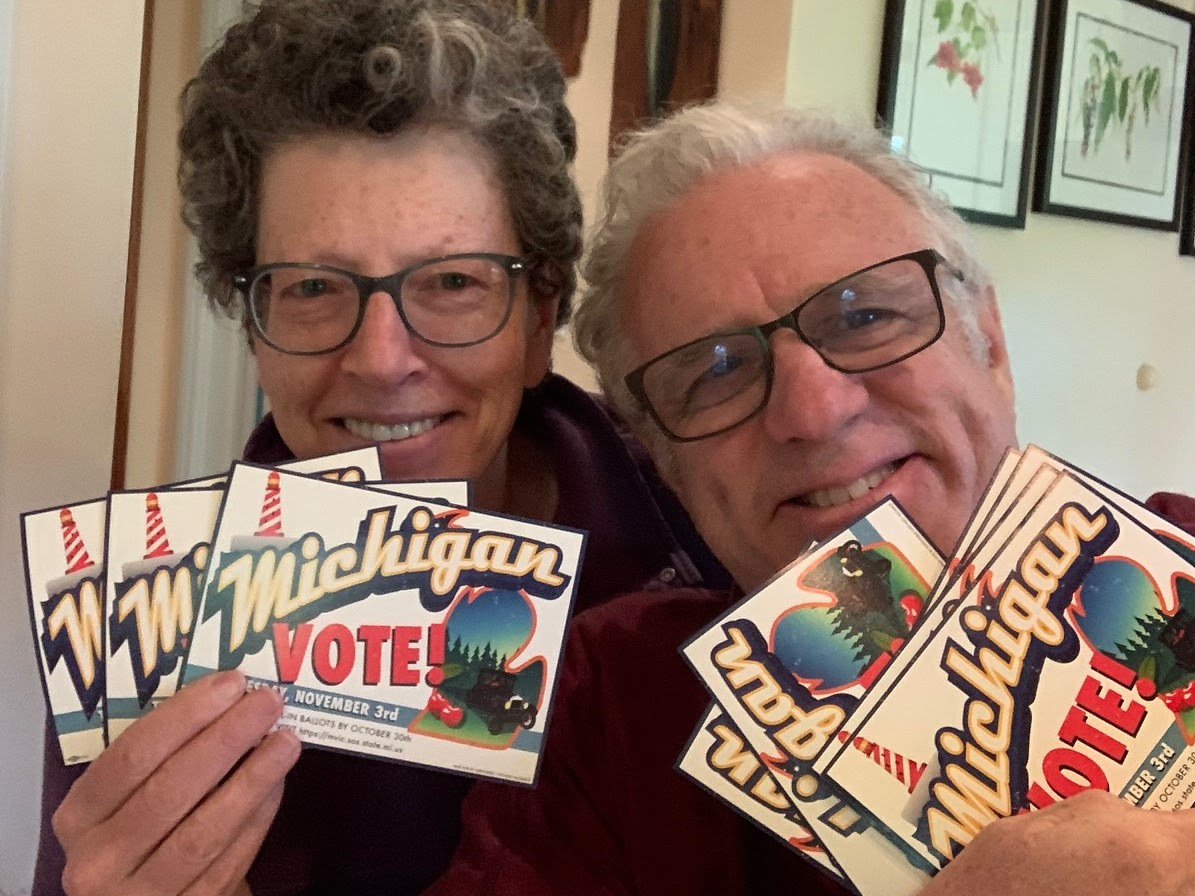 The Indivisible Chicago Alliance (ICA) will also be holding citywide Postcard Posse gatherings online. Scroll to the bottom of the newsletter for more info about Indivisible Chicago-South Side's participation in the ICA postcard project.
June 15: Meet the Michiganders
Monday, June 15th, 6:00-7:00 pm: Meet the team bringing new, blue leadership to Michigan! Indivisible Chicago Alliance's 2020 Committee invites you to a special online forum to meet the candidates at the heart of ICA's strategy to flip Michigan blue this November:
• Jon Hoadley – U.S. House of Rep. (6th District)
• Christine Morse – MI State House (61st District)
• Chokwe Pitchford – MI State House (79th District)
• Abigail Wheeler – MI State House (66th District)
Through ICA's Michigan Mondays phone banks, volunteers have already made thousands of calls to voters in Michigan to generate name recognition, enthusiasm and momentum for these candidates to drive the turnout we'll need to re-capture the 16 electoral votes in this critical swing state. Indivisible Chicago-South Side is proud to partner with ICA in this effort.
Once you know the candidates, you'll be even more enthusiastic to phone Michigan voters. Sign up to Meet the Candidates and get the Zoom link.
And please join South Siders and other Chicago volunteers in phoning Michigan voters. For opportunities to phonebank and – if you're new – get a phonebank training, go to this page.
Defending Black Lives
Some people have been fighting their whole life. Some are taking action for the first time. Here are a few resources to combat systemic racism and defending Black lives.
National
Local
Protest and Vote
"Voting feels inadequate in our darkest moments. I recognize that," writes Stacey Abrams in her New York Times Op-Ed.
She concludes, "Protest to demand attention to the wrenching pain of systemic injustice. Vote because we deserve leaders who see us, who hear us and who are willing to act on our demands. … Voting will not save us from harm, but silence will surely damn us all." 
We continue to face a president and enablers determined to establish authoritarian rule. Through social media and email, Indivisible Chicago Alliance and Indivisible Chicago-South Side share opportunities to protest, pressure elected officials, support organizations, protect voting rights, and help get out the vote in key districts and states. Choose the efforts that work for you – and stay strong.
Take Part in ICA's Postcard Posse
Indivisible Chicago-South Side is participating in the citywide Indivisible Chicago Alliance's Postcard Posse. If you haven't yet started writing postcards to voters in Michigan or Wisconsin, here's what to do:
1. ORDER POSTCARDS. Fill in the form at the Postcard Posse order page. Ask for 100 or more (in increments of 100) and select HYDE PARK as your pickup/delivery point.
2. REGISTER. Register at the Postcard Posse registration page. Sign up to write on your own, or choose one of our two teams (by zip code): South Side Scribes, Local 15 or 37.
3. IF YOU CAN, BUY STAMPS. Youaren't required to stamp your own postcards, but if you can afford to, you can order online: Here's a link to postcard stamps at USPS.com.
---
DemCast is an advocacy-based 501(c)4 nonprofit. We have made the decision to build a media site free of outside influence. There are no ads. We do not get paid for clicks. If you appreciate our content, please consider a small monthly donation.
---