Episode 38: The Latest on Voting in NY
The presidential candidates aren't on the ballot, but the June Democratic primaries are on in Westchester. And with them, come changes in the way we can vote. Jarret Berg, attorney and Co-Founder of Vote Early NY, discusses early voting and how to vote by mail. 
 In order to vote by mail, you must fill out an absentee ballot application – click here  to download the application and check the box labeled "temporary illness."  In addition, all voters will receive a postage paid absentee ballot application in the mail.
Click here to listen to the podcast.
 Click here for more updates about the June 23rd primary.
NY Needs More Federal Funding Now
New York's financial situation is dire.
Governor Cuomo is threatening 20% across the board budget cuts because of the financial strain caused by the pandemic.
We need New York's Congressional delegation to fight for a federal stimulus packagethat helps bridge the funding gap. 
Call your member of Congress today and ask them to push for increased funding.
Click here for a sample letter to send lawmakers regarding school funding. Without federal aid, NY schools will be back at 2014 levels.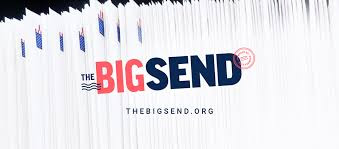 Write Letters to Voters
The Big Send is an national effort to write 10 million voter letters to voters before election day. 
Sending a Vote Forward letter is one of the easiest things you can do to increase election turnout. It only takes a couple of minutes and a stamp to meaningfully increase the odds that a fellow citizen will vote.Click here for more information.
IW's postcarding efforts to help elect Democrats around the country continues. Email communications@indivisiblewestchester.org to get started.
Click here if you'd like to help Flip the West call voters in Arizona to ensure that Arizona voters can vote by mail. Flip the West is targeting campaigns in Western states to take the Senate, win the White House, and hold the Democratic majority in the House.
Save the US Postal Service
The pandemic threatens the Postal Service, which could run out of money in June.
Learn more, sign this petition to demand federal funding and share far and wide!
Fill Out Your Census Form
 Click here to get started and help NY get a complete count.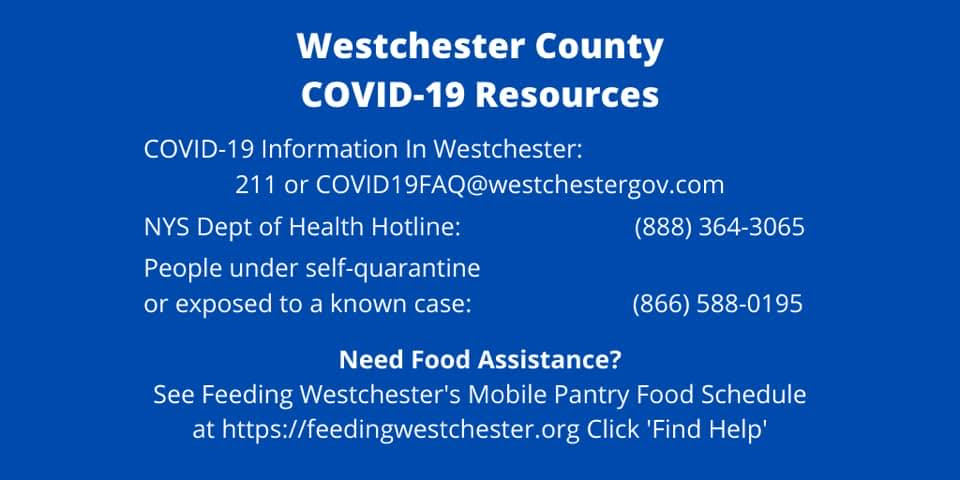 COVID-19 Information
May is Mental Health month. New York has established a free hotline for people to call and make an appointment with a volunteer mental health professional.
The number is 1-844-863-9314.
Check out the latest information about the Pandemic Unemployment Assistance program.
 The Westchester County Department of Health has this tool to help you determine whether you are subject to an Order of Isolation, an Order of Quarantine, or if it is recommended that you Self-Quarantine.
New York has reopened enrollment for those who need health insurance. Click here for more information.
Here is a list of Westchester restaurants open for takeout curated by Andrea Stewart Cousins.For daily updates, check out https://coronavirus.health.ny.gov/home.
Ways To Help Those In Need:
Masks are in short supply. Help out @ www.sewforny.org
Call (914) 849-GIVE or email wphcmail@wphospital.org to contribute to White Plains Hospital's COVID-19 Relief Fund
New York-Presbyterian Hospital, in addition to accepting masks, gloves and protective eyewear, would also accept funds for food for the health care workers and old iPads to help patients in hospitals stay connected with loved ones. You can email NYP at masks@NYP.net
Greenwich Hospital has created a donation page for financial donations. Http://giving.greenhosp.org/giving/covid-19/support/funds/
Domestic Violence Hotlines:
New York State
 Call (800) 942-6906 for the NYS hotline to help you find safe shelter.
Westchester County Hope's Door, Inc. (888) 438-8700 – Provides both residential and non-residential domestic violence services. OCFS Licensed and Approved. My Sisters' Place (800) 298-SAFE/7233 – Provides both residential and non-residential domestic violence services. OCFS Licensed and Approved. Westchester County Office for Women– Provides non-residential domestic violence services. OCFS Licensed and Approved Family Helpline/Hotline weekdays 9am – 5pm (914) 995-5972 Weekend and after hours (914) 995-2099 Spanish Language (White Plains) (914) 995–6581
Spanish Language (Yonkers) (914) 231-2882
Together we stand together to fight the Trump administration.
---
DemCast is an advocacy-based 501(c)4 nonprofit. We have made the decision to build a media site free of outside influence. There are no ads. We do not get paid for clicks. If you appreciate our content, please consider a small monthly donation.
---