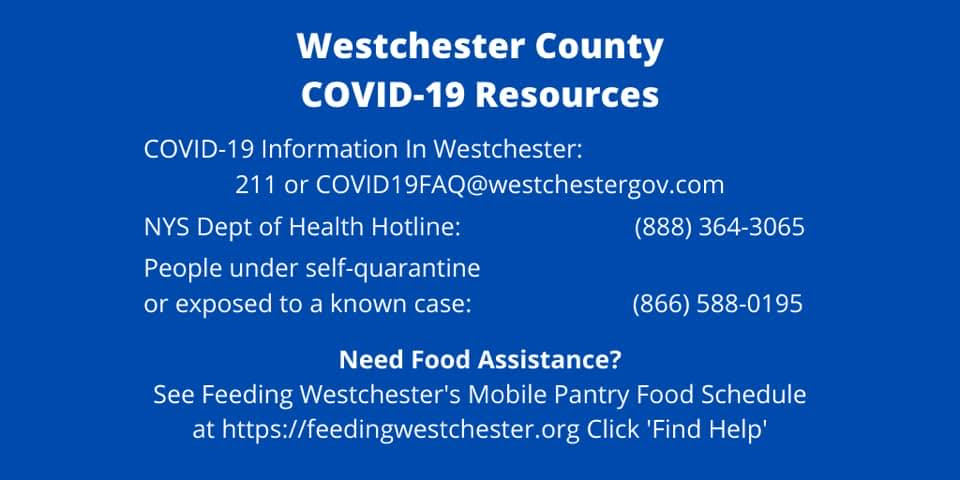 "New York on Pause" shutdown of nonessential businesses is extended until May 15th.

Governor Cuomo orders residents to wear masks in public.

For daily updates, check out https://coronavirus.health.ny.gov/home.
The Westchester County Department of Health has this tool to help you determine whether you are subject to an Order of Isolation, an Order of Quarantine, or if it is recommended that you Self-Quarantine.
New York has reopened enrollment for those who need health insurance. Click here for more information.
New York has established a free hotline for people to call and make an appointment with a volunteer mental health professional.
The number is 1-844-863-9314.
Westchester County has childcare available for first responders, medical personnel and essential employees during the week in White Plains. For information, email Rosie at Rvf1@westchestergov.com.
Here is a list of Westchester restaurants open for takeout curated by Andrea Stewart Cousins.
Ways To Help Those In Need:
Masks are in short supply. Help out @ www.sewforny.org
Call (914) 849-GIVE or email wphcmail@wphospital.org to contribute to White Plains Hospital's COVID-19 Relief Fund
New York-Presbyterian Hospital, in addition to accepting masks, gloves and protective eyewear, would also accept funds for food for the health care workers and old iPads to help patients in hospitals stay connected with loved ones. You can email NYP at masks@NYP.net
Greenwich Hospital has created a donation page for financial donations. Http://giving.greenhosp.org/giving/covid-19/support/funds/
Domestic Violence Hotlines:
New York State
 Call (800) 942-6906 for the NYS hotline to help you find safe shelter.
Westchester County
Hope's Door, Inc. (888) 438-8700 – Provides both residential and non-residential domestic violence services. OCFS Licensed and Approved.
My Sisters' Place (800) 298-SAFE/7233 – Provides both residential and non-residential domestic violence services. OCFS Licensed and Approved.
Westchester County Office for Women– Provides non-residential domestic violence services. OCFS Licensed and Approved
Family Helpline/Hotline weekdays 9am – 5pm (914) 995-5972 Weekend and after hours (914) 995-2099 Spanish Language (White Plains) (914) 995–6581
Spanish Language (Yonkers) (914) 231-2882
Episode 37: Local Food Banks in Need
Local food banks are overwhelmed by the Coronavirus. We talk to Indivisible New Rochelle member Rhiannon Navin who has been working tirelessly to feed people in New Rochelle since the outbreak began. Click here to listen to the podcast.
Help fund the effort in New Rochelle here.

In March, Feeding Westchester distributed 1.4 million pound of food – a 77% percent increase from the previous March.
 Click here to watch a video from Feeding Westchester.
Let's Take Back the Senate By Helping Flip the West

Join Flip the West's webinar this Tuesday to hear Christina Soliz, Colorado Program Director for America Votes, give an exclusive look at Colorado's political landscape and what it's going to take to oust Republican Senator and Trump loyalist Cory Gardner. Find out more about Flip the West.
Webinar:  Colorado Program Director for America Votes Christina Soliz Tuesday, April 21st, at 8:00 pm EST
 
Please RSVP on Zoom here. 
Voting By Mail in the June Democratic Primary
Everyone can vote by mail in the June 23rd Democratic primary if they wish to. Requests can by made by internet, fax, mail or in-person. If you want to vote by mail – also known as voting absentee – check the box labeled "Temporary Illness or Physical Disability."
Important Dates:
If you are not registered to vote, the deadline to register and to vote in the primary is May 29th.
The last day for notification of a change address is receipt by the Westchester Board of Elections by June 3rd.
The first day of early voting for the primary is June 13.
Click hereto access is the form:
Our post carding efforts to elect Democrats around the country and help register new voters continues. Email communications@indivisiblewestchester.org to get started.
We have sent thousands of postcards to voters!Save the US Postal Service The pandemic threatens the Postal Service, which could run out of money in June.Learn more, sign this petition to demand federal funding and share far and wide!
Make sure to fill out your Census form today! Click here to get started and help NY get a complete count.
Together we stand together to fight the Trump administration.
---
DemCast is an advocacy-based 501(c)4 nonprofit. We have made the decision to build a media site free of outside influence. There are no ads. We do not get paid for clicks. If you appreciate our content, please consider a small monthly donation.
---