IC-SS Weekly Update: April 20, 2020
COVID-19 Community Forum – Tues 4/21 Everyone has a COVID-19 story. What's yours?

The Hyde Park-Kenwood Community Conference invites you to share your COVID-19 story and get updates and questions answered by local officials on Tuesday, April 21st at 6:00 pm (online, of course).
HPKCC COVID-19 Virtual Community Forum
Register:https://hydeparkcovid19forum.eventbrite.com
Date: Tues. 4/21
Time: 6:00 – 8:00 pm
Questions: communications@hydepark.org

6:00-7:00 pm: Speakers from our communities will have the opportunity to share how COVID-19 has impacted them and their families.

7:00-8:00 pm: Local officials will provide updates regarding their response to COVID-19 and answer questions submitted in advance.

Join Hyde-Park Kenwood Community Conference for this important community dialogue and have your voice heard!
Register for the HPKCC April 21 community forum HERE
Member Profile: Steve Kagan
Many IC-South Side members have penned postcards to voters while sipping tea (or wine) at the home of Steve Kagan. But hosting IC-SS postcard parties is only one of his efforts. Steve writes:
On the morning of November 9th, 2016 my 23-year-old daughter called in tears. I was also upset about the election, but put on my parent hat and calmly assured her our Democracy was elastic and strong enough to survive. We will emerge from this retrograde lapse, I told her.

I had been volunteering at the Hyde Park office for Tammy Duckworth's campaign. The office manager told me about this new group, Indivisible.

I joined, went to and hosted post card writing parties, and took deputy voter registration training. I've registered hundreds of high school students with Indivisible and the League of Woman voters.

I started writing letters with Vote Forward a couple of years ago and really like being able to reach out and nudge progressive voters from swing states to the polls. During this stay-at-home time, I've set a goal of 20 letters a day to Michigan voters for the general election.

The letters to voters will not get mailed for a few months, but I'm looking forward to calling my daughter on November 4th to celebrate a Democratic sweep!
 Write Letters to Voters!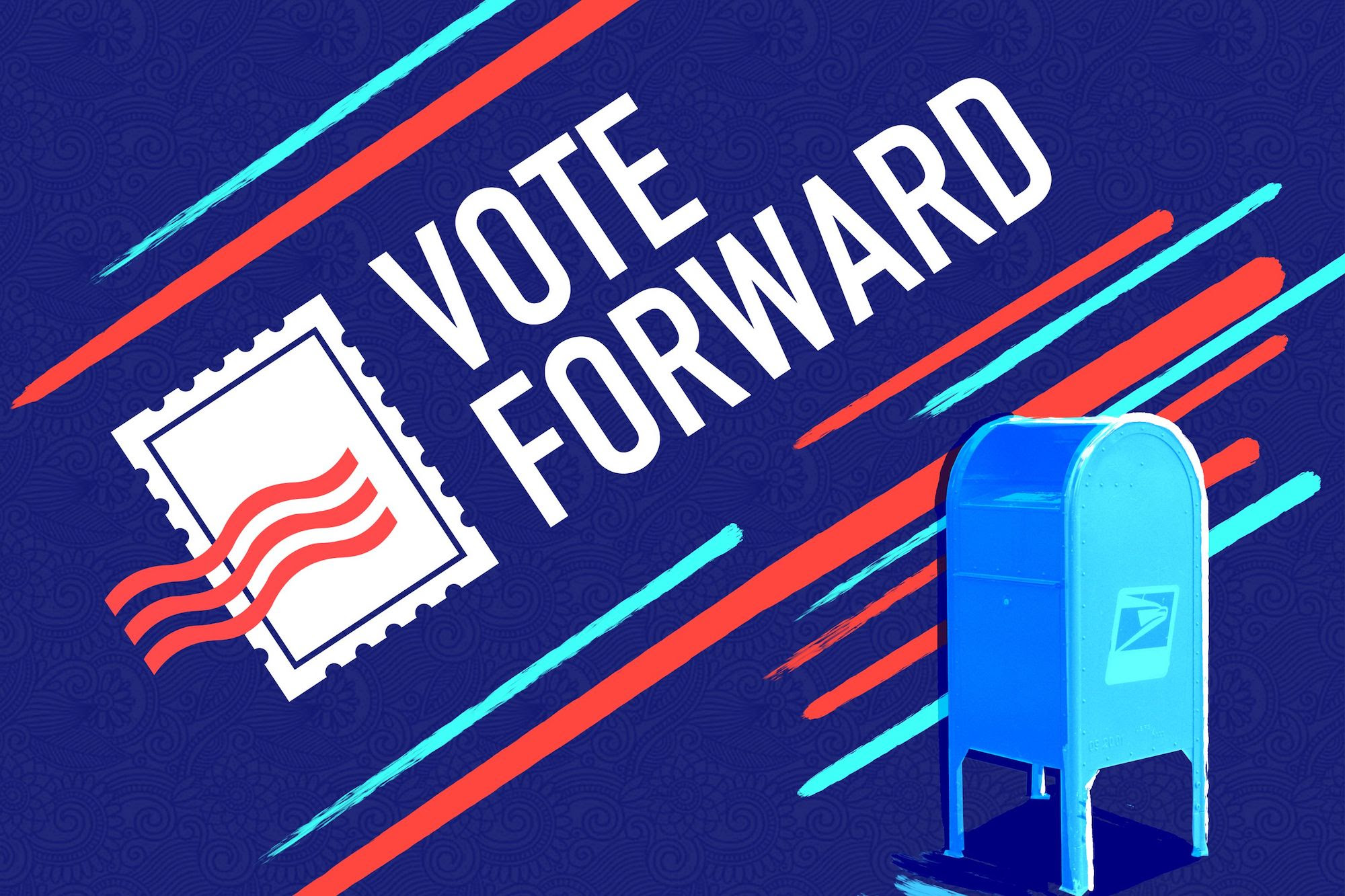 Let's join IC-SS member Steve Kagan and write letters to voters! Recently, national Indivisible launched a partnership with Vote Forward, a nationwide letter-writing campaign to reach voters in key states before the November election, maximize impact, and increase turnout.
Got a printer? Stamps, paper, and envelopes? If yes to both, you can apply to get started right away. Read more and sign up here.
Set your own goal. While Steve is writing 20 letters per day, you can determine what's doable for you. 20 per week? 5 per month? It's all good.
Let us know:
COVID-19 & Inequity
In Chicago and other cities, COVID-19 reflects our nation's history of racism and inequity. Black people make up about 30% of Chicago's population but are vastly overrepresented in deaths from COVID-19 – 60% to 70%. So you won't be surprised to know that many South Side communities, including South Shore, West Englewood, and Morgan Park, are hit hard by the pandemic. Here are resources to inform you as you advocate:
COVID-19 Deaths in Chicago's Neighborhoods – a live tracker of COVID-19 deaths in each of Chicago's 77 communities compiled by Bea Malsky in the South Side Weekly
ROUNDUP: Little room to breathe as Chicago and Illinois fight to bend the COVID-19 curve by Asraa Mustufa in the Chicago Reporter
The Black Plague: Public officials lament the way that the coronavirus is engulfing black communities. The question is, what are they prepared to do about it? by Keeanga-Yamahtta Taylor in the New Yorker.
Help Bret Harte Kids
Friends of Bret Harte Elementary is raising funds for school supplies and for anticipated damage to its Chromebooks, which were distributed to students for virtual learning amid the pandemic. Donations can be made on the the group's website, www.friends-of-bret-harte-elementary.org, at www.donorbox.org/bret-harte-covid19-emergency or on Facebook. If donors would prefer to send a check, they can email friendsofbretharteelementary@gmail.com to get an address. Read more in this Hyde Park Herald story by reporter Aaron Gettinger.
COVID19 ResourcesSouth Side COVID19 Resource Guide. South Side Weekly offers extensive listings of information, assistance, and volunteer resources on the South Side: COVID-19 South Side Community Resource Guide
Block Club Chicago's List Of Coronavirus Resource (new listing)
City of Chicago COVID19 response. Resources and info at Chicago's Coronavirus Resource Center. And find answers to FAQs on Chicago's Stay at Home order.
State of Illinois COVID19 response. Resources and info at
coronavirus.illinois.gov. And get updates via Governor Pritzker's website, Facebook and Twitter.
Chicago Jobs Council.Resources regarding employment/unemployment and COVID-19 (new resource)
Illinois Call4Calm Text Line: If you or a loved one are struggling with stress related to the COVID-19 pandemic and need emotional support, text TALK to 552020 for English or HABLAR for Spanish. This service is free and available 24/7.
Serve Illinois – Volunteer opportunities
Greater Chicago Food Depository – Ways to help
University of Chicago info & service resources:
Got a local resource to recommend?Email us!
Indivisible Chicago-South Side
Follow IC-SS on Facebook and Twitter
---
DemCast is an advocacy-based 501(c)4 nonprofit. We have made the decision to build a media site free of outside influence. There are no ads. We do not get paid for clicks. If you appreciate our content, please consider a small monthly donation.
---