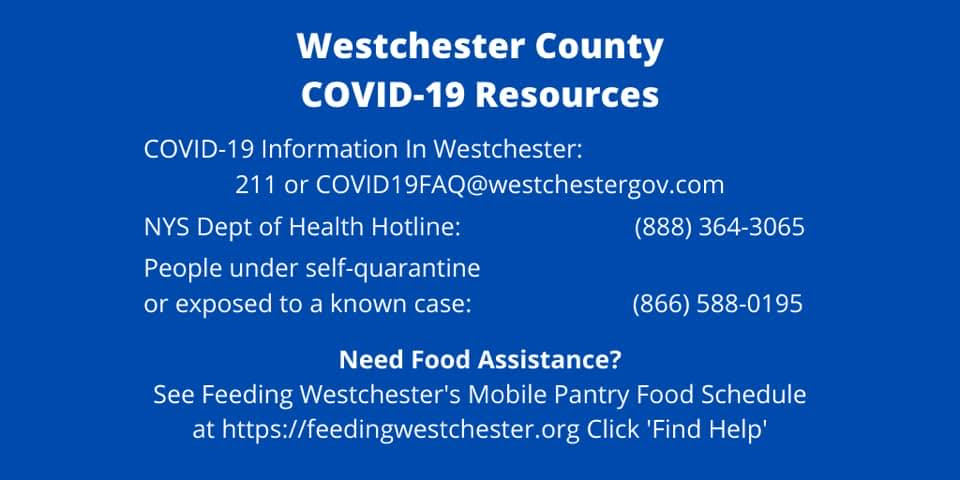 For updates throughout the day, please check: https://coronavirus.health.ny.gov/home
New York has reopened enrollment for those who need health insurance. Click here for more information.
New York has established a free hotline for people to call and make an appointment with a volunteer mental health professional.
The number is 1-844-863-9314.
Click here to access the Westchester County Department of Health's webpage for updated information about the virus and how to protect yourself. 
.
Westchester County has childcare available for first responders, medical personnel and essential employees during the week in White Plains. The program has a wonderful, safe, engaging set-up for children 4-12, nurses on staff and is providing two meals, plus a snack. For information, email Rosie at Rvf1@westchestergov.com.
Ways To Help Those In Need:
Masks are in short supply. Help out @ www.sewforny.org
Call (914) 849-GIVE or email wphcmail@wphospital.org to contribute to White Plains Hospital's COVID-19 Relief Fund
New York-Presbyterian Hospital, in addition to accepting masks, gloves and protective eyewear, would also accept funds for food for the health care workers and old iPads to help patients in hospitals stay connected with loved ones. You can email NYP at masks@NYP.net
Greenwich Hospital has created a donation page for financial donations. Http://giving.greenhosp.org/giving/covid-19/support/funds/
According to the Governor's office, New York police are reporting an uptick in domestic violence reports during the pandemic as people throughout the state shelter in place. Here are some Domestic Violence hotlines and resources:
New York State
 Call (800) 942-6906 for the NYS hotline to help you find safe shelter.
Westchester CountyHope's Door, Inc. (888) 438-8700 – Provides both residential and non-residential domestic violence services. OCFS Licensed and Approved.My Sisters' Place (800) 298-SAFE/7233 – Provides both residential and non-residential domestic violence services. OCFS Licensed and Approved.Westchester County Office for Women– Provides non-residential domestic violence services. OCFS Licensed and ApprovedFamily Helpline/Hotline weekdays 9am – 5pm (914) 995-5972Weekend and after hours (914) 995-2099Spanish Language (White Plains) (914) 995–6581
Spanish Language (Yonkers) (914) 231-2882
Episode 35: George Latimer on COVID-19
County Executive George Latimer joins us to talk about the County's response to the pandemic, the coming holidays, and what the future may hold.
 Click here to listen to the podcast.
Call your member of Congress today andadvocate for passage of the H.R. 6139 Health Care Worker Protection Act to extend workplace protections against exposure to coronavirus and protect millions of healthcare workers and other workers at high risk!
And demand that the Trump administration activate the Defense Production Act to ensure that healthcare providers have all of the the tools they need to protect themselves and care for their patients.
Senator Chuck Schumer: 202-224-6542
Senator Kirsten Gillibrand: 202-224-4451
Congressman Eliot Engel: 202- 225-2464
Congresswoman Nita Lowey: 202-225-6506
Congressman Patrick Maloney: 202-225-5441
Read how the Act will save healthcare workers' lives.
Early voting for NY's Presidential primary starts 4/18. Call NYS electeds and sign this petition AND, contact our US Senators to voice strong support for the Klobachur/Wyden emergency bill to institute Vote by Mail.
Click here to read the NYT editorial about why "voting by mail is key to ensuring the integrity and accessibility of November's vote."
 Email communications@indivisiblewestchester.
org to get started with one of our postcarding campaign
We have sent thousands of postcards to voters!
Make sure to fill out your Census form today! Click here to get started and help NY get a complete count. 
This too shall pass. In the meantime, we stand Indivisible.  
---
DemCast is an advocacy-based 501(c)4 nonprofit. We have made the decision to build a media site free of outside influence. There are no ads. We do not get paid for clicks. If you appreciate our content, please consider a small monthly donation.
---