NEWS & UPDATES
"Suppressed: The Fight to Vote" and 2020 Election Protection Kickoff
The 2018 midterm elections were hotly contested throughout the United States, but perhaps nowhere saw as much controversy as the state of Georgia. A new documentary called "Suppressed: The Fight to Vote" takes a look at the obstacles Georgia voters faced at the polls in 2018, including polling place closures, voting roll purges, voter ID issues and more, all of which disproportionately affected people of color and students.
The Election and Voter Protection team of the League of Women Voters of the St. Petersburg Area is proud to present a screening of this documentary on Feb. 19. We will follow the screening with a kick-off of our countywide Election Protection campaign for the 2020 presidential preference primary and municipal elections, which will be held March 17. Attendees will learn more about how they can get involved with Election Protection and what they can do to ensure their friends and families are able to vote and have their votes counted.
Election Protection is a national coalition of more than 100 nonpartisan organizations that work together to ensure every eligible voter has an equal opportunity to vote and have their vote counted. The League of Women Voters of the St. Petersburg Area has served as a county lead for this coalition since 2018. We train and organize poll monitors to provide nonpartisan voter assistance outside of polling places on Election Day.
If you're interested in supporting voters and making sure every vote is cast and counted, then join us on Feb. 19 at 6:30 p.m. at the Sanctuary in Allendale United Methodist Church, located at 3803 Haines Road N, St. Petersburg.
More information about the documentary can be found at https://www.bravenewfilms.org/suppressed.
More information about Election Protection can be found at https://866ourvote.org/.
To sign up to provide nonpartisan voter assistance in Pinellas County on Election Day, please visit here: https://protectthevote.net/.
Register Now!
---
Essay: Trump Successfully Swift Boated Biden
Essay by Indivisible FL-13 Co-organizer Scott Brown (PDF).
---
Write Postcards to Voters Every Monday!
Pinellas County was the largest county in Florida to go for Trump in 2016. We believe that we can turn Pinellas BLUE in 2020. People who use Vote By Mail have significantly higher turnout than those who don't use Vote By Mail. This is particularly true among younger voters. We have targeted 60,000 registered voters in the county who are not signed up for vote by mail. These voters don't belong to a political party but there are indications that they are progressive. We want every one of these voters to get a personalized post card from another Pinellas voter urging them to sign up for vote by mail.
We have card parties every Monday at 6PM Allendale UMC. Many people get cards, instructions and addresses from us and prepare them at home.
Monday's at 6:00 pm
Allendale United Methodist Church
Room 107/108
3803 Haines Rd N.
St. Petersburg, FL 33703
For more information contact Indivisible FL-13 member Ellen Mowbray at mowbrayellen@gmail.com.
We got 10,000 cards in the pipeline in our first month. Our group is up to 50 and growing.
---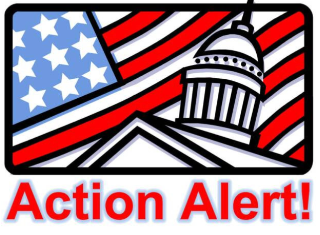 OPPOSE SB 1794
SB 1794 is on the Wednesday, February 19, meeting agenda of the Senate Rules Committee.
Bill Sponsor Title
SB 1794 Hutson Constitutional Amendments Proposed by Initiative
Limits citizens abilities to place initiatives on the ballot; decreases the time period for getting signatures from 2 years to 1; requires petitioners to register as a PAC and places undue burdens on Supervisors of Elections, the Courts and citizens. (HB 7037)
District 24 Senator Brandes is on the Senate Rules Committee, e-mail or call and urge him to vote NO on SB 1794.
Jeff Brandes brandes.jeff.web@flsenate.gov (850) 487-5024
---
Keep up the pressure on our Members of Congress!
WEEKLY DEMONSTRATION AT SENATORS MARCO RUBIO AND RICK SCOTT'S TAMPA OFFICE
Indivisible FL-13, Peace First and other local activist groups gather outside Marco Rubio and Rick Scott's offices in the Sam M. Gibbons U.S. Court House, 801 N. Florida Ave. in Tampa, FL 33602 (map). The protest is every Tuesday, 10:30-11:30 AM. Bring signs, or organizers can provide them. There is parking around the courthouse and the meters take credit cards.
FMI John at (727) 894-2832. or sjstew@gte.net
PEACE FIRST FEBRUARY SITE
Since 2002, Peace First has gathered on street corners in Pinellas County every week to speak for peace and justice.
In February, Peace First will gather at the corner of 34th Street/US 19 and 54th Avenue S. in St. Petersburg (map) every Wednesday in February from 4:30-5:30 PM. This is the intersection next to the I-275 overpass near Eckerd College. A CVS Pharmacy and 7-11 are on that corner; park in that parking lot. Participants gather afterward at a nearby restaurant for an "after demo" meal. FMI, and to get on a mailing list of Peace First news and updates, send a request to sjstew@gte.net
---
Indivisible FL-13 Contact Information:
Indivisible FL-13 on Facebook
Indivisible FL-13 on Twitter
Email Indivisible FL-13 at info@indivisiblefl13.com
Useful Tools:
Florida 13 Congressperson Phone Numbers:
Senator Marco Rubio (R): DC (202)224-3041 Local (813)287-5035
Senator Rick Scott (R): DC (202) 224-5274
Representative Charlie Crist (D): DC (202) 225-5961 Local (888)205-5569
---
DemCast is an advocacy-based 501(c)4 nonprofit. We have made the decision to build a media site free of outside influence. There are no ads. We do not get paid for clicks. If you appreciate our content, please consider a small monthly donation.
---