It is always assumed that Utah is a deep red state, but when news broke that Senator Mitt Romney broke ranks with the GOP and voted in favor of impeaching on Article 1, abuse of power, activists in Utah quickly rallied in support of Mitt Romney.
DemCast along with local organization Salt Lake Indivisible, quickly rallied the troops to let Mitt Romney know that many in Utah supported his decision.
The words of Senator Romney were read out loud to sustained cheers: "
This verdict is ours to render. The people will judge us for how well and faithfully we fulfilled our duty. The grave question the Constitution tasks senators to answer is whether the President committed an act so extreme and egregious that it rises to the level of a "high crime and misdemeanor."

Yes, he did.

The President asked a foreign government to investigate his political rival.

The President withheld vital military funds from that government to press it to do so.

The President delayed funds for an American ally at war with Russian invaders.

The President's purpose was personal and political.

Accordingly, the President is guilty of an appalling abuse of the public trust.

What he did was not "perfect"— No, it was a flagrant assault on our electoral rights, our national security interests, and our fundamental values. Corrupting an election to keep oneself in office is perhaps the most abusive and destructive violation of one's oath of office that I can imagine."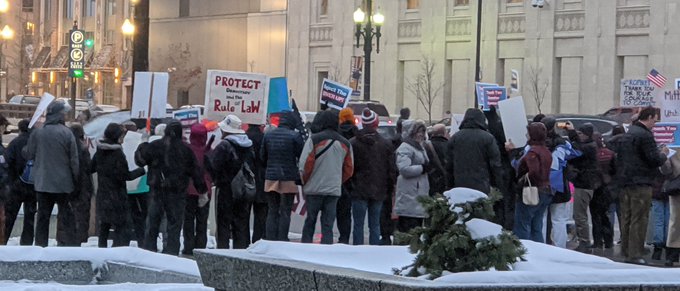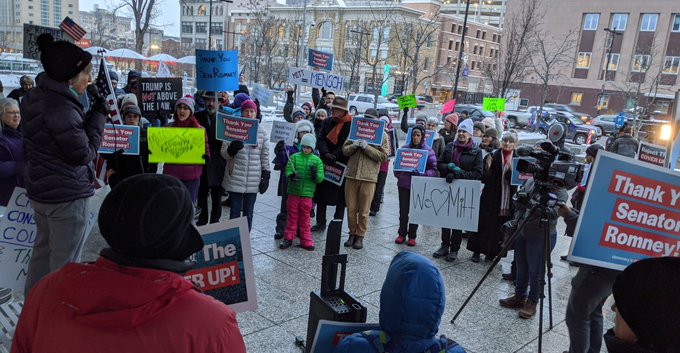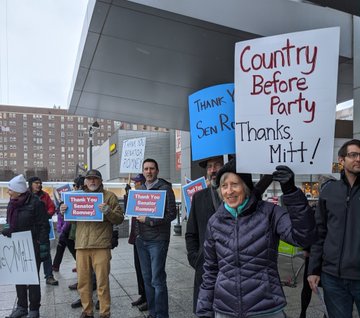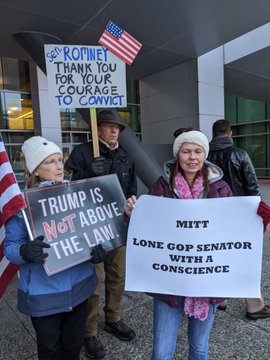 Over a 100 people came out in support of Senator Romney, in the snow and freezing temperatures, with only hours of notice.
Utah has sent a loud and clear message that no one, not even the President of the United States is above the law.
---
DemCast is an advocacy-based 501(c)4 nonprofit. We have made the decision to build a media site free of outside influence. There are no ads. We do not get paid for clicks. If you appreciate our content, please consider a small monthly donation.
---