Yesterday, Chief Justice Roberts administered a specific oath of office to every Senator for the Impeachment Trial. The problem is, we've already had multiple Senators make it clear that they intend to violate that oath.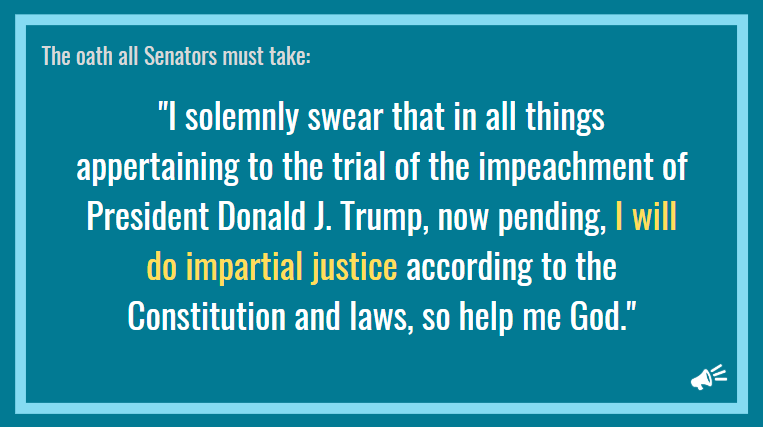 Here's Mitch McConnell flatly stating that he will not be impartial during the Impeachment Trial:
Everything I do, I'm coordinating with White House counsel. There will be no difference between the president's position and our position.
Here's Lindsey Graham saying he's has no interest in impartiality and will vote against having witnesses for Trump, which is in stark contrast to his vehement call for witnesses against a Democratic president:
Rand Paul wants impartial justice so little that he's threatening his fellow Republican colleagues if they vote to call witnesses to the Impeachment Trial.
When Martha McSally was asked if the Senate will consider new evidence in the Impeachment Trial, she responded, "You're a liberal hack, I'm not talking to you." Not a great look for someone who took an oath to be impartial.
When asked about witnesses for the Impeachment Trial, Marsha Blackburn responded, "It is not our job to expand the impeachment." In other words, she has no interest in hearing from Trump's own staff regarding the matter at hand.
John Cornyn hedges in this interview, but he seems to be very uncomfortable with the idea of presenting "brand new witnesses" in the Impeachment Trial because they can be "unpredictable."
In early January, Tom Cotton signed onto a GOP-backed resolution to dismiss the articles of impeachment before the House sent them to the Senate. Does that sound like someone who is serious about exacting Impartial Justice to you?
Josh Hawley was the AUTHOR of that resolution to dismiss the articles of impeachment outright. Clearly, he has zero interest in Impartial Justice.
Rick Scott also signed onto the resolution to dismiss the impeachment before it was transmitted to the Senate. Additionally, he said, "You don't let hearsay evidence in," referring to—apparently—any witness that isn't Trump himself.
David Perdue (who is up for re-election this year!) also signed onto the resolution to dismiss the articles of impeachment without holding a trial. Seems pretty allergic to the idea of witnesses and impartial justice.
James Inhofe made this statement about impeachment back in December: "The president is not going to be removed from office – period." Does he sound impartial to you?
Thom Tillis made it clear back in December that he's a "definite no" when it comes to a vote on impeachment. The Impeachment Trial hadn't even started but he's already made up his mind. Not impartial. At. All.
Steve Daines said the following right after the House voted to impeach Trump: "It's time for the Senate to end this partisan, impeachment sham once and for all." Sound impartial to you?
So there appear to be a lot of Republican Senators who are not intending to be impartial. I'd sure love for them all to take a lesson from Senator Doug Jones. This is what it looks like when someone is serious about impartial justice.
Wondering what you can do about this? The Impeachment Trial starts on Tuesday. Flood the phones and email for every Senator to tell them we expect them to get all the testimony they need so they can exact impartial justice.
Originally posted on Twitter. Re-posted with permission.
---
DemCast is an advocacy-based 501(c)4 nonprofit. We have made the decision to build a media site free of outside influence. There are no ads. We do not get paid for clicks. If you appreciate our content, please consider a small monthly donation.
---