I sat down to write tonight about a number of stories I had saved over the course of the day, and opened the laptop seven minutes after news broke that the commander of the Islamic Revolutionary Guard Corps Quds force, Qassem Soleimani, along with the deputy head of the Iraqi Popular Mobilization Forces, Abu Mahdi al-Muhandis, had been assassinated in Iraq. At the time it was not clear who had done it, but the US government claimed responsibility minutes later.
This is a giant wildcard. General Suleimani led the Quds Force, a special forces unit that took care of Iranian military operations outside of Iraq, putting him in charge of Iran's actions in Iraq. At home, he was in charge of intelligence gathering and covert operations, and was very close to the country's supreme leader, Sayyid Ali Hosseini Khamenei. Yesterday, Khamenei taunted Trump on Twitter after the president tweeted "Iran will be held fully responsible for lives lost, or damage incurred, at any of our facilities. They will pay a very BIG PRICE! This is not a Warning, it is a Threat. Happy New Year!" Khameini responded: "1st: You can't do anything. 2nd: If you were logical – which you're not—you'd see that your crimes in Iraq, Afghanistan… have made nations hate you."
Immediately after news of the attack came, Representative Chris Murphy (D-CT) said: "Soleimani was an enemy of the United States. That's not a question. The question is this – as reports suggest, did America just assassinate, without any congressional authorization, the second most powerful person in Iran, knowingly setting off a potential massive regional war?" Murphy later -pointed out that this action was very different than the strikes against Osama bin Laden or al-Baghdadi, both of whom had no official ties to a state. Soleimani was an Iranian government official.
Apparently, the Gang of Eight was not briefed. The Gang of Eight is an informal name for the eight leaders who must be briefed on classified security issues. They are the leaders of each major party in each house—so Nancy Pelosi and Kevin McCarthy from the House, and Mitch McConnell and Chuck Schumer in the Senate—along with the top members of each party from both the House and the Senate Intelligence Committees. Senate Minority Leader Chuck Schumer was not told, although McConnell's spokesman refused to comment on whether or not he was. (Eric Trump, who holds no security clearance, might have been: on December 31 he tweeted: "Bout to open up a big ol' can of whoop ass." The tweet has now been deleted.)
Many nations have diplomatic corps in Tehran and our former allies opposed Trump's 2018 US exit from the Joint Comprehensive Plan of Action to ease sanctions on Iran in exchange for Iran's slowdown of nuclear development. As of midnight, neither Israel, nor Saudi Arabia, nor any of our NATO allies had issued any statements about the killing.
Iranian state TV used the word "martyred" when it announced their deaths. Tonight, the NBC News Tehran Bureau Chief & correspondent Ali Arouzi tweeted that "State tv in Iran has cut all broadcasts and is showing pictures of Qassem Soleimani on a loop accompanied by prayers." Iran has promised "severe revenge" for the killing.
There was no announcement from the White House or the Pentagon until 9:35, when Trump, who is at Mar-a-Lago, tweeted out a graphic of an American flag. A half-hour later, the Department of Defense stated that the attack was a "defensive" move made "At the direction of the President," to deter "future Iranian attack plans." Trump has made no further statements.
Republican war hawks are celebrating Soleimani's death, as Trump had designated him as a terrorist (which was unusual because he was part of a government, rather than a non-state actor). Senator Tom Cotton (R-AR) said that Soleimani "got what he richly deserved." Senator Lindsey Graham (R-SC) said: "Wow- the price of killing and injuring Americans has just gone up drastically…. I appreciate President Trump's bold action against Iranian aggression. To the Iranian government: if you want more, you will get more." Senator Ben Sasse (R-NE) said: "The President made the brave and right call, and Americans should be proud of our service members who got the job done."
Despite this triumphant note, political reporter Robert Costa claimed that his sources on Capitol Hill said there was "very little to no appetite inside GOP for attacking Iran in Iran, but support for taking steps to protect embassy in Baghdad as long as intel is solid. Emphasis on securing compound, stability. Uneasiness tho about POTUS…" Costa continued: "the sources generally describe POTUS as a noninterventionist who doesn't want to be bullied by Tehran, but they know he has rarely if ever been tested in this way. For now, several said they will rally behind him but push privately to move slow, keep action contained."
And that, to me, is enormously revealing. The biggest story in the news today before this attack was about the unredacted emails I wrote about a day or so ago, the ones establishing that the president himself directed withholding the Ukraine aid appropriated by Congress. Those emails also proved that the officials involved in the withholding recognized that it was illegal, and tried to keep it quiet. This news, combined with the recent news that Secretary of State Mike Pompeo, Defense Secretary Mark Esper, and National Security Advisor John Bolton all tried to persuade Trump to release the funds and he refused, meant that Trump was facing a crisis in his ability to ward off testimony in the Senate impeachment trial.
Soleimani has been doing what he does for years. So why go after him now? Further, on December 27, Iran participated in its first joint naval drill with Russia and China, underlining a new power structure in the Middle East. Trump is close to Russia… he would not have done this without thinking through what it means for his relationship with Putin. It seems to me unlikely he would've done this on national security grounds alone at this particular time, when so very much is at stake.
To me, this feels like it comes down to Trump's increasingly precarious position at home. Traditionally, since the time of the Civil War when northern Democrats attacked President Lincoln and the Republican government, sparking deadly riots like the New York City Draft Riots of 1863 and earning hatred for their actions, Americans have rallied behind the president during a time of war. Trump used to taunt President Barack Obama by claiming he was so weak and ineffective the only way he could get reelected "is to start a war with Iran."
Trump has always been the master of projection.
And almost immediately, Representative Pete King (R-NY) tweeted: "Vital that Americans unite behind @POTUS Trump decision to attack and kill Iranian terrorist Soleimani. No time for political sniping." And Senator Ted Cruz (R-TX) suggested congressional Democrats were disloyal for questioning the justice of Soleimani's death.
No one knows what will happen next. Perhaps Iran expert Barbara Slavin from the Atlantic Council put it best: "I don't think Donald Trump understands the implications of what he has unleashed."
——
Notes:
CNN report:
News breaks:
In major escalation, American strike kills top Iranian commander in Baghdad, Washington Post
US officials claim responsibility:
severe revenge:
Rather:
Trump tweet:
Martyred:
Defense Department statement:
Who knew:
Eric Trump tweet: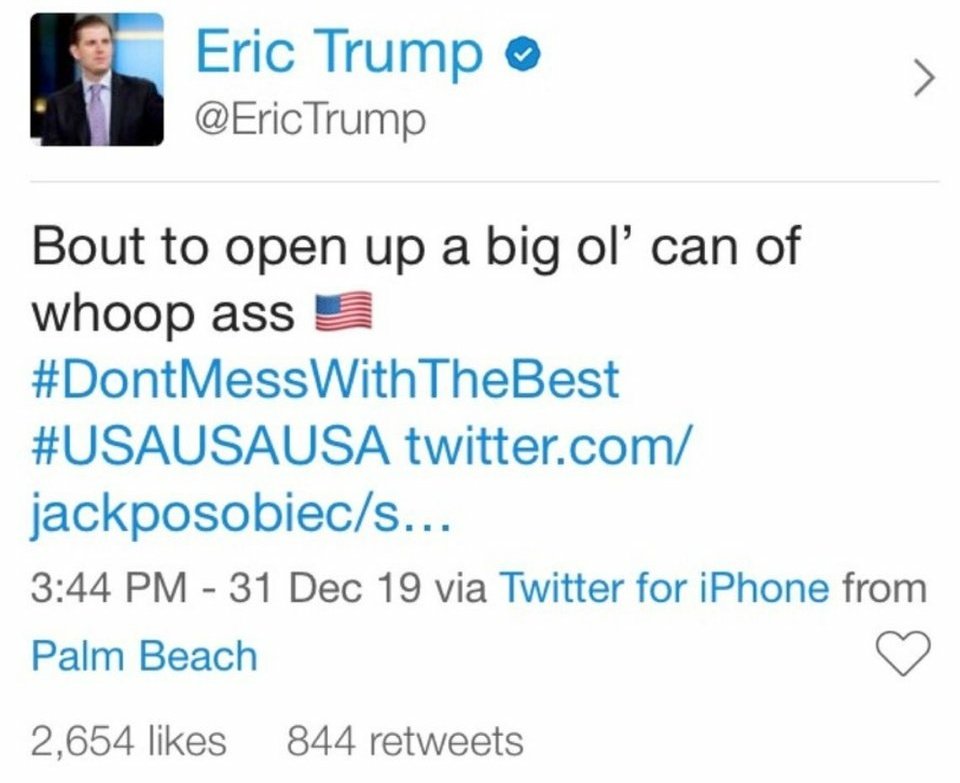 Khomeini tweet:
https://www.bostonherald.com/2020/01/01/iran-supreme-leader-stokes-twitter-war-with-donald-trump/
Arouzi:
Republican response:
https://www.axios.com/qassem-soleimani-death-reactions-iran-85bd4b62-85f4-4e29-a0ec-1e6376534f03.html?utm_source=twitter&utm_medium=twsocialshare&utm_campaign=organic
Unredacted emails:
Costa tweets:
Trump's tweets about Iran:
Video about Iran:
King tweet:
Correct name of unit:
Cruz tweet:
Slavin:
Originally posted on Letters from an American.
Re-posted with permission.
---
DemCast is an advocacy-based 501(c)4 nonprofit. We have made the decision to build a media site free of outside influence. There are no ads. We do not get paid for clicks. If you appreciate our content, please consider a small monthly donation.
---