#ACA 2020 Open Enrollment begins today, and I encourage everyone to #GetCovered by visiting http://HealthCare.Gov. Millions qualify for financial assistance to reduce their premiums & deductibles dramatically!
HAVING SAID THAT…
…the #ACA *does* have some real problems which need to be dealt with as well, especially for middle-class individual market enrollees who earn too much to qualify for tax credits. Thankfully, Rep. Lauren Underwood's #HR1868 would solve this issue easily w/out major disruption.
With that in mind, I recently started my "How Much Would #HR1868 Lower YOUR Premiums?" project, which looks at real numbers in all 435 House districts. I intended to get through my home state of Michigan first, but then I realized I should have started out with #IL14!
Why? Because that's @RepUnderwood's district! Therefore, I'm pausing on Michigan (I've completed #MI01 & #MI02 so far) and moving to #IL14 for a moment. In fact, I'm using Underwood's home town of Naperville for the case study!
I'm not gonna do this for all 435, but here's the visuals for all 8 examples in Naperville, Illinois. First, a 26 year old just moving off their parents plan. They aren't impacted by the subsidy income cut-off because it never breaks more than 9.8% of their income anyway…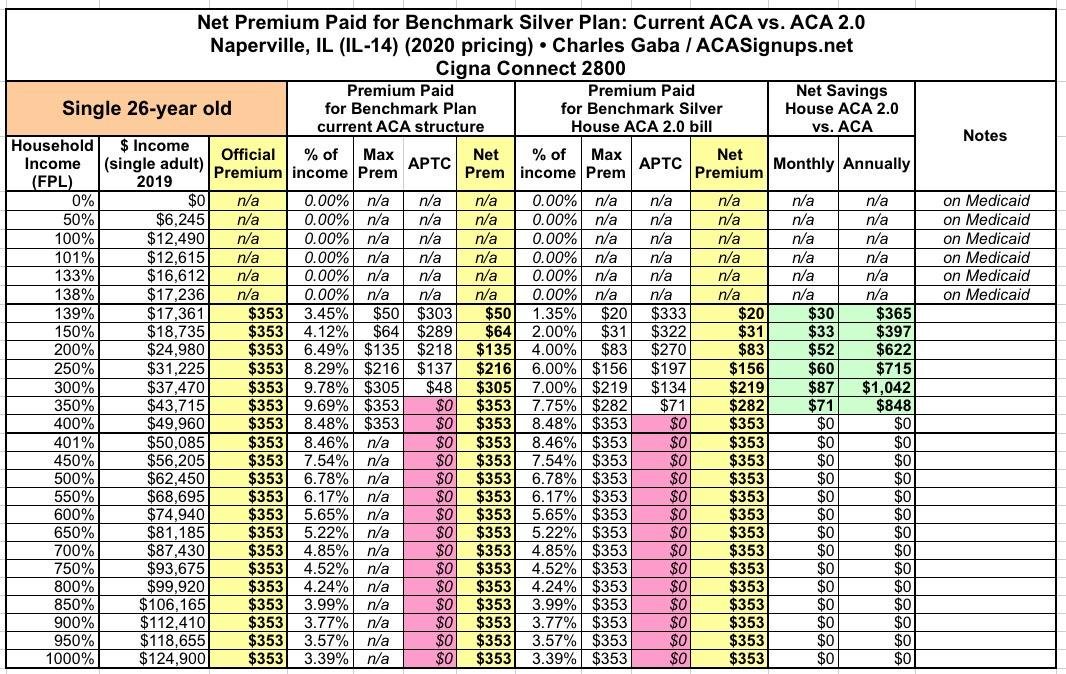 …BUT they'd STILL benefit from #HR1868 if they earn less than $45,000/year, saving up to $1,000/year. (orange = current ACA tax credit structure; blue = improved/expanded tax credits under #HR1868)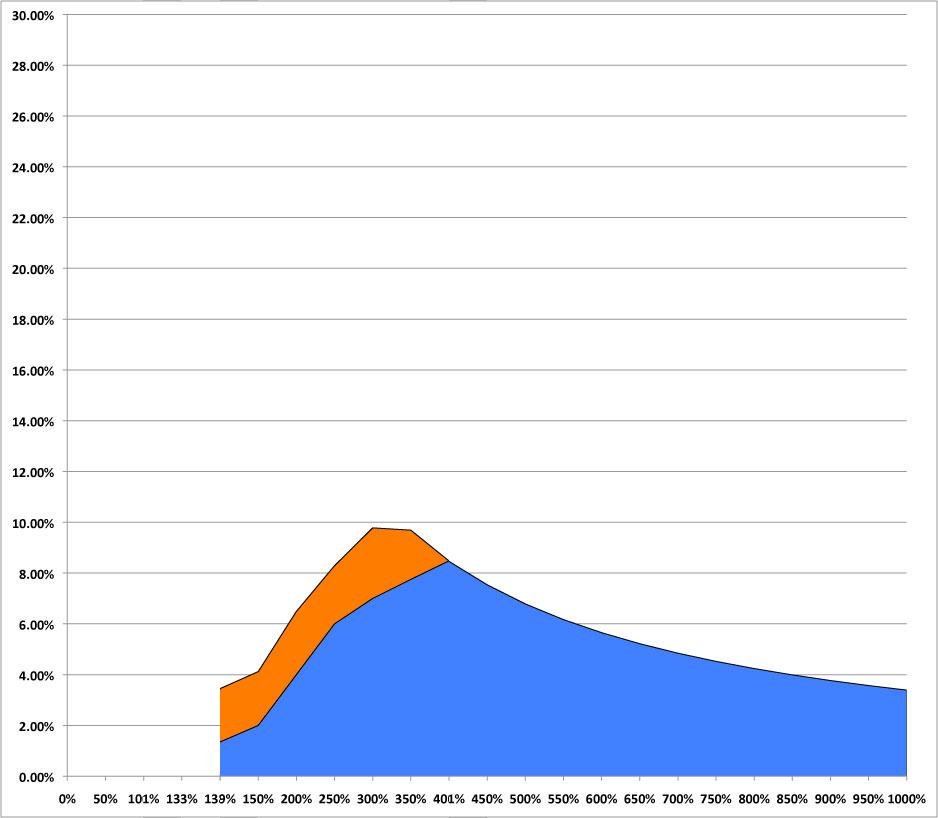 What about a single 40-year old? Again, if they already qualify for subsidies they'd save up to an additional $1,000…but if they earn $50K – $60K, they'd save up to $1,000 as well, cutting their premium down from 10.5% to 8.5% of their income.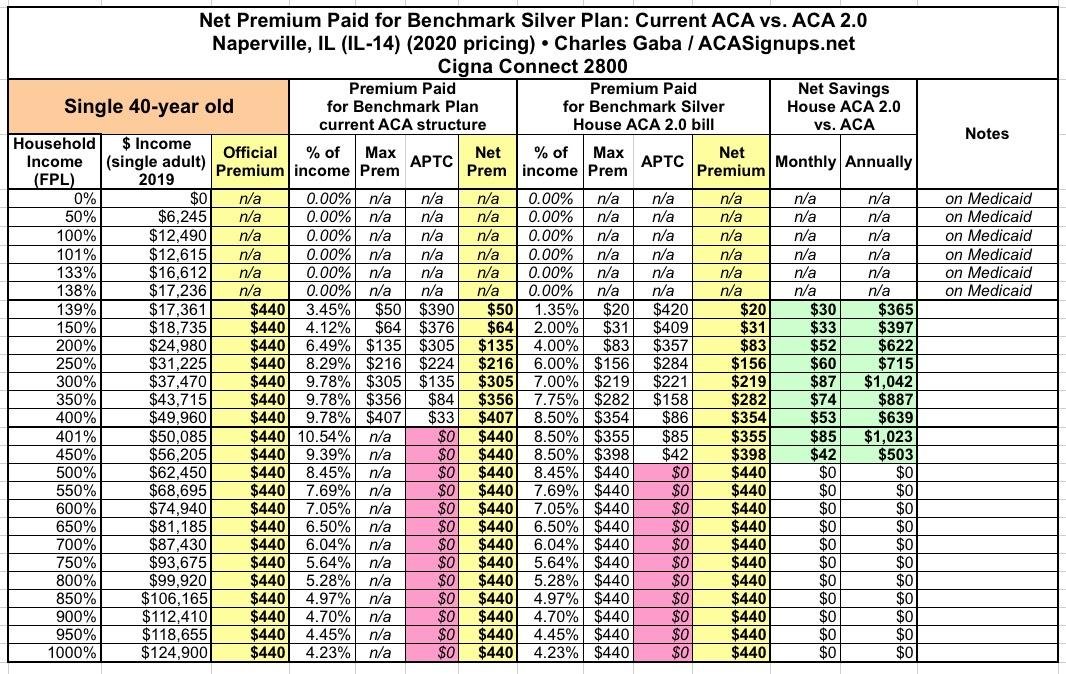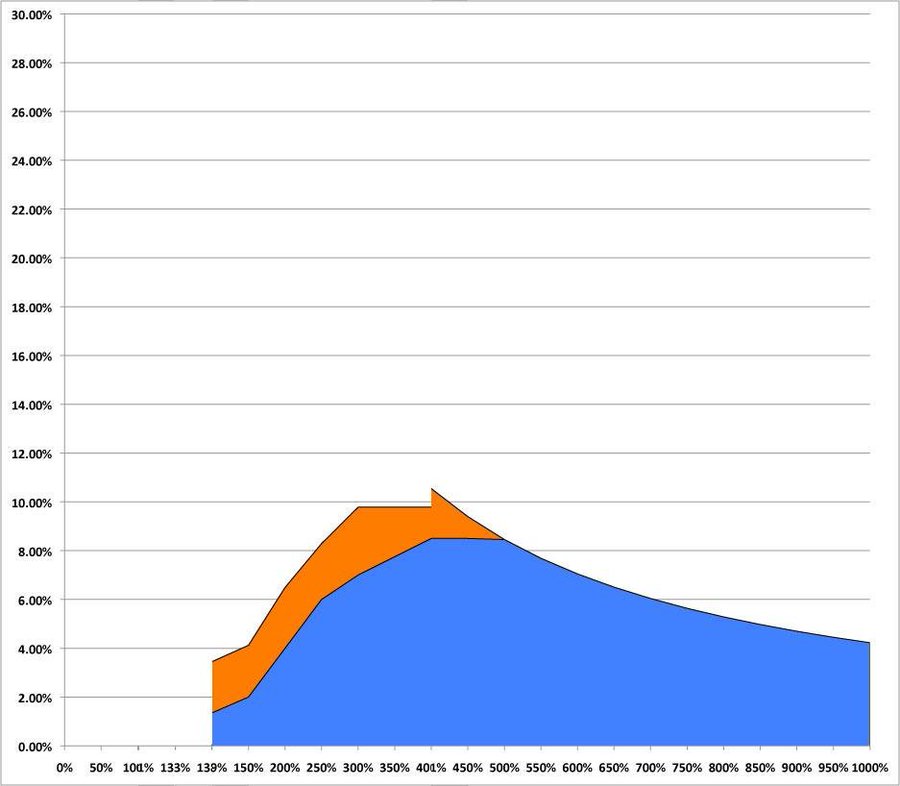 At 50 years old, you start to understand why it's called the #SubsidyCliff: Once the individual hits the $50K cut-off point, their premiums jump from 9.8% to 14.7% of income. #HR1868 moves that back down to no more than 8.5%, saving them up to $3,100/year.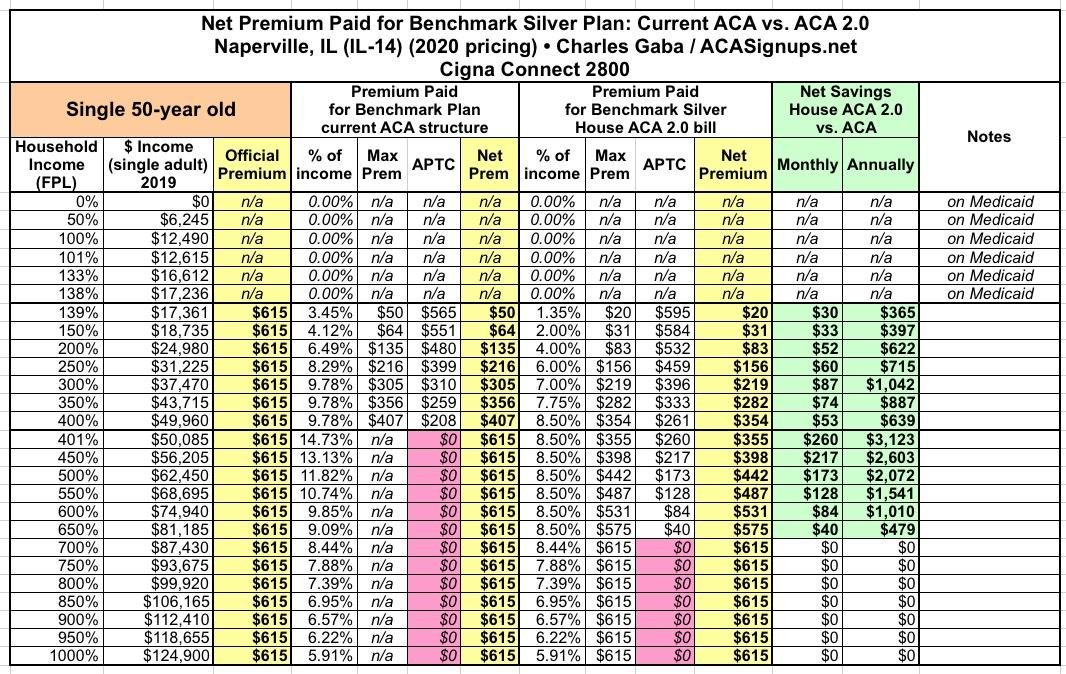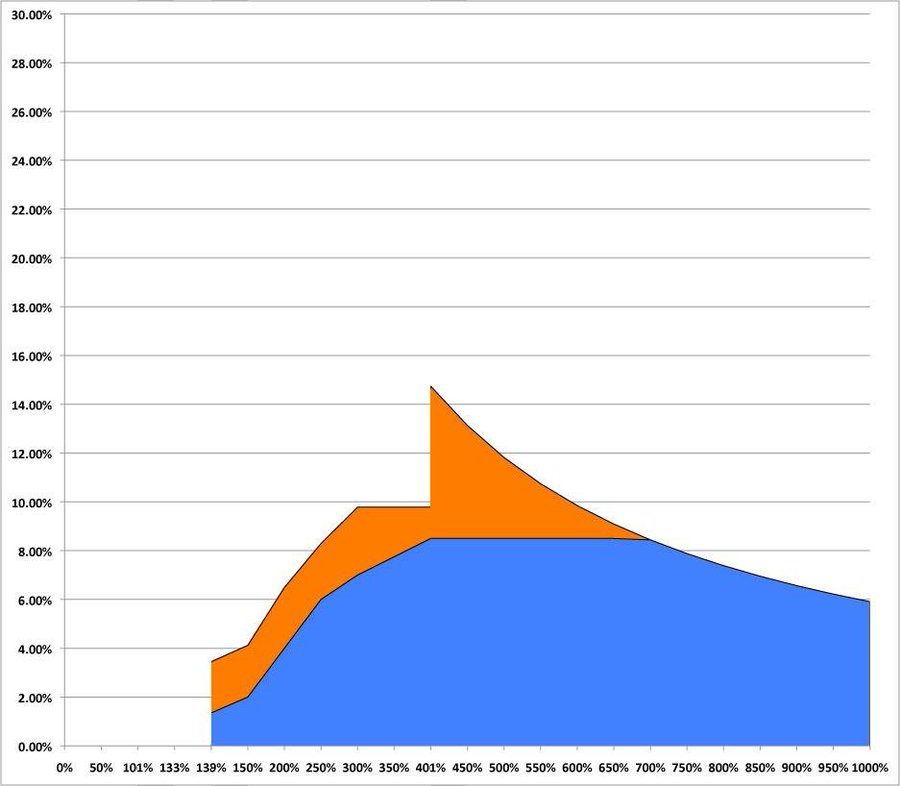 Here's an extreme example: A single 64-year old needing coverage the last year before they enroll in Medicare. Ouch–the "cliff" is now a chasm; at 401% FPL, they go from paying 9.8% to a full 1/4 of their income. #HR1868 cuts that back down to 8.5%, saving them over $8,000.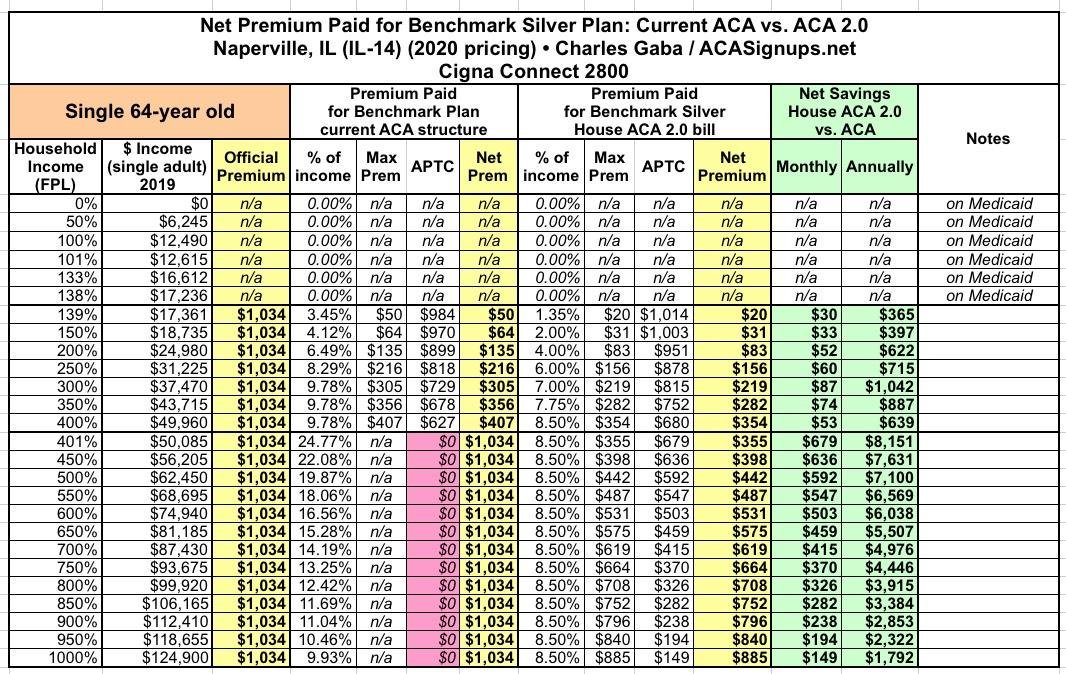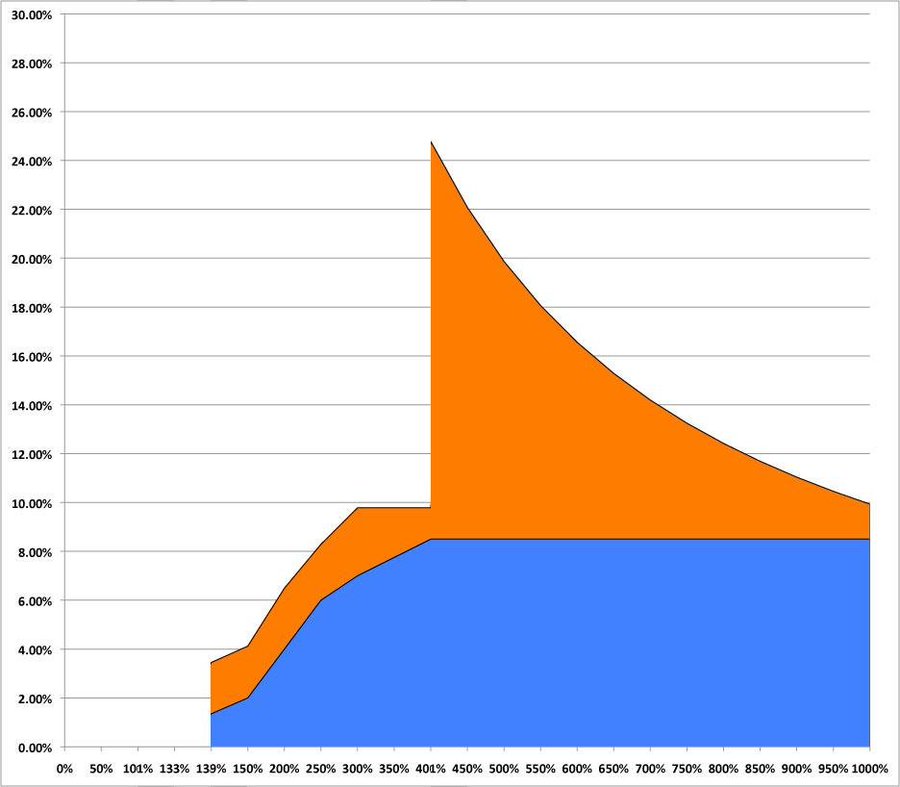 OK, those were single adults. What about families? Let's look at a single parent (30) of a young child (8). IL is a Medicaid expansion state but also covers children under CHIP up to 313% FPL, so the official premium goes from $391 for one to $655 for both at ~$52K/yr…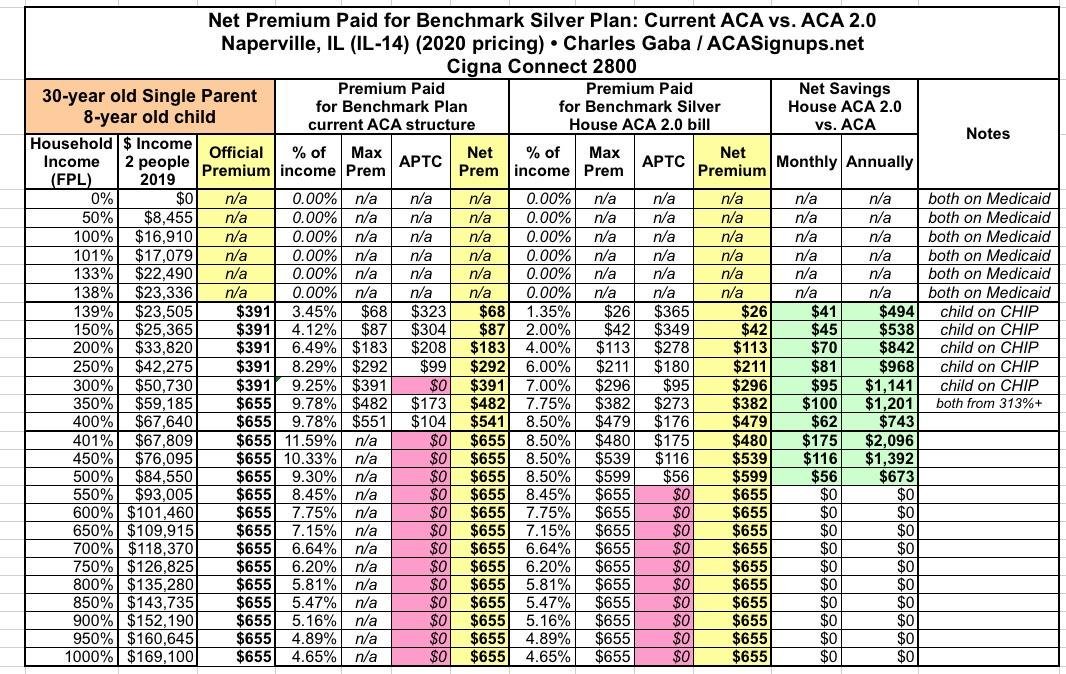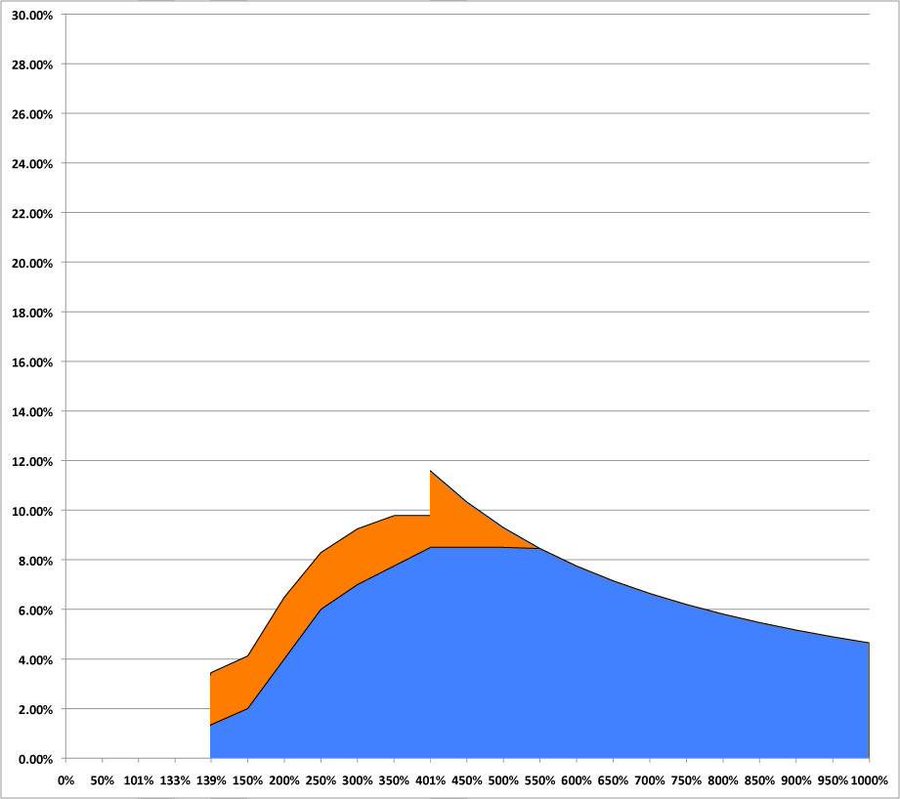 …but under #HR1868, the parent saves up to an additional $1,200 if they're already receiving tax credits, and up to $2,100/year if they don't.
Next: The Nuclear Family. A married couple (each 40 years old) w/2 kids age 12 & 10. Again, the full-price premium jumps from $881 for just the parents (kids in CHIP) to $1,408 for all 4 of them at around $78K. Under #HR1868, they'd save up to $8,100/year.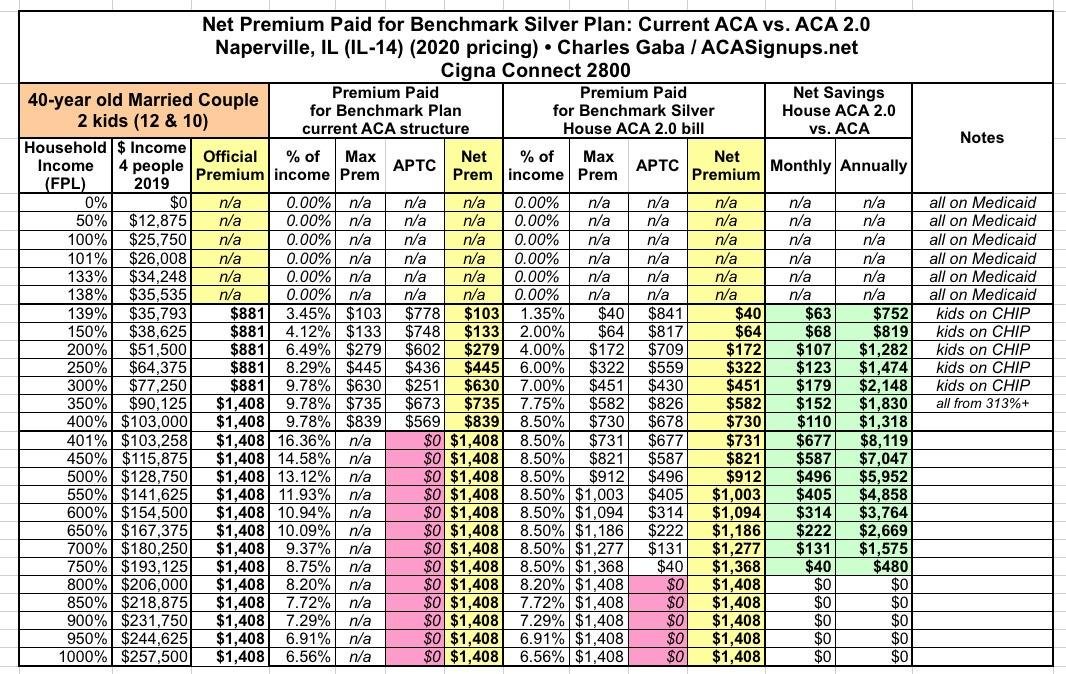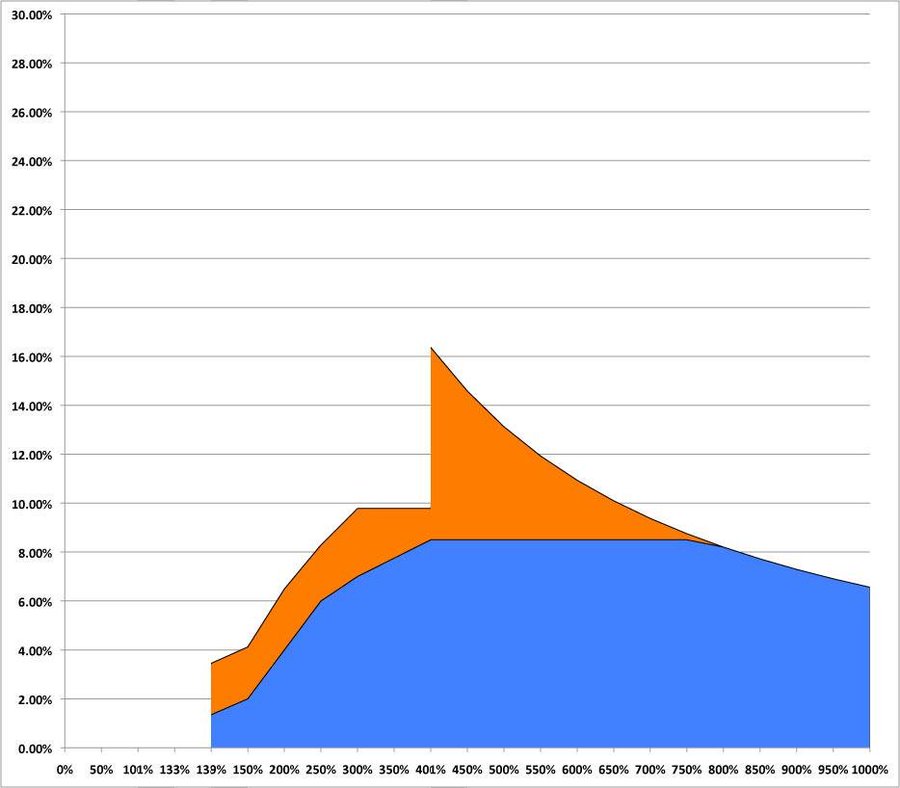 How about a couple w/an adult child? Thanks to the #ACA, the kid can stay on their parents' plan until age 26. Let's say a 50-year old couple w/an 18-year old college freshman. Official premium? $1,545/mo. Potential additional savings under #HR1868? $939/mo or $11,200/year.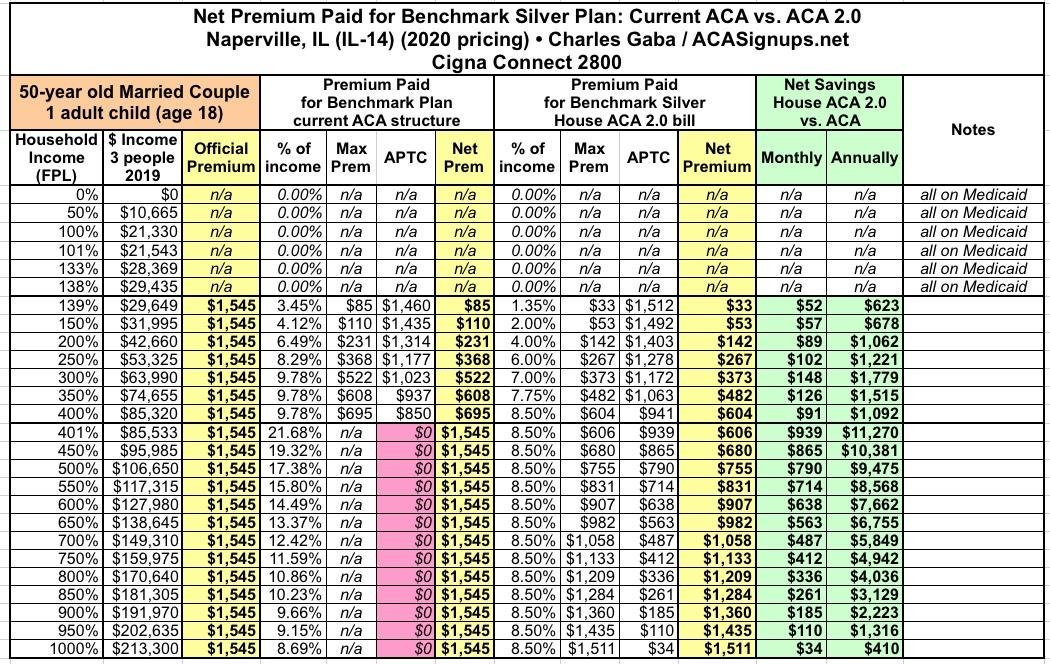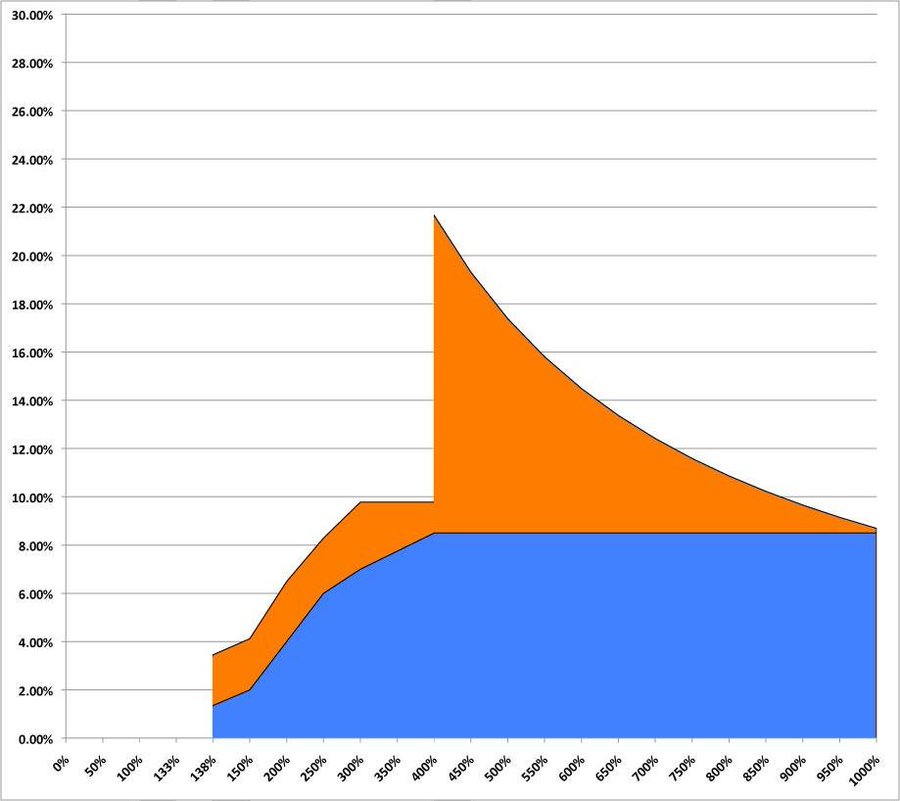 FINALLY, this one is gonna blow your mind: A 60-year old married couple, both self-employed. Full price premiums? $1,870/mo. Under the current #ACA structure, they pay no more than 9.8% of their income up until around $67,600/year…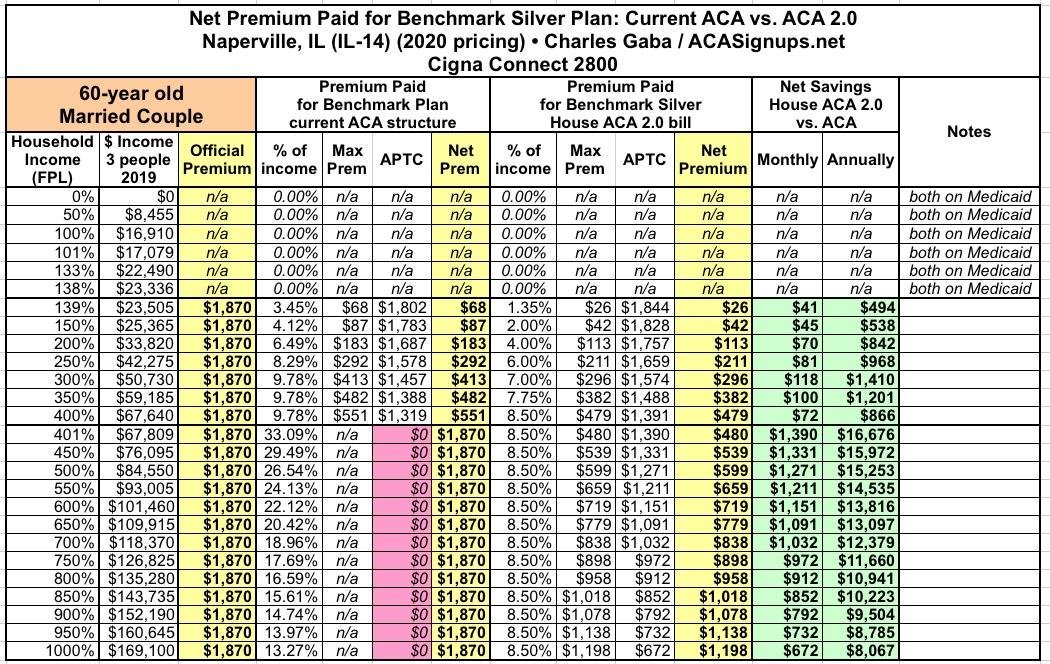 …but once they hit the tax credit income cap..whoa. They would have to pay a full $1,870/mo…which would eat up a whopping *33%* of their income at $68K/year. Under #HR1868, this is be reduced to just 8.5%, or $480/month…saving them over $16,000/year. That's not a typo.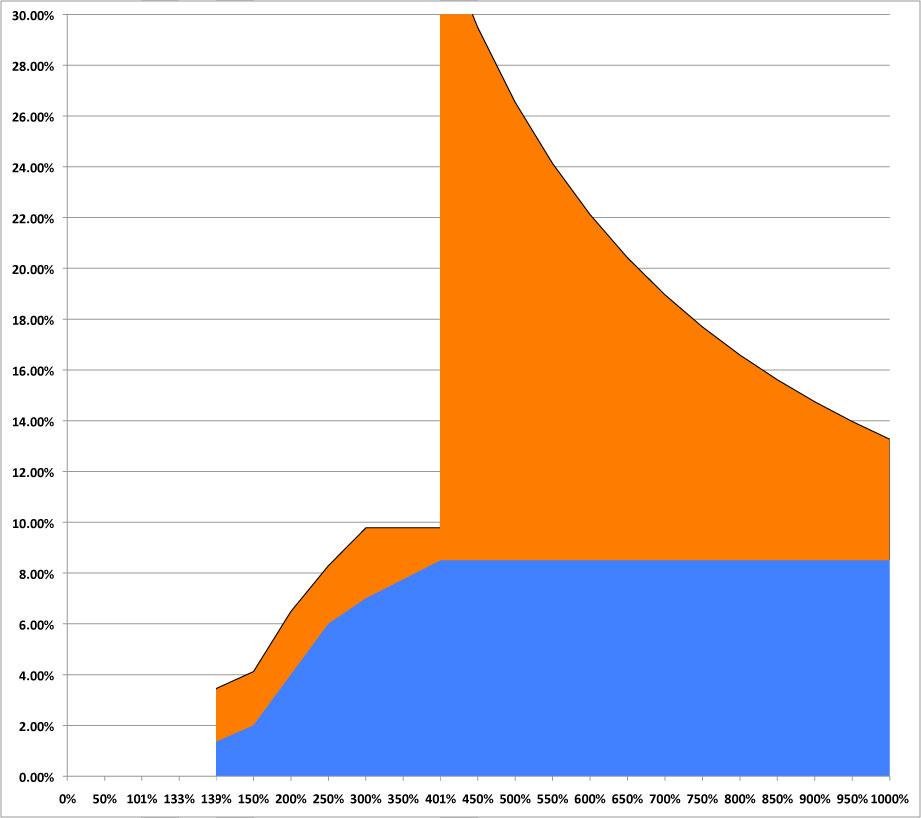 (The tip of the subsidy cliff doesn't even fit on the chart in this example). So there you have it: #HR1868, the House Democrats Health Care Affordability Act of 2019. If your member of Congress doesn't currently support it, ask them to!
One Caveat: #HR1868 only *appears* to have 36 sponsors…but #HR1884, the larger #ACA2.0 "package" bill which *includes* #HR1868, has *160* to date! ASK YOUR MEMBER OF CONGRESS TO CO-SPONSOR *BOTH*! Now, go #GetCovered at HealthCare.Gov!
Originally posted on Twitter. Re-posted with permission.
---
DemCast is an advocacy-based 501(c)4 nonprofit. We have made the decision to build a media site free of outside influence. There are no ads. We do not get paid for clicks. If you appreciate our content, please consider a small monthly donation.
---