Trump is moving NOW to lock down Wisconsin, 2020's tipping point state, a year early—but we've got the plan to stop him. We'll knock 50,000 doors for our #1Year2Win campaign—& need your help to fund it. Can you read this post, share, & chip in here?
For a moment, put aside the primary. Put aside impeachment. Think about Election Day: November 3, 2020. If it's close, if there's a single state that determines who wins, just about every analysis says it'll be Wisconsin.
What does "tipping-point" state mean? Take all the states where Trump is *less* popular than Wisconsin, and it's not enough to win the Electoral College. All the states where he's *more* popular than Wisconsin: also not enough to win the Electoral College. WI tips the balance.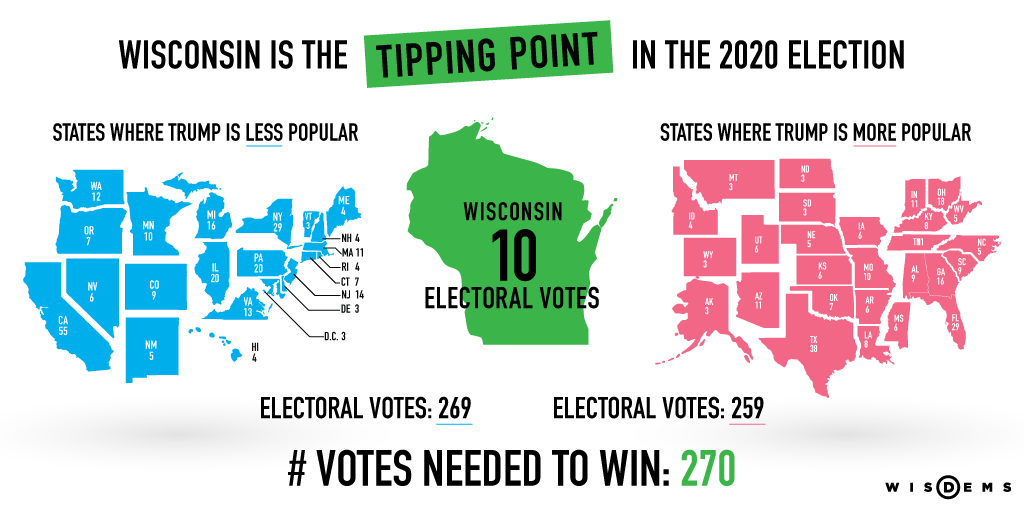 Most likely, whoever wins Wisconsin in 2020 becomes president. And Trump wants to stay president with every fiber of his being. So he's already ramping up the general election campaign here.
Trump won Wisconsin last time by 22,748 votes. He expects our side to be fired up. So he's shooting higher. He's planning to DOUBLE the field campaign he ran last time. He's already brought on 14 field staff in WI, running multiple field trainings a week.
WI license plates say "America's Dairyland." But the backup slogan is "Home of the nailbiter." 3 of WI's last 5 prez winners came in with margins under 1%. Last year's governor's race: 1.1%. State Supreme Court race this spring: 0.5%, just 5,960 votes. Those are field margins.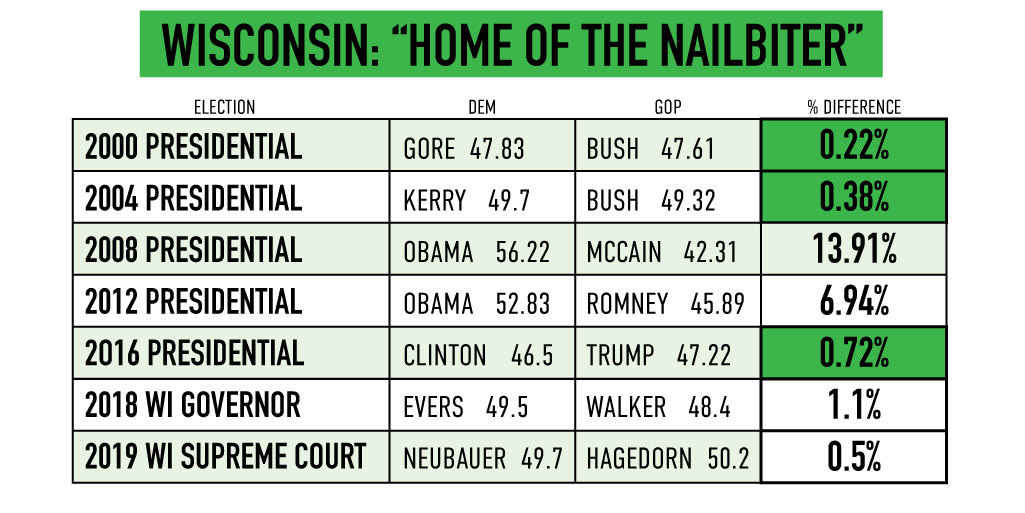 Trump is carpeting the state with digital ads to find supporters, and channeling them into his field operation. He thinks he has a year's head start before we get a nominee. But the truth is, he's behind. Why? Because of you. Us. The millions of us, ready to fight.
In Wisconsin, Scott Walker thought he'd broken us. He and the Koch Brothers and Reince Priebus and Paul Ryan had flooded the state with dark money, smashed unions, suppressed voters. They thought they'd turned Wisconsin red. But we fought back. And in 2018, we won.
We did it by organizing. Neighbor to neighbor. Block to block. Our field program started in the spring of 2017, and built up 250 neighborhood teams on the ground by election day last year. Then the GOP woke up. Started copying our model. So we hit the gas.
Now, with #1Year2Win, we're pushing the gas pedal through the floor—with the biggest canvassing push, this far from e-day, that our state's ever seen. 50k doors by Nov 3. 1618 volunteers already signed up. Can you help us find 1618 donors to support them?
If you live here in Wisconsin, or within driving distance, come help knock doors. You can sign up at wisdems.org/2020. (Or you can RT, from anywhere on earth.) Just look at that map of canvass launches! Makes my organizer's heart sing.
We're using new tech this weekend that the Trump team doesn't have access to. We're talking to voters that haven't heard from Dems in a long time. And we're building neighborhood teams. In short: testing tactics, building capacity, expanding the electorate.
You helped make this possible. Back in July, Trump visited Wisconsin—and we launched the #CheddarBomb, our first viral Twitter fundraising drive. More than 2,000 grassroots donors stepped up to help. We ramped up our hiring accordingly.
Thanks in no small part to the thousands of people who shared the #CheddarBomb thread and gave to the @WisDems for the first time, we're now up to 17 full-time field staff—an unprecedented number for us this far from an election, and ahead of Team Trump.
Now, as our organizers mobilize volunteers this weekend, your help with fundraising allows us to hire & train the *next* crop of field organizers. Want to join our team? Know someone who should? Here's the job posting!
At every phase, we're simultaneously fighting the fight AND building to be even stronger for the next one.
That's the core of our Five Fights strategy:
Win the spring
Inspire & train at the Convention
Stop the GOP Supermajority
Cancel Trump
Organize for the future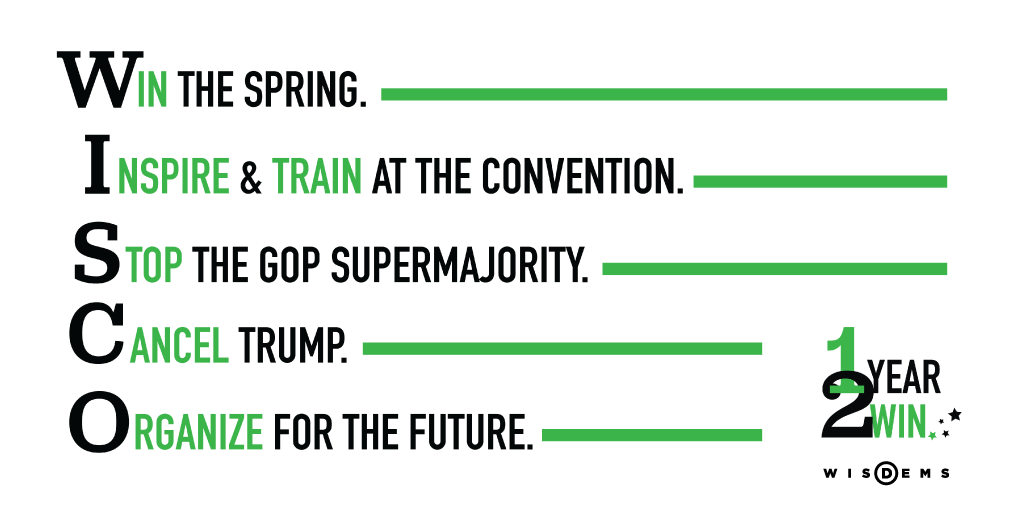 I wrote about the Five Fights in the #Cheddarbomb thread, before our Department of Strategic Acronyms unveiled "WISCO." Review the fights here:
And at every step, we fight with our values on our sleeve—encapsulated by (another hot acronym!) FIRE. Fight on the issues, Include & Respect everyone—communities of color, rural, suburbs, and cities alike; and Empower the grassroots with data, tech, & training.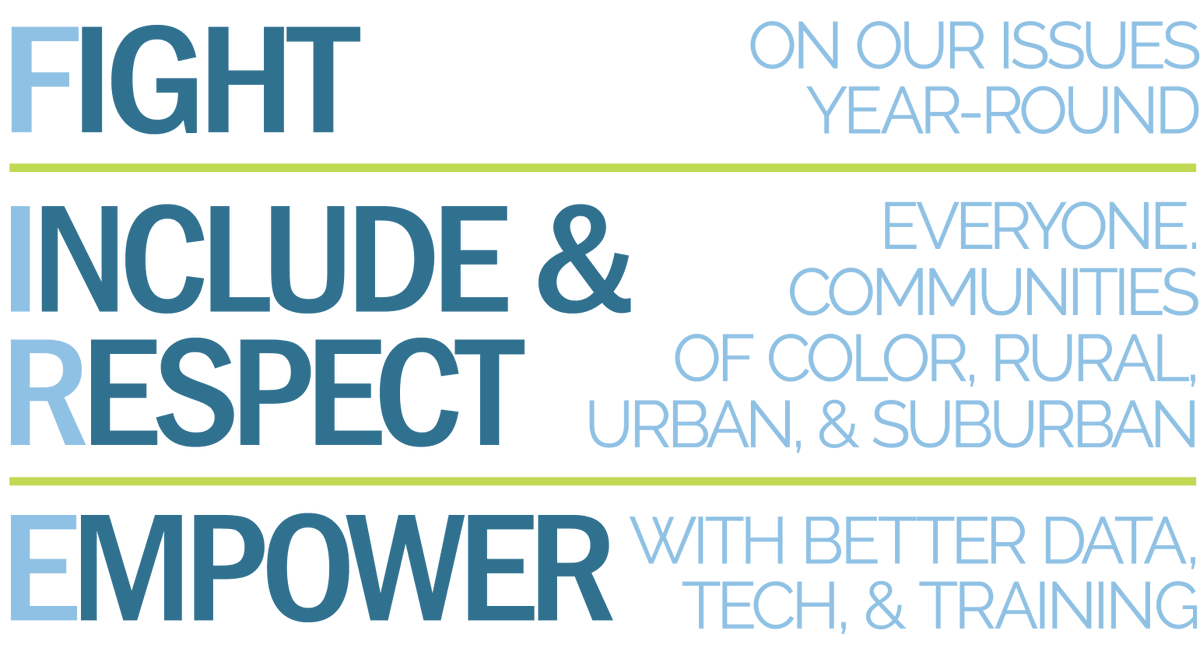 That—continuous, intensive, boots-on-the-ground organizing that weaponizes the political calendar and, combined with cutting-edge digital techniques, mobilizes *and* persuades in all communities and in every corner of the state—is how we win Wisconsin in 2020. Starting now.
We can't do this alone. We need your heroism. Once you've chipped in at http://WisDems.org/1Year2Win (make it monthly!), can you spread the word? Share this post!
Reading the news, it can feel like the sky is falling. The overload can be paralyzing. And that's literally Trump's strategy—to move so fast and break so many things that you'll get overwhelmed and shut down.
Don't let him do that to you.
If you're reading this, it's because you care what happens to this country, and to the world. It's because you know that the plight of every future generation will be affected by what *we* all do in the next twelve months.
Turn that conviction into action. It's your superpower.
Step back. Look at the electoral college math. If we stop Trump in Wisconsin—if we do our jobs, alongside the vital work our friends are doing in MI, PA, MN, and every other battleground state—then Trump's gone. The Trump era will end.
And by fighting this election, we do more than stop Trump. We power a small-d democratic future. We build the groundwork for a future where everyone can thrive. Beating Trump won't end Trumpism. But it's a necessary step—an essential step in the work of a lifetime. So let's move.
---
DemCast is an advocacy-based 501(c)4 nonprofit. We have made the decision to build a media site free of outside influence. There are no ads. We do not get paid for clicks. If you appreciate our content, please consider a small monthly donation.
---