"Good communication is about connecting with your audience on their own turf based on shared language and common values." – Edward Erikson
What are some of the most innovative communication strategies that bridge online and offline campaigns to engage citizens, drive results, and win elections? Listen to this Digital Politics with Karen Jagoda podcast with Edward Erikson the President and Founder of the Erikson Communication Group. This podcasts is part of a series designed to share tips and resources from the front lines of progressive activism and campaigns.
Edward explains how to find common interests and ways to unite local communities. As a political consultant, Edward emphasizes the value of snowball organizing to find additional supporters and the need to keep testing new methods to reach voters.
Finding common ground with voters in this partisan environment
Role of social media and local media to educate about issues
Mistakes candidates make in telling their story
Rapid response and when not to respond
Challenges for first-time candidates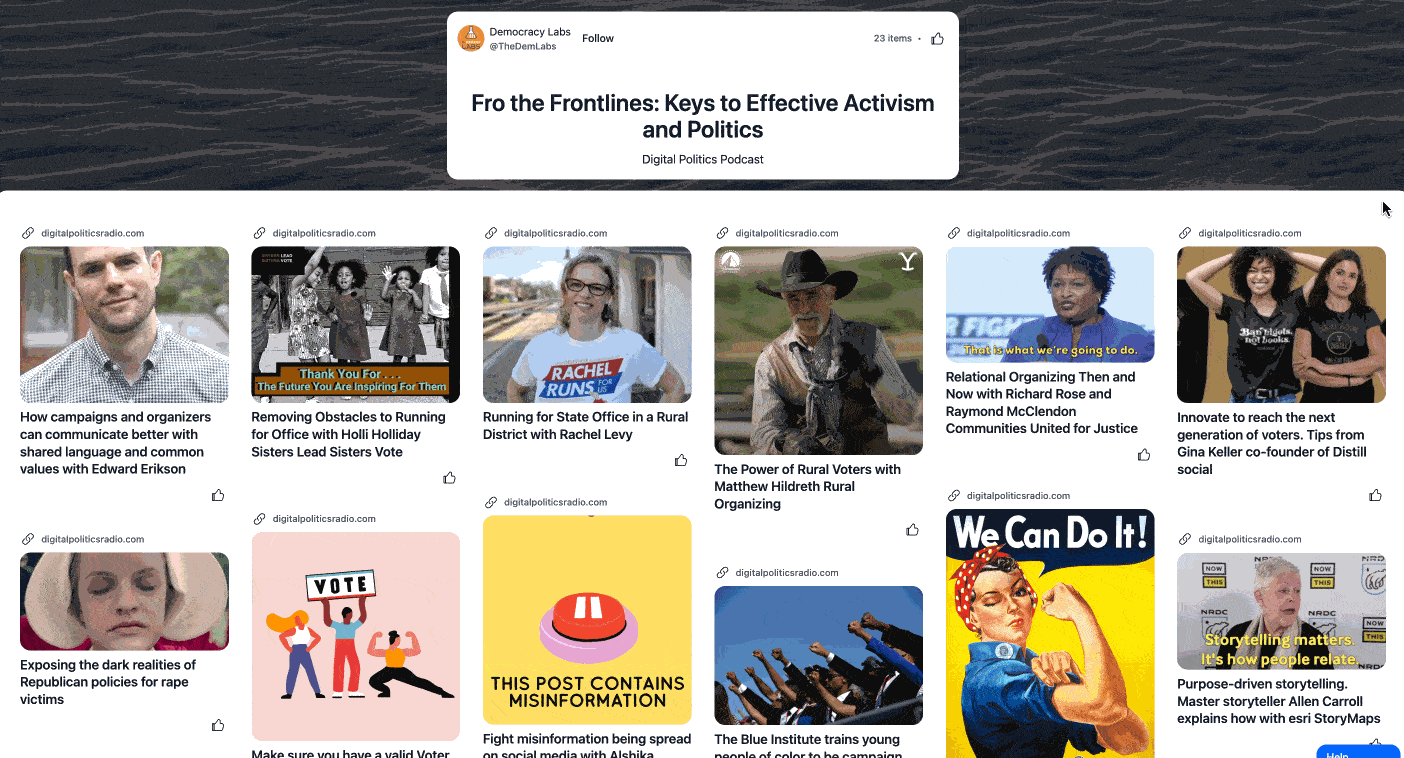 Podcasts for activists
Activists are on the go. How can you share best practices, new ideas and resources among them? DemLabs has teamed with Digital Politics Radio to produce podcast interviews with progressive activists, organizers and consultants. This podcast with Edward Erikson is the 23rd in the series. Let me know if you have a new approach or resource to share through this pro bono service. Here are some other recent podcasts to listen to:
Organizing Using TikTok and Other Social Media with Gina Keller Distill Social
The Power of Rural Voters with Matthew Hildreth Rural Organizing
Removing Obstacles to Running for Office with Holli Holliday Sisters Lead Sisters Vote
Organizing Tool for Grassroots Amplification on Social Media with Nick Knudsen DemCast
Paying More Attention to State Legislatures with Joann Loulan Local Majority
Overcoming Restrictions of Voter ID Laws with Lauren Kunis VoteRiders
Supporting Families of Veterans Who Have Committed Suicide with Dave Barbush Once A Soldier
Preventing Gun Violence with Po Murray Newtown Action Alliance
Postcarding and Other Political Grassroots Innovations with Andrea Miller Center for Common Ground
Organizing for Civil and Women's Rights with Heather Booth Founder of Jane Cooperative
TakeAway: Listen to Podcasts for Activist to Digital Politics Podcasts with Karen Jagoda.
Deepak
DemLabs
DISCLAIMER: ALTHOUGH THE DATA FOUND IN THIS BLOG AND INFOGRAPHIC HAS BEEN PRODUCED AND PROCESSED FROM SOURCES BELIEVED TO BE RELIABLE, NO WARRANTY EXPRESSED OR IMPLIED CAN BE MADE REGARDING THE ACCURACY, COMPLETENESS, LEGALITY OR RELIABILITY OF ANY SUCH INFORMATION. THIS DISCLAIMER APPLIES TO ANY USES OF THE INFORMATION WHETHER ISOLATED OR AGGREGATE USES THEREOF.
Read in browser »
Reposted from Democracy Labs with permission.
---
DemCast is an advocacy-based 501(c)4 nonprofit. We have made the decision to build a media site free of outside influence. There are no ads. We do not get paid for clicks. If you appreciate our content, please consider a small monthly donation.
---