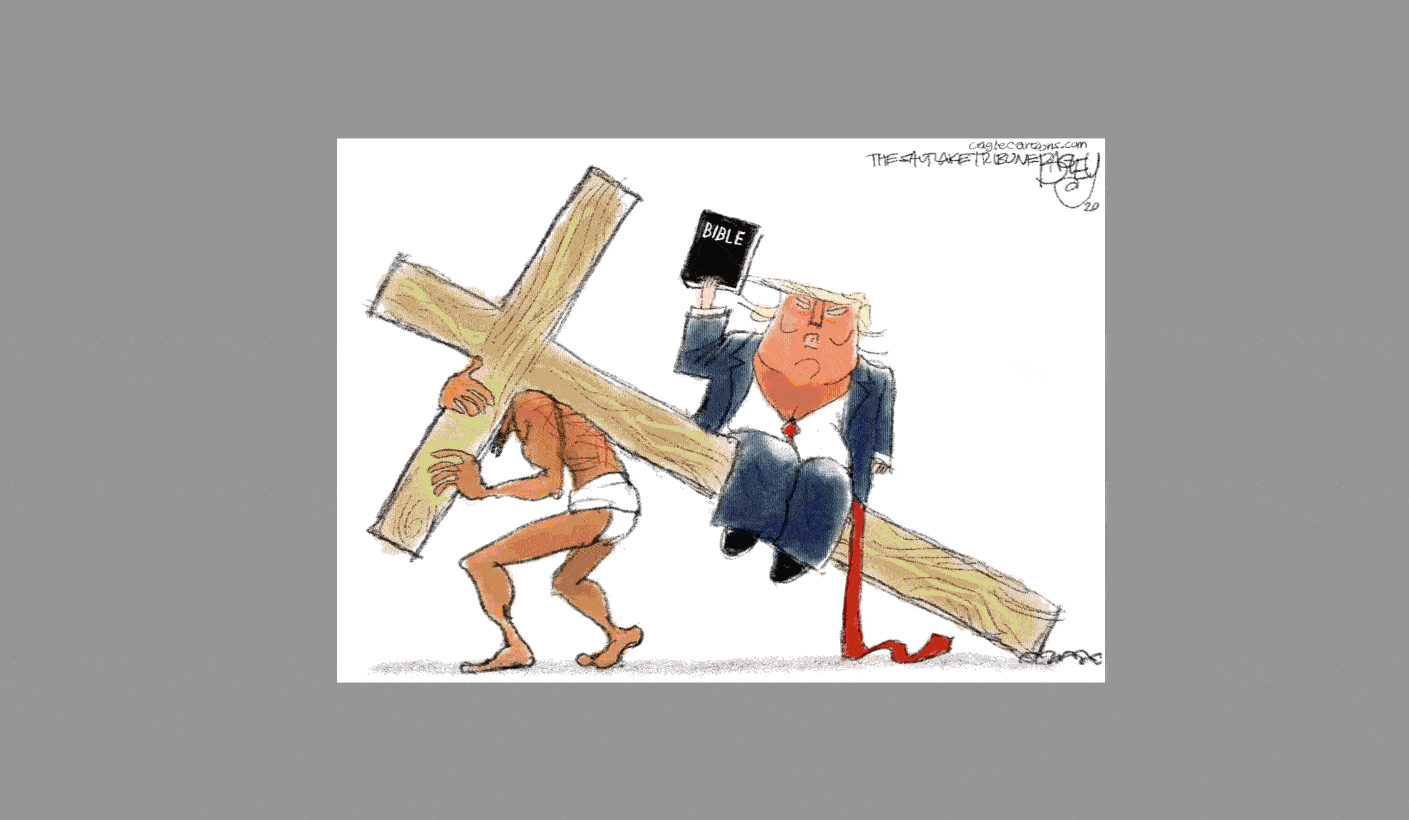 Mike Johnson claims to be ordained by God to be Speaker of the House, and to look in the Bible for his values.
I followed Mike Johnson's advice and looked in the Bible for the reasons behind the cruel policies that favor the rich at the expense of the poor that MAGA Republicans are pushing. I couldn't find any justification in the Bible?
Judge for yourself with this infographic that features ten fundamental Christian values. It is interactive. Click on any image for details. It includes recent examples of how deeply religious MAGA Republican leaders including Trump, DeSantis, Nikki Hailey, Newt Gingrich and George Santos apply Christian principles.
I did come across a Biblical teaching to 'Not to take the Lord's name in Vain'. That means, "Do not misuse the name of the Lord your God, because the Lord will not leave anyone unpunished who misuses his name." (Exodus 20:7). Mike Johnson must have missed that one …?
Do not take the Lord's name in vain
Advice from religious scholars
"I am pleased to know that our new speaker of the House, Mike Johnson, takes his Christian faith seriously. I look forward to his leadership in feeding the hungry, housing the homeless, releasing the prisoner, welcoming the stranger, loving our enemies, waging peace not war, and honoring God's image in each and every person — of every faith, race, national and personal identity." – (Rev.) Sheldon W. Bennett, Quincy, Mass.
Mr. Johnson has promoted budget proposals that would significantly gut Social Security, Medicare, Medicaid, children's health coverage and food stamps and would result in the loss of health insurance for more than 23 million Americans. Doesn't the Bible say something about "whatever you did for one of these least brothers of mine, you did for me"? I guess Mr. Johnson just hasn't gotten to that part yet in his Bible reading. – Bill Eiffert, San Diego
If Mike Johnson is driven and guided by his Christian faith, then he is going to have a lot of explaining to do as he reveres and supports Donald J. Trump, an amoral narcissist who is the antithesis of Christian virtue and practice. – Thomas M. Ginn, Winston-Salem, N.C. (From Letters to the editor in the NY Times)
What the Bible says about religious hypocrites
"In Matthew 23 Jesus pronounces "woes" on the scribes and Pharisees, the religious elite of the day. The word woe is an exclamation of grief, denunciation, or distress.
Jesus told His listeners to respect the scribes and Pharisees due to their position of authority but not to emulate them, "for they do not practice what they preach".
They tie up heavy, cumbersome loads and put them on other people's shoulders, but they themselves are not willing to lift a finger to move them.
Everything they do is done for people to see" (Matthew 23:3–5).
The scribes and Pharisees were supposed to know God and help others know Him and follow His ways.
Instead, the religious leaders added to God's Law, making it a cumbersome and onerous burden.
And they did not follow God with a pure heart.
Their religion was not true worship of God; rather, it was rooted in a prideful heart." – Got Questions
TakeAway: Don't fall for made-for-TV displays of someone pretending to be religious. Real men of God practice what they preach.
Deepak
DemLabs
This StoryMap can be freely shared with this link https://infogram.com/how-christian-are-white-christian-nationalists-1hxj48pkzmqe52v
DISCLAIMER: ALTHOUGH THE DATA FOUND IN THIS BLOG AND INFOGRAPHIC HAS BEEN PRODUCED AND PROCESSED FROM SOURCES BELIEVED TO BE RELIABLE, NO WARRANTY EXPRESSED OR IMPLIED CAN BE MADE REGARDING THE ACCURACY, COMPLETENESS, LEGALITY OR RELIABILITY OF ANY SUCH INFORMATION. THIS DISCLAIMER APPLIES TO ANY USES OF THE INFORMATION WHETHER ISOLATED OR AGGREGATE USES THEREOF.
Read in browser »
Reposted from Democracy Labs with permission.
---
DemCast is an advocacy-based 501(c)4 nonprofit. We have made the decision to build a media site free of outside influence. There are no ads. We do not get paid for clicks. If you appreciate our content, please consider a small monthly donation.
---