Could Homer really be leading the Presidential polls? It all depends on who's conducting the poll.
A recent Wall Street Journal poll announced a 2024 matchup between Biden and Donald Trump would be evenly split. There's just one problem: The poll was conducted in part by Trump's former campaign pollster. – The New Republic
How are polls manipulated? How has Rupert Murdoch used his media empire to sway public opinion for his political causes and candidates in Australia, England and America? Why has the former Australian Prime Minister called Murdoch a 'cancer on democracy'? Check this relationship map.
'Cancer on democracy'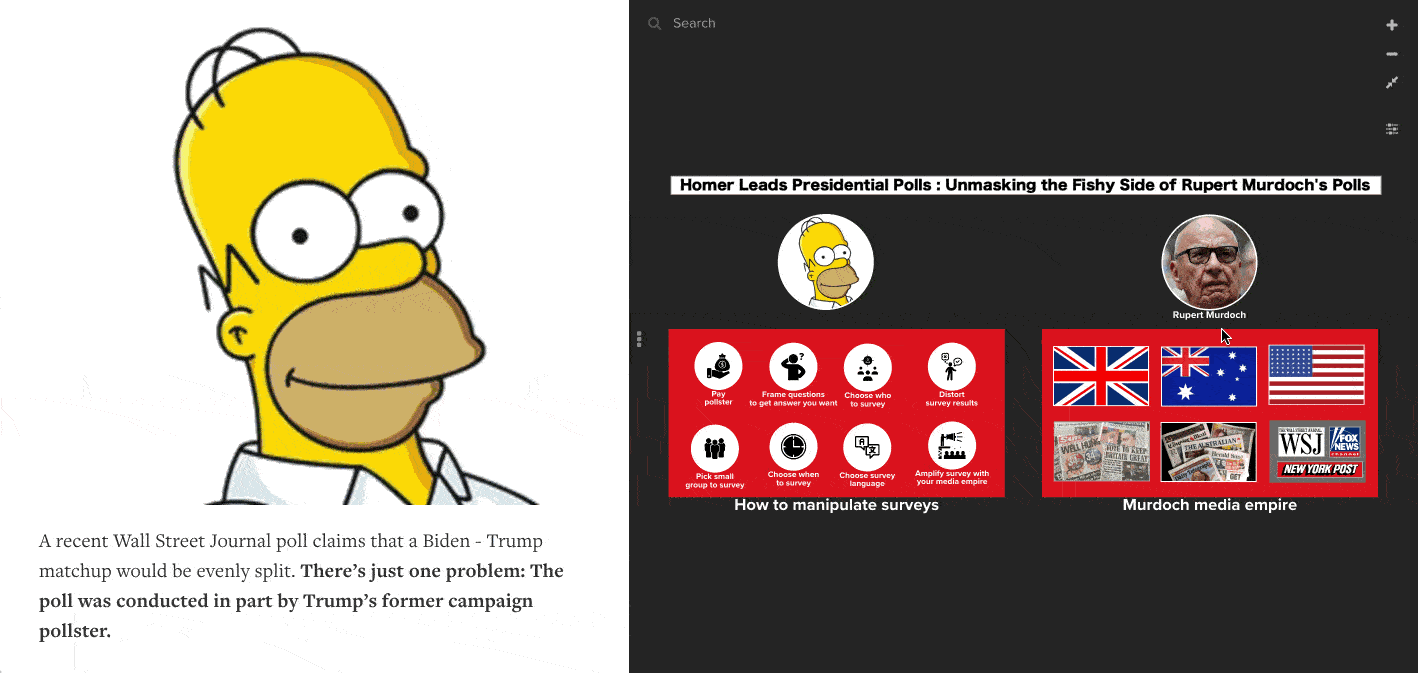 Fishy Murdoch surveys
"That Big Poll Showing Trump and Biden Are Evenly Matched? Trump Helped Pay for It. The Wall Street Journal poll is being cited in all the mainstream media outlets, with no caveat that Donald Trump's Super PAC paid one of the pollsters.
What the Journal does not mention anywhere is that Tony Fabrizio also worked as the chief pollster on Trump's 2016 presidential campaign. And since the start of 2023, Trump's super PAC, Make America Great Again Inc., has paid Fabrizio's company more than $567,000, according to FEC filings.
Fabrizio also has extensive ties to former Trump campaign manager Paul Manafort. Manafort was convicted of tax evasion and bank fraud in 2018. Fabrizio owned the firm that made a shady payment of $125,000 to Manafort in 2017. Fabrizio was also the lead Trump campaign pollster at the time Manafort provided raw polling data to Russian oligarch Oleg Deripaska, via Manafort's associate Konstantin Kilimnik. Deripaska has been under U.S. sanctions since 2018, and Kilimnik has been discovered to be a Russian spy". – The New Republic
Absolute threat to democracy
"Former Australian prime minister Kevin Rudd's petition to establish a royal commission into media diversity in Australia attracted more than half a million signatures and took aim at Rupert Murdoch, whose media empire Mr Rudd labelled a "cancer on democracy".
Mr Rudd's petition, with support from Mr Turnbull, led to a Senate inquiry into Australia's news media and Mr Murdoch's role in it.
Another ex-prime minister Malcolm Turnbull also weighed in, branding it "an absolute threat to our democracy" and "the most powerful political actor in Australia". – ABC News
TakeAway: Don't fall for fishy polls pushed by a billionaire owned media empire to promote his political agenda. (BTW, Homer has said he supports President Biden).
Deepak
DemLabs
DISCLAIMER: ALTHOUGH THE DATA FOUND IN THIS BLOG AND INFOGRAPHIC HAS BEEN PRODUCED AND PROCESSED FROM SOURCES BELIEVED TO BE RELIABLE, NO WARRANTY EXPRESSED OR IMPLIED CAN BE MADE REGARDING THE ACCURACY, COMPLETENESS, LEGALITY OR RELIABILITY OF ANY SUCH INFORMATION. THIS DISCLAIMER APPLIES TO ANY USES OF THE INFORMATION WHETHER ISOLATED OR AGGREGATE USES THEREOF.
Image credit: Homer Simpson created by Matt Groening
Read in browser »
Reposted from Democracy Labs with permission.
---
DemCast is an advocacy-based 501(c)4 nonprofit. We have made the decision to build a media site free of outside influence. There are no ads. We do not get paid for clicks. If you appreciate our content, please consider a small monthly donation.
---