Saul Alinsky is the father of community organizing.
He wrote Rules for Radicals in 1972 which explains his organizing philosophy for organizers and community activists. Both President Obama and Hillary Clinton have praised his work. – VOXThe 209 page book is full of brilliant insights, practical tips and guidelines. DemLabs summarized Alinsky's masterpiece into a free 25 minute audio book with nine tracks. The goal is to make it make his advice accessible to more people in a convenient audio form and encourage them to read "Rules For Radicals" online for free.
Power organizing tactics
Alinksy offers a list of rules of "power tactics," meant as basic guidelines for organizers and community activists:
Power is not only what you have but what the enemy thinks you have.
Never go outside the experience of your people.
Wherever possible go outside of the experience of the enemy.
Make the enemy live up to their own book of rules.
Ridicule is man's most potent weapon.
A good tactic is one that your people enjoy.
A tactic that drags on too long becomes a drag.
Keep the pressure on.
The threat is usually more terrifying than the thing itself.
The major premise for tactics is the development of operations that will maintain a constant pressure upon the opposition.
If you push a negative hard and deep enough it will break through into its counterside.
The price of a successful attack is a constructive alternative.
Pick the target, freeze it, personalize it, and polarize it.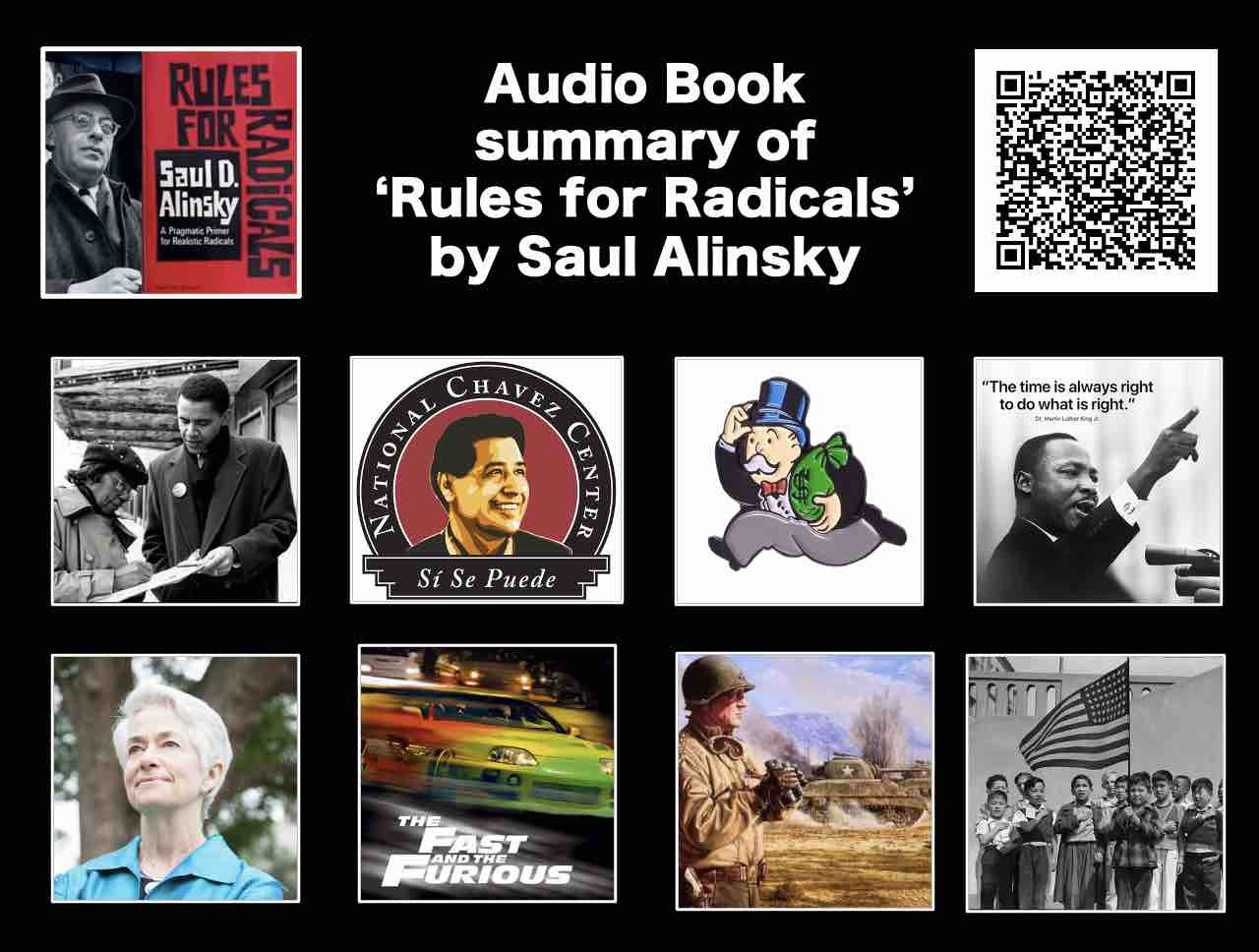 The Haves and Have-Nots in society
"Society has three groups: the Haves, the Have-Nots, and the Have-a-Little, Want Mores. On top are the very few Haves with power, money, food, security, and luxury. They suffocate in their surpluses while the Have-Nots starve. The Haves want to keep things as they are and are opposed to change. They are cold and determined to freeze the status quo. The Haves always justify the status quo. Religious, economic, social, political groups attack demands for change as immoral, fallacious and against God, country, and mother.On the bottom are the most people. Have-Nots. They are chained together by the common misery of poverty, rotten housing, disease, ignorance, political impotence, and despair. Their jobs pay the least and they are deprived in all areas basic to human growth. Caged by color, physical or political, they are barred from an opportunity to represent themselves in the politics of life. The Haves want to keep; the Have-Nots want to get. Many Have-Nots have given up and resigned to their fate. But there are glowing embers of hope which can be fanned by the building of means of obtaining power. The power of the Have-Nots rests with their numbers." – Rules For Radicals
Make sure people's self-interest are met
"Obama commented on Alinsky in a profile by Lizza in 2007. Lizza writes that Obama internalized the first main lesson of Alinsky — that organizing is about leveraging the community's self-interest for its own empowerment. "The key to creating successful organizations was making sure people's self-interest was met," Obama told Lizza, "and not just basing it on pie-in-the-sky idealism. So there were some basic principles that remained powerful then, and in fact I still believe in." Eventually, Obama got the strategies well enough to teach trainings himself." – VOXTakeAway: Learn Alinsky's rules for organizing and use them to build a more just society.Deepak
DemLabsDISCLAIMER: ALTHOUGH THE DATA FOUND IN THIS BLOG AND INFOGRAPHIC HAS BEEN PRODUCED AND PROCESSED FROM SOURCES BELIEVED TO BE RELIABLE, NO WARRANTY EXPRESSED OR IMPLIED CAN BE MADE REGARDING THE ACCURACY, COMPLETENESS, LEGALITY OR RELIABILITY OF ANY SUCH INFORMATION. THIS DISCLAIMER APPLIES TO ANY USES OF THE INFORMATION WHETHER ISOLATED OR AGGREGATE USES THEREOF.
Read in browser »
Reposted from Democracy Labs with permission.
---
DemCast is an advocacy-based 501(c)4 nonprofit. We have made the decision to build a media site free of outside influence. There are no ads. We do not get paid for clicks. If you appreciate our content, please consider a small monthly donation.
---