The Wall Street Journal criticized the indictment of Trump for a failed coup attempt…
Why would a once, highly regarded publication oppose an attack on American democracy? Start by looking at who owns the WSJ and his motivations.Use this relationship map is primarily based on the NY Times article, MURDOCH AND HIS CHILDREN HAVE TOPPLED GOVERNMENTS ON TWO CONTINENTS AND DESTABILIZED THE MOST IMPORTANT DEMOCRACY ON EARTH. Use the map to understand:
– The global reach of the Murdoch media empire
– Why the former Prime Minister of Australia called it the 'greatest cancer on democracy'
– Close family ties between the Murdochs and Trump families. Fox hosts campaigning for Trump
– How the Murdochs profit from spreading COVID disinformation, racism and misogyny
– How Republicans have bent regulations and blocked FCC nominations to help the Murdochs
– Toppled governments. Pushed the Iraq war and disastrous BREXIT
– Been fined for hacking into the phones, spreading election conspiracy theories sexual harassment scandals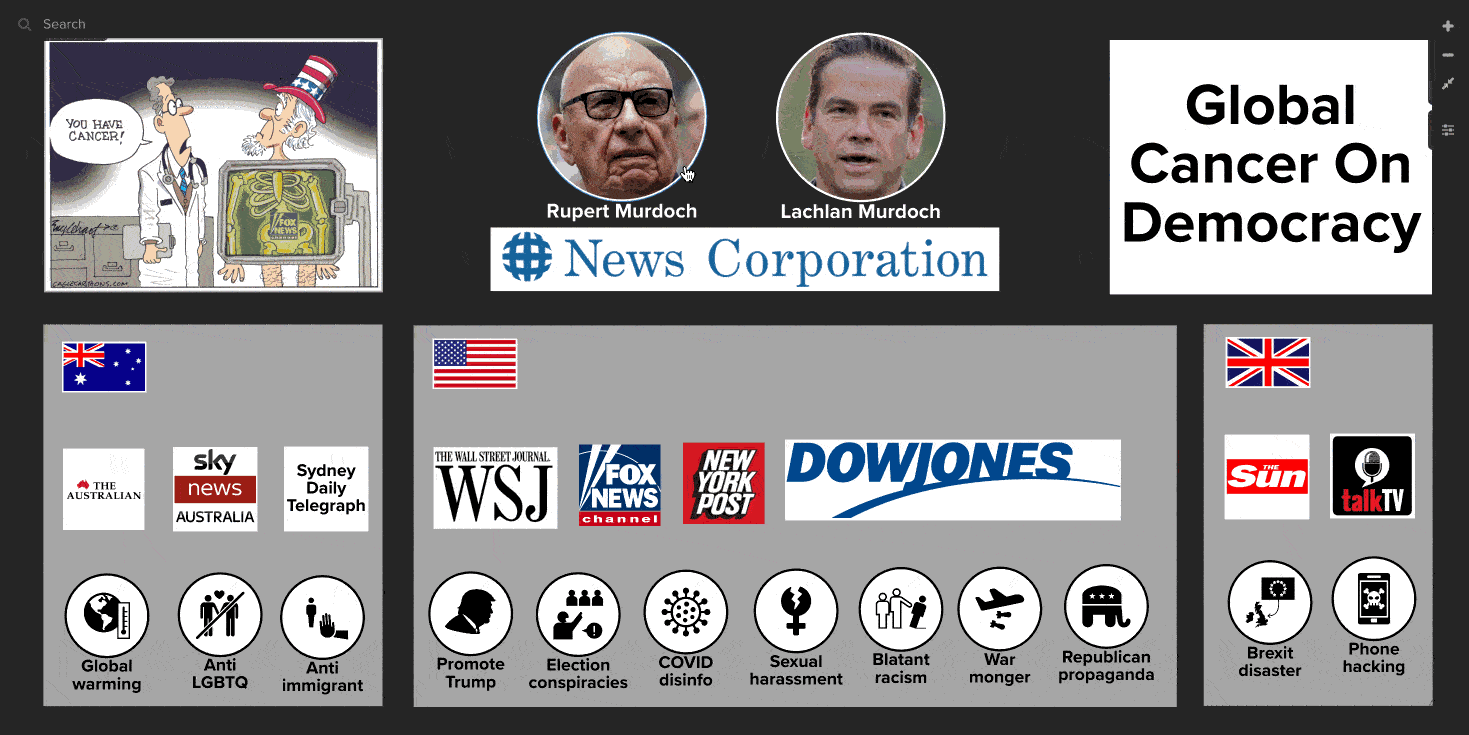 Cancer on democracy
Rupert Murdoch, as the head of a sprawling global media empire, commanded multiple television networks, a global news service, a major publishing house and a Hollywood movie studio.His newspapers and television networks had been instrumental in amplifying the nativist revolt that was reshaping governments not just in the United States but also acros the planet.
His 24-hour news-and-opinion network, the Fox News Channel, had by then fused with President Trump and his base of hard-core supporters, giving Murdoch an unparalleled degree of influence over the world's most powerful democracy
Kevin Rudd, a former prime minister whom the family had helped push out of office years earlier, described Murdoch as "the greatest cancer on the Australian democracy." – NY Times
How Republicans pander to Murdoch
Weaponized tabloids. "Murdoch met Roy Cohn in 1980 — the former adviser to Senator Joseph McCarthy and a Trump mentor — who introduced him to Gov. Ronald Reagan's inner circle. It was a group that included Roger Stone Jr., another Trump confidant and the head of Reagan's New York operations, who said in a later interview that he helped Murdoch weaponize his latest tabloid purchase, The New York Post, on Reagan's behalf in the 1980 election.Approved his citizenship application. Reagan's team credited Murdoch with delivering him the state that year. Reagan administration subsequently facilitated Murdoch's entry into the American television market, quickly approving his application for American citizenship so he could buy TV stations too.Reagan allowed Murdoch to expand further. The Reagan administration later waived a prohibition against owning a television station and a newspaper in the same market, allowing Murdoch to hold onto his big metro dailies, The New York Post and The Boston Herald, even as he moved into TV in both cities.Bush bends rules for Murdoch – The George H.W. Bush administration suspended rules that forbade broadcast networks to own prime-time shows or to profit from them.
The move allowed Murdoch to build the nation's fourth broadcast networkEliminated 'Fairness Doctrine'. The Reagan administration's elimination of the Fairness Doctrine, which had for decades required broadcasters to present both sides of any major public-policy debate. – NY Times
Racist disinfo to push extremism
The Murdoch empire did not cause this wave. But more than any single media company, it enabled it, promoted it and profited from it. The family's outlets have helped:
elevate marginal demagogues
mainstream white Christian-nationalism
politicize the very notion of truth
destabilize democracies around the world
pushed the flow of history to the right across the Anglosphere
advocating for the United States and its allies to go to war in Iraq in 2003
undermining global efforts to combat climate change
vilifying people of color at home abroad as dangerous threats to a white majority.
TakeAway: Treat all cancers, especially those that threaten to kill democracy for profits.Deepak
DemLabsDISCLAIMER: ALTHOUGH THE DATA FOUND IN THIS BLOG AND INFOGRAPHIC HAS BEEN PRODUCED AND PROCESSED FROM SOURCES BELIEVED TO BE RELIABLE, NO WARRANTY EXPRESSED OR IMPLIED CAN BE MADE REGARDING THE ACCURACY, COMPLETENESS, LEGALITY OR RELIABILITY OF ANY SUCH INFORMATION. THIS DISCLAIMER APPLIES TO ANY USES OF THE INFORMATION WHETHER ISOLATED OR AGGREGATE USES THEREOF.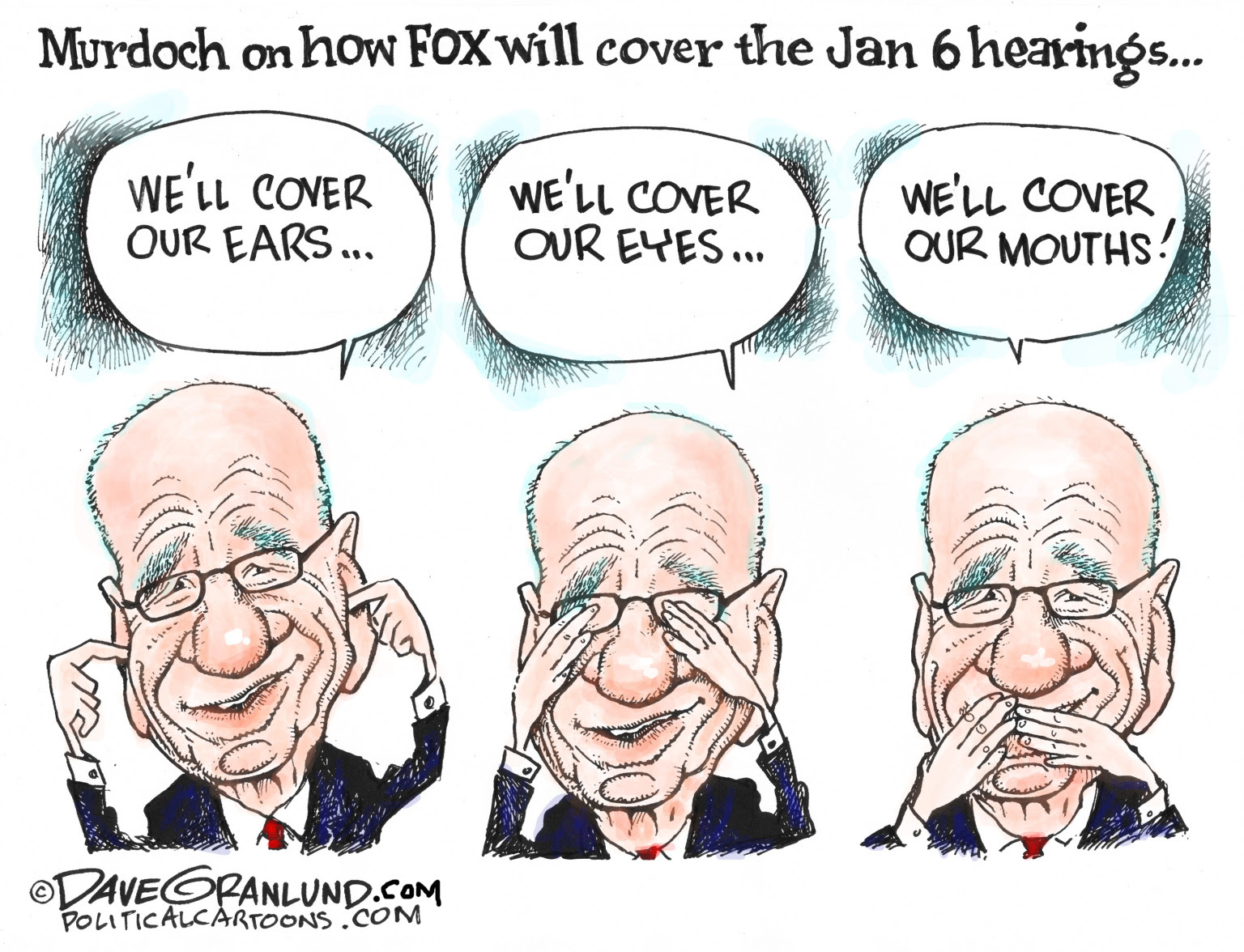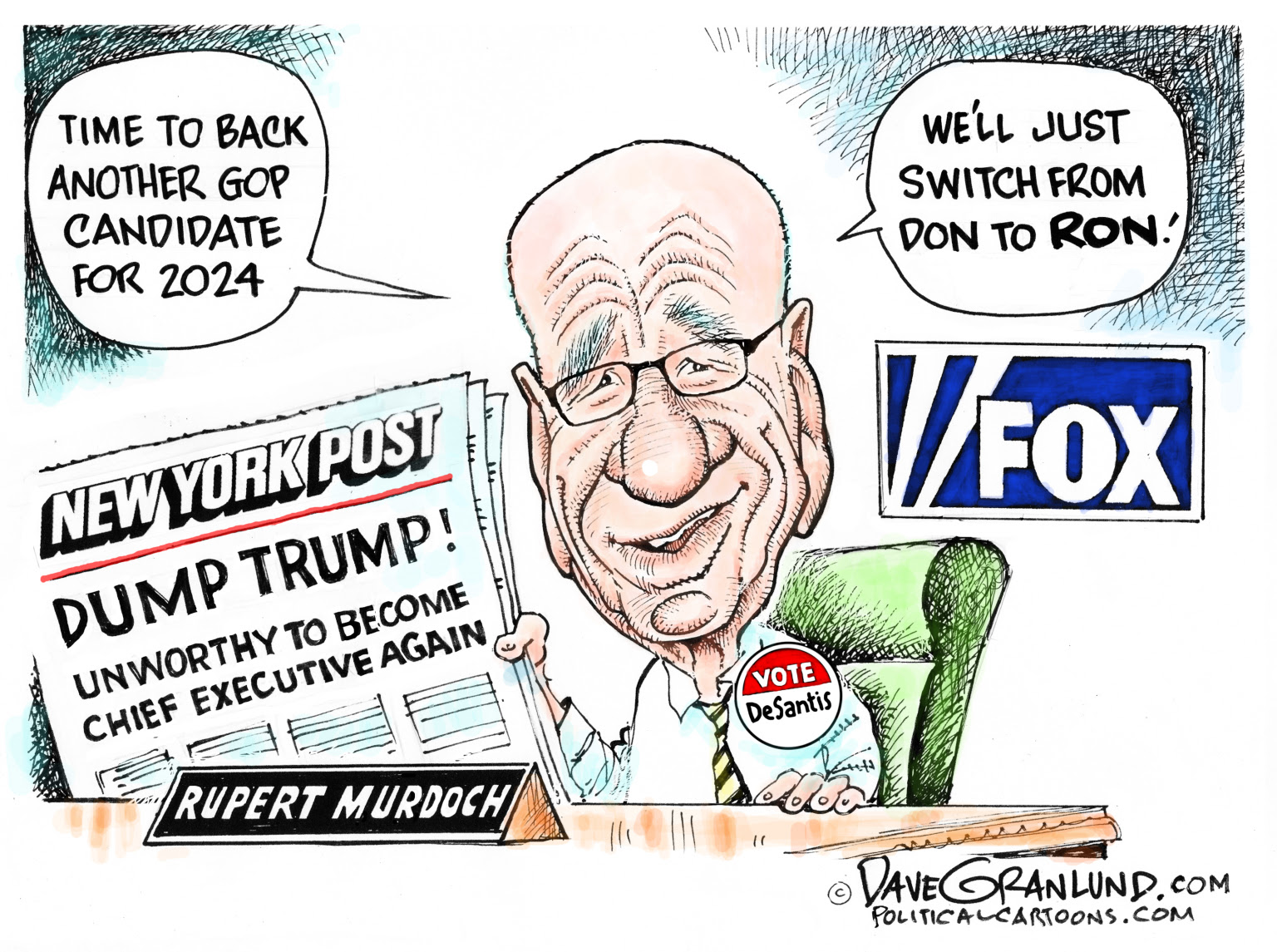 Reposted from Democracy Labs with permission.
---
DemCast is an advocacy-based 501(c)4 nonprofit. We have made the decision to build a media site free of outside influence. There are no ads. We do not get paid for clicks. If you appreciate our content, please consider a small monthly donation.
---