Visual stories are engaging, persuasive and dominate social media.
Smart activists use visual storytelling with images, GIFs and videos to engage viewers and drive engagement.Wakelet is a free visual storytelling app that's ideal for activists. The app is easy to use and lets you communicate visual content in different formats: images, PDFs, cartoons, GIFs and videos. Wakelet generates online stories that can be shared through a link that can be seen on phones, tablets and laptops. You can even update you story with new content.This visual story was created with Wakelet in about two hours about Republicans Blockading Military Promotions.
MAGA Republicans blockade military promotions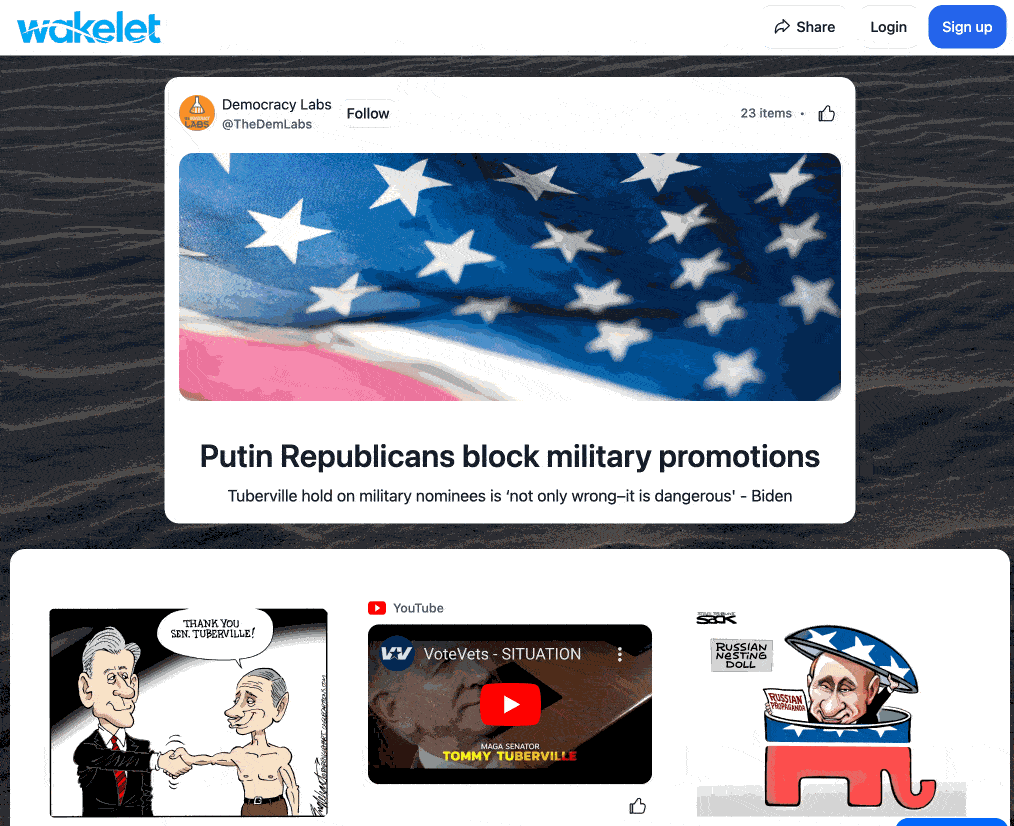 How to create a Wakelet
Drag the content you want to include in your visual story into the Wakelet app. This content could be a URL to the image or video, or drag over the image file. Arrange the content and Publish. That's it. Now you have a Wakelet that you can share through a link this https://wakelet.com/wake/kEqQROyep_2hbsaJ2dLpr
Why is visual storytelling so important?
We can discuss the importance of visual storytelling all day, but what do the facts show? Visual content is more eye-catching and memorable. It's more engaging for its audience, which heightens its credibility… – Rasmussen. Why is visual storytelling so effective?
The brain processes visuals 60,000 times faster than it does plain text
Content with relevant images gets 94 percent more views than content without
Nearly 66 percent of updates on social media are visual content
Approximately 100 million internet users watch at least one online video each day
TakeAway: Make your messages more persuasive with visual storytelling using the free Wakelet app.Deepak
DemLabsDISCLAIMER: ALTHOUGH THE DATA FOUND IN THIS BLOG AND INFOGRAPHIC HAS BEEN PRODUCED AND PROCESSED FROM SOURCES BELIEVED TO BE RELIABLE, NO WARRANTY EXPRESSED OR IMPLIED CAN BE MADE REGARDING THE ACCURACY, COMPLETENESS, LEGALITY OR RELIABILITY OF ANY SUCH INFORMATION. THIS DISCLAIMER APPLIES TO ANY USES OF THE INFORMATION WHETHER ISOLATED OR AGGREGATE USES THEREOF.Image credit: Pixar
Read in browser »
Reposted from Democracy Labs with permission.
---
DemCast is an advocacy-based 501(c)4 nonprofit. We have made the decision to build a media site free of outside influence. There are no ads. We do not get paid for clicks. If you appreciate our content, please consider a small monthly donation.
---