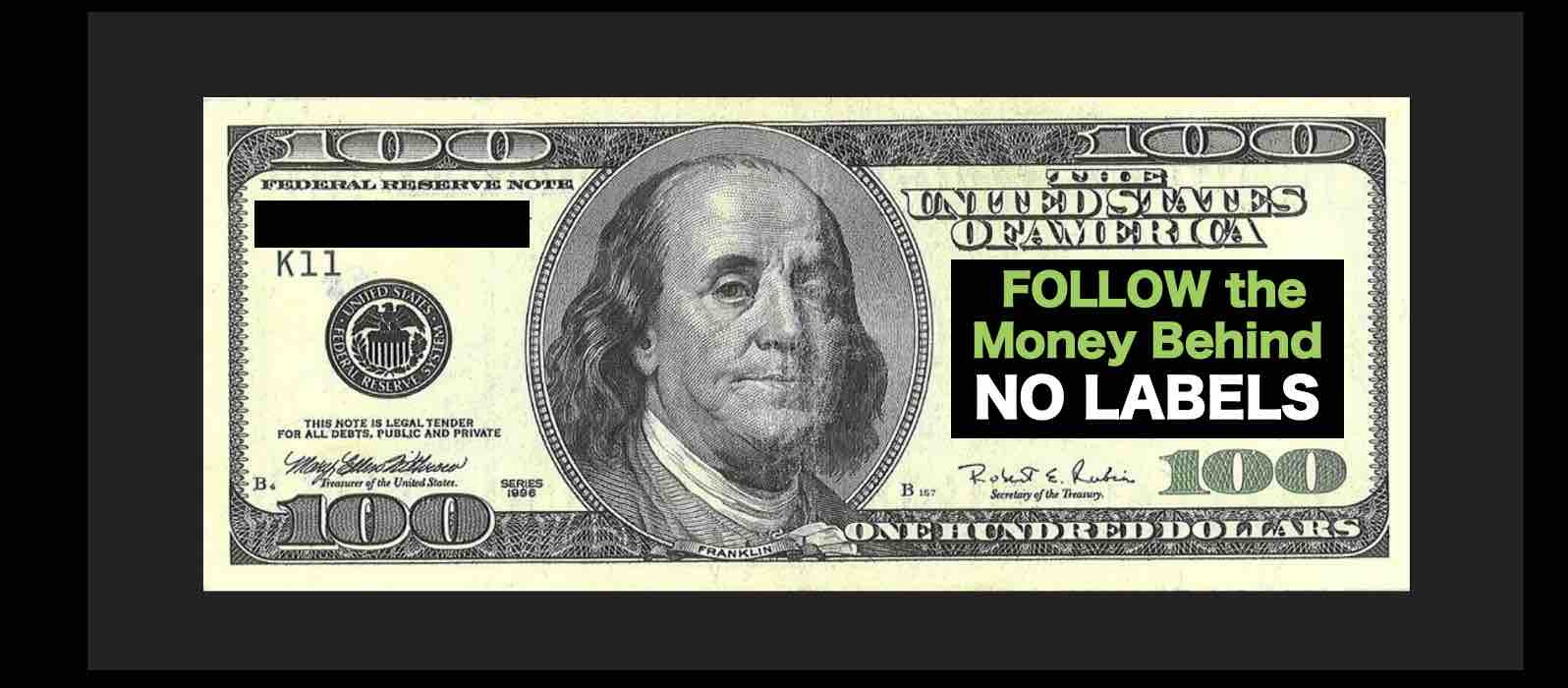 What's really behind a campaign? Follow the money and people.
"A third-party presidential ticket can't win. All of the third party presidential candidates from the last 100 years combined didn't get enough electoral votes to win a single election. But No Labels will be a spoiler. They are targeting critical Blue states and splintering the coalition of voters who ousted Trump in 2020, giving Trump a second term when he is more dangerous than ever." – Third Way
Where's the money behind No Labels coming from? Where is it being spent? Who are the donors and partners? What is the background of the people at No Labels? Use this relationship map created with the free Kumu app and public data from Mother Jones and other sources.
"No Labels Exposed: Here's a List of Donors Funding Its Effort To Disrupt the 2024 Race… Among the No Labels backers are donors who contributed millions of dollars to Republican causes, such as past GOP presidential candidates and super-PACS connected to Republican congressional leadership…" – Mother Jones
Follow the money behind NO Labels
Political outfit
"No Labels, the political outfit preparing to run a "unity" ticket in 2024 that Democratic strategists and Never-Trump Republican operatives fear will siphon votes from President Joe Biden, is what's known as a dark-money group. Unlike political parties, political action committees, and House, Senate, and presidential candidates, it is not required to reveal who is funding it.
No Labels, which says it intends to raise $70 million to possibly place a third-party candidate on the presidential ballot next year, refuses to disclose who is financing this project. But Mother Jones has obtained a list of 36 wealthy contributors and corporate high-rollers who last year wrote big checks to support No Labels' effort to win 2024 ballot lines in states across the nation." – Mother Jones
Practicing the dark arts
"As House Republicans were crafting their Obamacare repeal bill in the spring of 2017, Nancy Jacobson, the founder and CEO of No Labels, a group that promotes bipartisan governance, wanted to spice up her organization's Twitter feed. So she turned to someone known for provocative political takes: her husband, longtime political operative Mark Penn. – Third Way
In a tweet that March, written under Penn's direction, No Labels took the unconventional position that Democrats were to blame for not being more willing to work with Republicans in the destruction of their party's signature piece of modern legislation." – Daily Beast
GOP-lite
"No Labels claims to be a bipartisan organization that is looking to work across the aisle to actually implement change in this country. In theory, this a noble goal that many people have tried to accomplish, but like everything in politics, it might not be as it seems.
According to The Intercept, the group has taken in a significant amount of money from conservative-leaning groups in 2018, such as Louis Bacon — founder of Moore Capital Management hedge fund — who gave $1.1 million to the GOP in 2016 and $1 million to No Labels-affiliated Super PACS; James Murdoch (the son of Rupert Murdoch — owner of News Corporation, which includes The Wall Street Journal and Fox News) who gave $500,000; and Nelson Peltz who gave $900,000 to affiliated PACs and candidates.
In the past, they've also taken money from Christy Ruth Walton, a Walmart heiress; Josh Bekenstein, CEO of Bain Capital; John Catsimatidis, CEO of Gristedes Foods; and Carl Ferenbach, co-founder of Berkshire Partners LLC. These are the people behind No Labels. Their interests are only in making more money for their companies and stockholders. They have no interest in bipartisanship; they want to push the Democratic Party to the right so that it becomes, in essence, a GOP-lite." – The Spectator
Call out this dangerous ploy
"No Labels justifies this dangerous campaign by making false comparisons between the extremes of the right and the left. No Labels ignores the legislative victories we achieved on a host of issues that appeal to a broad coalition of voters. Democratic leadership delivered a bipartisan infrastructure bill, historic climate investments, bipartisan gun safety legislation, protections for marriage equality, and much more. But if Trump is back in the White House, that progress—and our democracy is in peril."
No Labels must stand down for the future of our country. We're calling on all Democrats to join us in calling out this dangerous ploy. Sign The Petition
Third Way
"Third Way is a national think tank that champions modern center-left ideas. Its work is grounded in the mainstream American values of opportunity, freedom, and security. But we identify as center-left, because we see that space in U.S. politics as offering the only real path for advancing those ideals in the century ahead. Their agenda is ambitious, aspirational, and actionable. It is built on the bedrock belief that for political movements to succeed in our political system, they must relentlessly re-imagine their policies, strategies, and coalitions." – Third Way
TakeAway: Follow the money to see why wealthy GOP donors want you to waste your vote on a third party candidate who cannot win.
Deepak
DemLabs
DISCLAIMER: ALTHOUGH THE DATA FOUND IN THIS BLOG AND INFOGRAPHIC HAS BEEN PRODUCED AND PROCESSED FROM SOURCES BELIEVED TO BE RELIABLE, NO WARRANTY EXPRESSED OR IMPLIED CAN BE MADE REGARDING THE ACCURACY, COMPLETENESS, LEGALITY OR RELIABILITY OF ANY SUCH INFORMATION. THIS DISCLAIMER APPLIES TO ANY USES OF THE INFORMATION WHETHER ISOLATED OR AGGREGATE USES THEREOF.
Resources:
No Labels Exposed: Here's a List of Donors Funding Its Effort To Disrupt the 2024 Race – Mother Jones
No Labels club's conservative funding undermines purported bipartisan efforts – The Spectator
BILLIONAIRE REPUBLICAN DONORS – The Spectator
How No Labels Went From Preaching Unity to Practicing the Dark Arts – Daily Beast
No Labels club's conservative funding undermines purported bipartisan efforts – The Spectator
Stop No Labels From Re-Electing Trump – MoveOn

Read in browser »
Reposted from Democracy Labs with permission.
---
DemCast is an advocacy-based 501(c)4 nonprofit. We have made the decision to build a media site free of outside influence. There are no ads. We do not get paid for clicks. If you appreciate our content, please consider a small monthly donation.
---