Democrats are Investing in America
Democratic messaging about our values and accomplishments got a huge boost from the White House this week, with the unveiling of a new, interactive website that makes it easy to locate and brag about the positive impact of a Democratic majority in Washington!
President Biden's Investing in America Agenda includes pivotal legislation like the American Rescue Plan, Bipartisan Infrastructure Law, CHIPS and Science Act, and Inflation Reduction Act. The Investing in America initiative is catalyzing significant private sector investments in the U.S., reviving domestic manufacturing, and generating new, well-compensated jobs, including unionized positions and roles that do not necessitate a college degree. The agenda is also refurbishing U.S. roads and bridges with domestically produced materials and labor. This transformative plan aims to reach all corners of the U.S., particularly regions previously overlooked.
An interactive map provided on the related website illustrates the impact of these historic public and private investments across states and territories under the Biden Administration.
To quote Heather Cox Richardson, "While the Republicans since 1980 have claimed that tax cuts and deregulation would spur private investment in the economy, it appears that Biden's policy of public investment to encourage private investment has, in fact, worked. So far, during his term, private companies have announced $479 billion in investments under the new system, while the government has directed more than $220 billion towards roads, bridges, airports, public transportation, addressing climate change, and providing clean water. The website locates and identifies the more than 32,000 new projects underway.
The site also highlights the high rates of employment in the U.S. and the addition of new manufacturing jobs, as well as lower costs for prescription drugs and health insurance."
Statewide Day of Action to End Gun Violence June 17th
Join St. Aidan's, Moms Demand Action, Physicians for the Prevention of Gun Violence, and End Gun Violence Michigan-Ann Arbor to celebrate the passage of the universal background check, safe storage, and red flag laws, educating the community, and honoring survivors and victims of gun violence.
Location: St. Aidan's Episcopal Church, 1679 Broadway St
Schedule: 11:00am – Speakers and Serenity Walk in Nature Habitat
RSVP here
June 17: Addressing Anti-Asian Hate
Journey to Solutionsis a webinar on combating Anti-Asian sentiment in memory of Vincent Chin.Hear from:
U of Michigan Asst. Professor Melissa BorjaMI State Senator Stephanie ChangMAPAAC Chair Ayesha Ghazi EdwinRoland HwangCeena Vang
Moderated by:
Assistant Prof. lan ShinOCA Executive Director Thu Nguyen
WHEN: June 17, 2023 @ 1pmRSVP: https://bit.ly/acaoca06172023
Bridging 23: 7th Annual Unity Walk
Join the Dispute Resolution Center and neighbors from across the area for the 7th Annual Unity Walk. This is a fundraiser for the Dispute Resolution Center's Restorative Justice Program.
The Unity Walk was born out of a Bridging 23 restorative community circle and has been spearheaded by community members since 2017. It is dedicated to transforming the way the people of Ann Arbor, Ypsilanti and the surrounding communities relate to one another.
The DRC's Restorative Justice Program helps to keep adults and youth out of the criminal legal system and brings healing and wholeness to families and our community.
The Unity Walk will be held on Saturday, June 10th, 2023, at 9:00am at Brown Chapel AME Church in Ypsilanti. There will be a 5K walk and a 1-mile fun run.
Registration is $25 for individuals and $100 for teams. All proceeds will benefit the DRC's Restorative Justice Program.
To register, visit the DRC's website.
This Weekend: Motor City Pride
Normally we like to focus on events in Washtenaw County, but Motor City Pride is so close and looks so fun that we couldn't resist adding it to this week's newsletter.
From the Michigan Democratic Party: The Michigan Democratic Party and the LGBTQ&A Caucus are participating in the 2023 Motor City Pride Fest and Parade at Detroit's Hart Plaza. This year's festival and parade should prove to be especially exciting and meaningful given the challenging environment for our community, and the historic progress our state legislative majority is making in Lansing. In addition, there will be some very special guests joining us for the parade, so you will not want to miss the opportunity to march alongside them. 
Save the Weekend: Celebrate Juneteenth June 16-June 18
Young Democrats of America Convention in Las Vegas
There is still time to register and join fellow young dems in Vegas for their annual conference. Enjoy panels, organizing training, panels, caucus meetings, networking events and more. 
Visibility Committee Call for Volunteers
Staff a table with other WCDP volunteers at these upcoming events:
 Ann Arbor African American FestivalStaff a table during the festival on Saturday, June 3 Sign up for a 2-3 hour shiftChelsea Sounds and Sights on Thursday Nights from 6:00-8:30 pm.  Pick your date(s) here
Ann Arbor Juneteenth Celebration:  Afternoon shifts (two hours each) needed Saturday June 17.  Pick your shift here  These additional events in May, June, and July need volunteers as well.  If you live in one of these areas, we especially need you!Ann Arbor Farmers' Market (Saturdays beginning in May)Milan Pride Picnic (Thursday, June 8, 4-7pm)Ann Arbor Art Fair (July 20-22, shifts available throughout the day)More events coming in August and SeptemberEven if none of these dates work for you but you are interested, sign up using the link below..  Training will be offered.  We also need ongoing Visibility Committee members to help us plan and support local events throughout the county on an ongoing basis.  
Sign Up Here and tell us which events are of interest to you.  A member of our team will be in touch.
Coffee
with Your Representatives!
Ann Arbor Council Members Travis Radina and Ayesha Ghazi-Edwin, Ward 3
June 11 @ 11 am
Special Guest: Ann Arbor Sustainability Director Dr. Missy Stults
La Piña Loca 3980 Platt Rd Ste C. Ann Arbor, MI
June 25th-Save the Date: Join Us for Fun, Food, and Community
The Washtenaw County Democratic Party is excited to invite you and your loved ones to our annual Friends and Family Picnic! This year, the picnic will be held on June 25, 2023 from 1pm-5pm at the Independence Lake Beach Center in Webster Township.
We hope you can join us for an afternoon of fun, food, and community. We'll be grilling up some delicious food provided by Chef Walter Jackson, so all you need to bring is a dish or beverage to share.
Please note that there is an entry fee of $3 for seniors who are Washtenaw County residents and $10 for others. We encourage you to RSVP as soon as possible, as entry will be denied once the park capacity is filled.
This is a great opportunity to connect with fellow Democrats, meet elected officials, and enjoy the beautiful outdoors. We hope to see you there!
If you have any questions or would like to RSVP, please contact Susan Baskett at Susanebaskett@gmail.com or 734.474.8221. 
Save the date for our annual Garden Party: Saturday, July 15th, with a rain date of Sunday, July 16th . Watch this space for updates and ticket sales.
First Annual Progressive Puzzle Project!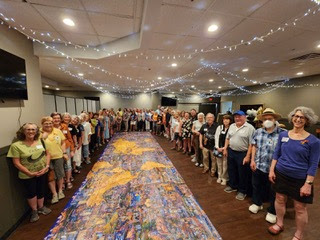 Last weekend our friends at Distill Social brought together 60+ Michigan-based activist groups to highlight the power of progressive collaboration. Together they completed 60+ 1,000-piece puzzles, joining them together to complete a 60,000-piece puzzle of the world! Thanks to puzzle enthusiast (and master) Rosanita Ratcliff, the WCDP contributed puzzle #4.
Forward this newsletter to a friend 
---
DemCast is an advocacy-based 501(c)4 nonprofit. We have made the decision to build a media site free of outside influence. There are no ads. We do not get paid for clicks. If you appreciate our content, please consider a small monthly donation.
---