'New York City Air Quality Hits Worst Level on Record' – NYT
"The air quality index in Syracuse surpassed 400, according to AirNow, which designates a reading above 100 as "unhealthy" to breathe and above 300 as "hazardous."The poor air quality could have widespread effects among healthy people and serious ones for those with respiratory conditions, according to federal guidelines. Such high readings are typical in smoggy megacities like Jakarta or New Delhi but rare in New York, where decades of state and federal laws have helped to reduce emissions." – NYT
"The US Supreme Court on Thursday ruled 6-3 along ideological lines to severely limit the authority of the Environmental Protection Agency in regulating carbon emissions from power plants, further hamstringing the Biden administration's ability to combat global warming. "Today, the court strips the Environmental Protection Agency (EPA) of the power Congress gave it to respond to the most pressing environmental challenge of our time," Justice Elena Kagan wrote in the minority." – Engadget
Check this map with data from EPA AirNow for the air quality where you live and the Republican Senator who helped stack the Supreme Court and the Congressperson who voted against President Biden's Infrastructure Bill with resources to fight climate change.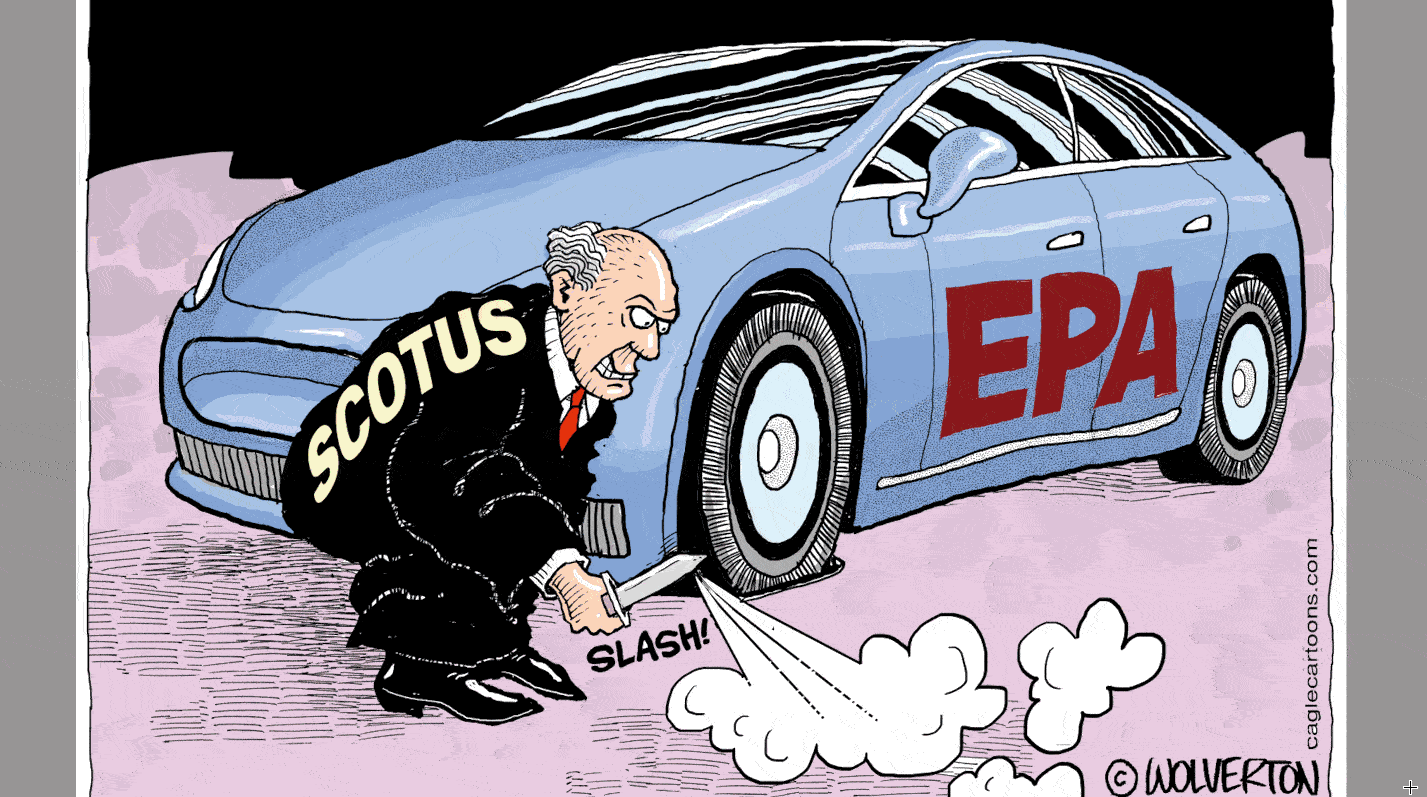 Air Quality Index (AQI) & Health
Millions of people live in areas where air pollution can cause serious health problems. Local air quality can affect our daily lives. Like the weather, it can change from day to day. EPA developed the Air Quality Index, or AQI, to make information available about the health effects of the five most common air pollutants, and how to avoid those effects.
AirNow is a one-stop source for air quality data. Our recently redesigned site highlights air quality in your local area first, while still providing air quality information at state, national, and world views. A new interactive map even lets you zoom out to get the big picture or drill down to see data for a single air quality monitor. AirNow reports air quality using the official U.S. Air Quality Index (AQI), a color-coded index designed to communicate whether air quality is healthy or unhealthy for you. When you know the AQI in your area, you can take steps to protect your health.
AirNow is a partnership of the U.S. Environmental Protection Agency, National Oceanic and Atmospheric Administration (NOAA), National Park Service, NASA, Centers for Disease Control, and tribal, state, and local air quality agencies. Complete list of AirNow partners. Agencies all over the country send their monitoring data to AirNow for display. The Department of State provides data from U.S. Embassies and Consulates to inform personnel and citizens overseas, and the U.S. Forest Service and NOAA provide fire and smoke data. AirNow's centralized data system provides quality control, national reporting consistency, and the ability to distribute data to the public, researchers, businesses, educators, and to other data systems.
Current and forecast air quality maps and data for more than 500 cities across the U.S.
Current and historical data for U.S. Embassies and Consulates around the world
Current fire conditions including fire locations, smoke plumes, and air quality data from permanent and temporary air quality monitors
Air quality data for Canada and Mexico
Enviroflash emails, apps, widgets, and an API
TakeAway: Elections have consequences. You get politicians who deny global warming and stack the courts with partisan justices who gut the EPA. Next time vote for a Democrat.
Deepak
DemLabs
DISCLAIMER: ALTHOUGH THE DATA FOUND IN THIS BLOG AND INFOGRAPHIC HAS BEEN PRODUCED AND PROCESSED FROM SOURCES BELIEVED TO BE RELIABLE, NO WARRANTY EXPRESSED OR IMPLIED CAN BE MADE REGARDING THE ACCURACY, COMPLETENESS, LEGALITY OR RELIABILITY OF ANY SUCH INFORMATION. THIS DISCLAIMER APPLIES TO ANY USES OF THE INFORMATION WHETHER ISOLATED OR AGGREGATE USES THEREOF.
Read in browser »
Reposted from Democracy Labs with permission.
---
DemCast is an advocacy-based 501(c)4 nonprofit. We have made the decision to build a media site free of outside influence. There are no ads. We do not get paid for clicks. If you appreciate our content, please consider a small monthly donation.
---