"Amazon Delivery Drivers Unionized. Now They Have to Prove They Work For Amazon." – VICE
"The Teamsters say that Amazon is in "complete control" of the conditions which caused drivers to organize. Amazon has declined to bargain. "The Amazon Delivery Service Partners (DSP) truly appears to be concerned about the safety and the working conditions of their drivers," said Randy Korgan, the director of the Teamsters' Amazon Division. "They're just fed up. Every DSP operator I have talked to is exasperated."– VICE
Worker or contractor? "For workers there to be considered independent contractors, they must satisfy three conditions: The worker must be free from the company's "control and direction," perform work that's outside the company's usual business, and be engaged in an "independently established trade." – VOX
Judge for yourself with this relationship map.
– Who defines delivery routes?
– Who picks the vans to be used?
– Who picks the authorized repair facilities?
– Who defines how many packages have to be delivered per day?
– Who defines the hourly pay rate for the drivers?
Follow the exploitation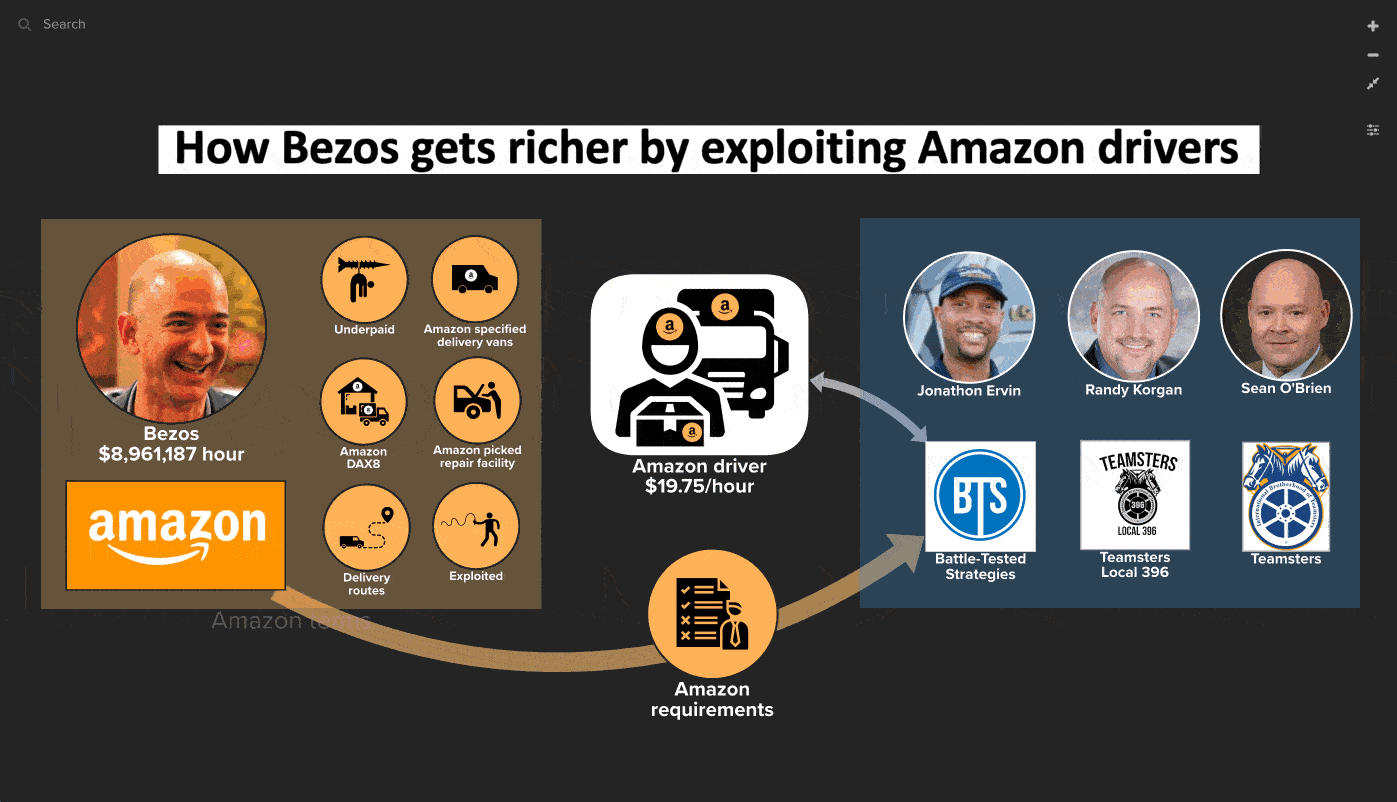 Battle Tested strategies
"A group of 84 workers at Amazon's warehouse in Palmdale, California, won voluntary recognition by Battle-Tested Strategies, a third-party delivery contractor, to be represented by the Teamsters. That allows the workers and the Teamsters to sidestep the union election process, which can be challenging and last for many months. Battle-Tested Strategies is one of the legions of third-party delivery firms contracted by Amazon to shuttle packages to shoppers' doorsteps. Amazon launched the Delivery Service Partner program in 2018, recruiting small businesses to help grow its in-house logistics operations and further its goal of speeding up deliveries." – CNBC
Am I going to make it home, make it through this day?
"The vans we have—it's a big metal container. In the extreme heat it can get upwards of 130, 135 degrees inside the van," said Singh. "You walk in, and it's sweltering, the wave of heat that hits you—the only comparison I can give you is like walking into an oven, because it's that nasty dry heat. You feel like you're just getting cooked back there. I go through 10-12 bottles of water a day, and I urinate once."
"Last summer, there were a couple of times I was getting dizzy, and started seeing spots, feeling like I was going to black out," he continued. "When you're in here and you get those feelings like you're gonna pass out at any moment—I'm worried, am I going to make it home, make it through this day? Am I going to end up being hospitalized?" – VICE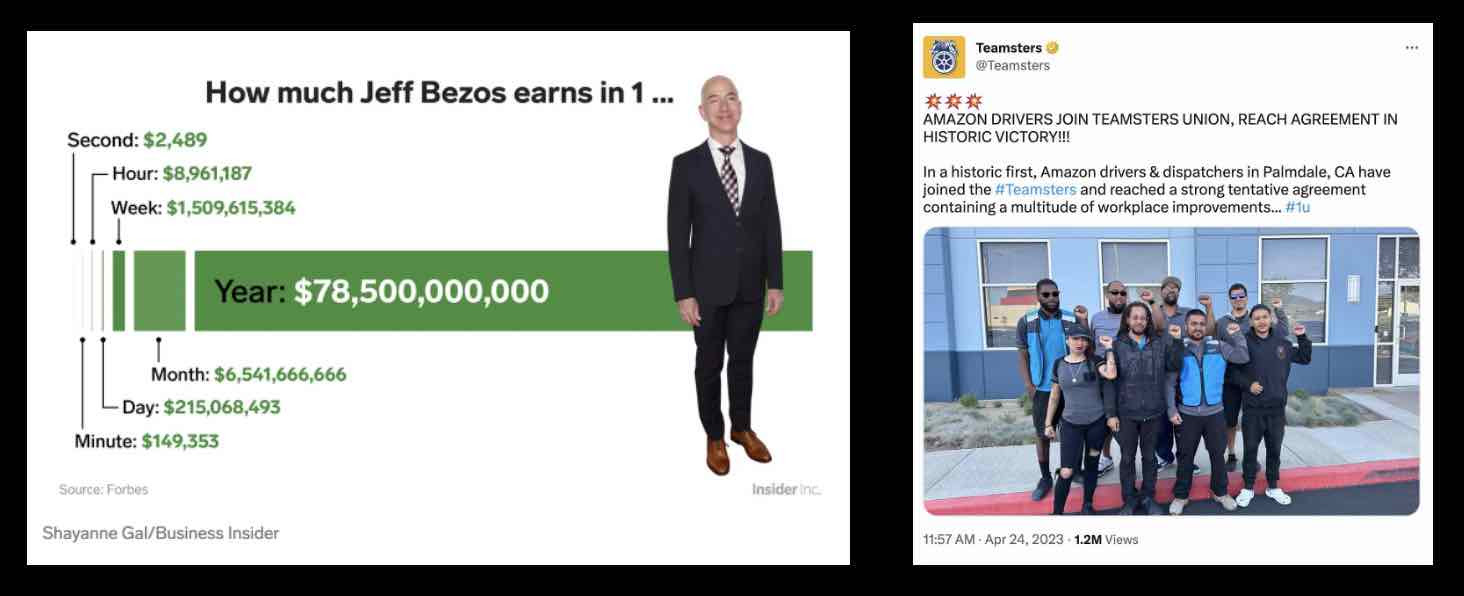 Amazon Division
"The Teamsters also recently opened an Amazon division, which is responsible for overseeing unionization efforts at Amazon and preventing the company from getting a bigger foothold in rural communities. In one town on Long Island, New York, Teamsters organizing helped prevent Amazon from building a warehouse that would destroy a community's only access to greenspace. "After engaging in bargaining, engaging in information requests, engaging in understanding of the relationship between Amazon and the Delivery Serivce Partner (DSP) —Amazon has complete control," said Randy Korgan, the director of the Teamsters' Amazon Division and director of organizing for Teamsters Joint Council 42."
The union says it intends to improve pay and working conditions in Amazon to match the industry standard, as Amazon's injury rate has frequently been reported to be double the industry rate.
The union contract is specifically for the relationship between the drivers and the DSP. However, Korgan said, "There's language in the contract that obviously drives at the subject that Amazon's in control." – Vice
Hiding behind subcontractor relationship
"If Amazon is able to get away with ignoring the workers' decision and hiding behind the subcontractor relationships, then I'm afraid we'll have yet another story of the failure of American labor law," said Benjamin Sachs, a labor professor at Harvard Law School. "If this leads to a recognition that these drivers are Amazon employees, joint employees, then this could be massively important."
The National Labor Relations Board will likely have to decide is whether Amazon terminated the contract with BTS in order to avoid working with a union, something that would be illegal if they were considered employees. Amazon mentioned that the company had a "track record of failing to perform" but didn't respond to questions about when exactly it told BTS it was terminating the contract and whether the e-commerce company had been aware of union organizing before then. BTS didn't respond to an interview request.
Randy Korgan, the Amazon division director for the Teamsters, said the delivery drivers had been involved in "concerted activity" for the last year and a half, in which they communicated with their contractor and Amazon regarding their issues about heat — they frequently deliver packages in near 100-degree weather — and vehicle safety.
Teamsters previously unionized Amazon delivery drivers in Michigan in 2017, but they never achieved a union contract. The union alleged that their subcontracting company and Amazon illegally fired workers in retaliation for unionizing, but Amazon was able to escape blame by saying it wasn't their employer, and the subcontracting company closed up shop in the state shortly after. "Workers are much more active today in their pursuit to exercise their rights," Korgan said. – VOX
Teamsters Amazon Division
The Teamsters Union Amazon Division, a new arm of North America's strongest union dedicated to uniting Amazon employees, securing more workplace protections in the warehouse and logistics industry, and defending workers from the unchecked exploitation of one of the world's most dangerous employers. The Teamsters Union is home to 1.2 million workers, including 340,000 UPS employees, most of whom perform the same roles as Amazon workers. The wages, benefits, and retirement security of UPS Teamsters are protected by the union's national master agreement, the single largest union contract in the world.
Teamsters General President Sean M. O'Brien announced Randy Korgan as director of the new Amazon Division. Korgan brings three decades of industry expertise and organizing leadership to the national program, which immediately establishes a sophisticated Teamster infrastructure of union officers, seasoned organizers, and volunteer coordinators across the U.S. and Canada. Learn more.
TakeAway: Organize and vote to end billionaires rigging the system to get richer by exploiting their workers.
Deepak
DemLabs
DISCLAIMER: ALTHOUGH THE DATA FOUND IN THIS BLOG AND INFOGRAPHIC HAS BEEN PRODUCED AND PROCESSED FROM SOURCES BELIEVED TO BE RELIABLE, NO WARRANTY EXPRESSED OR IMPLIED CAN BE MADE REGARDING THE ACCURACY, COMPLETENESS, LEGALITY OR RELIABILITY OF ANY SUCH INFORMATION. THIS DISCLAIMER APPLIES TO ANY USES OF THE INFORMATION WHETHER ISOLATED OR AGGREGATE USES THEREOF.
Read in browser »
Reposted from Democracy Labs with permission.
---
DemCast is an advocacy-based 501(c)4 nonprofit. We have made the decision to build a media site free of outside influence. There are no ads. We do not get paid for clicks. If you appreciate our content, please consider a small monthly donation.
---