Judicial activist directed fees to Clarence Thomas's wife, urged 'no mention of Ginni' – Washington Post
"Conservative judicial activist Leonard Leo arranged forthe wife of Supreme Court Justice Clarence Thomas to be paid tens of thousands of dollars for consulting work just over a decade ago, specifying that her name be left off billing paperwork…
In December 2012, the Judicial Education Project submitted an amicus brief in Shelby County v. Holder, a case challenging a landmark civil rights law aimed at protecting minority voters. The court struck down a formula in the Voting Rights Act that determined which states had to obtain federal clearance before changing their voting rules and procedures. Clarence Thomas was part of the 5-to-4 majority." – Washington Post
New reports about the Supreme Court's ethics emerge every day. It's hard to keep track of all the players, relationships and money. Use this Relationship Map updated today (May 5, 2023) as a guide.
Follow the money in Supreme Court Corruption map
How does Supreme Court corruption affect your life?
Why do we need an ethical Supreme Court that people have confidence in? And believe that their decisions are not swayed by money and favors from billionaires? Supreme Court decisions have a huge effect on every American's life.
Will you be able to vote? How likely are you to be killed by gun violence? Will you have the freedom to choose when and with whom to have a family? Will your Social Security be cut? Will students get student debt relief? Will billionaires get more tax cuts?
Given the oversize influence these justices have, it's no surprise that billionaires spend millions to right the system in their favor and deny other Americans their freedoms. That's why it is so important to understand the corrupting influence of money on the Supreme Court, conflicts of interest and ethical lapses.
Payment to Ginni Thomas
"Conservative judicial activist Leonard Leo arranged for the wife of Supreme Court Justice Clarence Thomas to be paid tens of thousands of dollars for consulting work just over a decade ago, specifying that her name be left off billing paperwork, according to documents reviewed by The Washington Post.
In January 2012, Leo instructed the GOP pollster Kellyanne Conway to bill a nonprofit group he advises and use that money to pay Virginia "Ginni" Thomas, the documents show. The same year, the nonprofit, the Judicial Education Project, filed a brief to the Supreme Court in a landmark voting rights case. Leo, a key figure in a network of nonprofits that has worked to support the nominations of conservative judges, told Conway that he wanted her to "give" Ginni Thomas "another $25K," the documents show. He emphasized that the paperwork should have "No mention of Ginni, of course."
Conway's firm, the Polling Company, sent the Judicial Education Project a $25,000 bill that day. Per Leo's instructions, it listed the purpose as "Supplement for Constitution Polling and Opinion Consulting," the documents show. In all, according to the documents, the Polling Company paid Thomas's firm, Liberty Consulting, $80,000 between June 2011 and June 2012, and it expected to pay $20,000 more before the end of 2012…" – Washington Post
Supreme Court allows voter suppression
"The terrible truth is that these new voter suppression laws are working. Despite the positive political outcome, turnout among minority and young voters in 2022 was down from previous years," Marc Elias writes in his latest. "The myth that citizens can out-organize voter suppression is not just wrong, it is dangerous. It minimizes the real world effects of repeated, targeted suppression laws."
Republican lawmakers in North Carolinsa asked for a redo after the court flipped red. They did not like the pro-voter outcomes with the previously Democratic-led court, so they requested and were granted rehearing.
Harper v. Hall: The North Carolina Supreme Court greenlit partisan gerrymandering. In a decision authored by Chief Justice Paul Newby, the court ruled that the North Carolina Supreme Court got it wrong last year when it found that partisan gerrymandering violates the state constitution. "[C]reating partisan redistricting standards is rife with policy decisions. Policy decisions belong to the legislative branch, not the judiciary," Newby wrote, citing Rucho v. Common Cause(2019)as "insightful and persuasive."
As a result of the ruling, the state Legislature will have full authority to redraw all of the state's electoral maps this summer. The Republican-controlled North Carolina Legislature has shown a repeated desire to draw extreme partisan gerrymanders and the state Supreme Court just gave it the green light to do so without any constraints. – Democracy Docket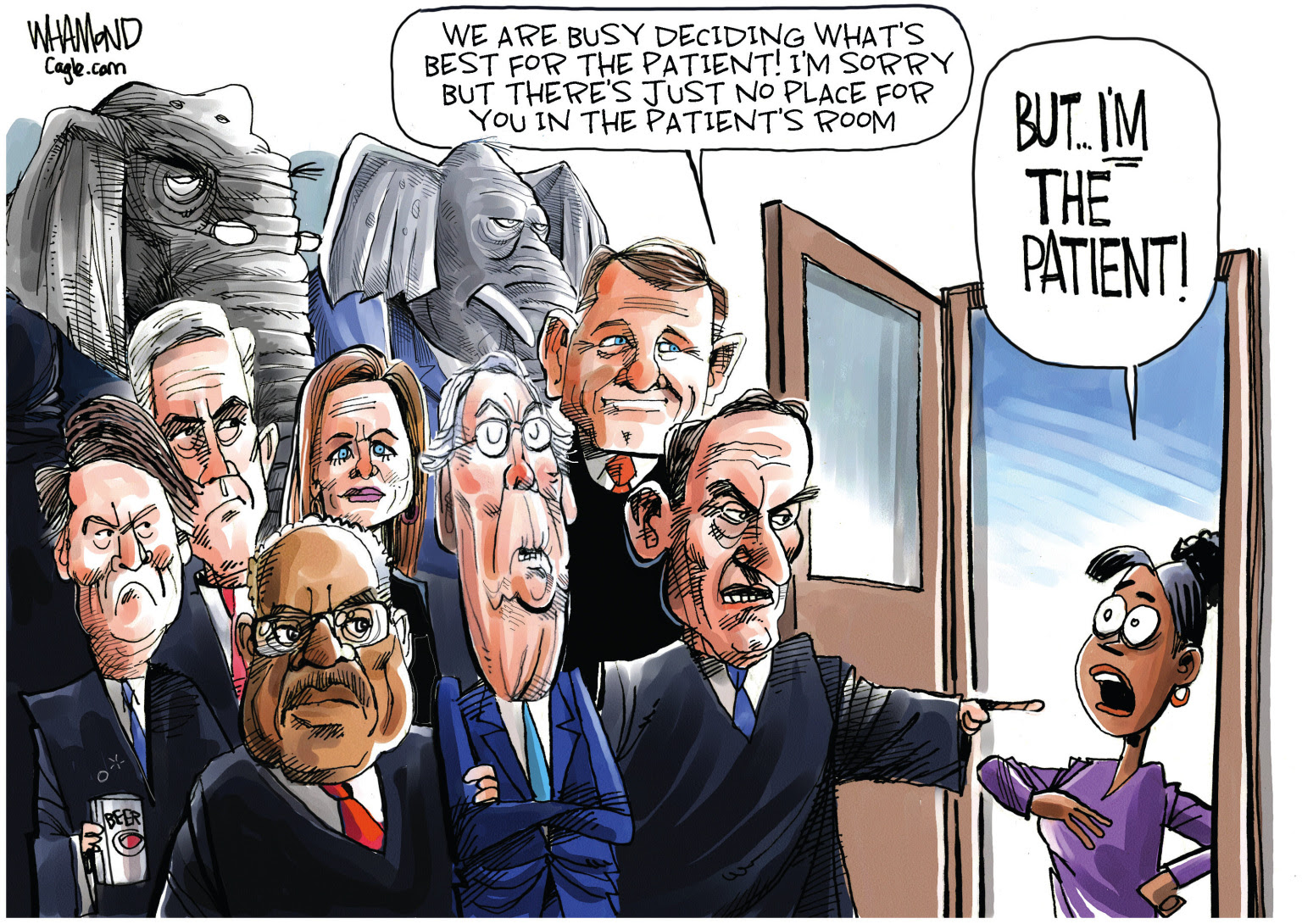 TakeAway: The Supreme Court needs a Code of Ethics otherwise billionaires will rig the system for themselves and get the court to strip other Americans of their freedoms.
Deepak
DemLabs
DISCLAIMER: ALTHOUGH THE DATA FOUND IN THIS BLOG AND INFOGRAPHIC HAS BEEN PRODUCED AND PROCESSED FROM SOURCES BELIEVED TO BE RELIABLE, NO WARRANTY EXPRESSED OR IMPLIED CAN BE MADE REGARDING THE ACCURACY, COMPLETENESS, LEGALITY OR RELIABILITY OF ANY SUCH INFORMATION. THIS DISCLAIMER APPLIES TO ANY USES OF THE INFORMATION WHETHER ISOLATED OR AGGREGATE USES THEREOF.
Read in browser »
Reposted from Democracy Labs with permission.
---
DemCast is an advocacy-based 501(c)4 nonprofit. We have made the decision to build a media site free of outside influence. There are no ads. We do not get paid for clicks. If you appreciate our content, please consider a small monthly donation.
---