DeSantis threatens retaliation over Disney's attempt to thwart state takeover – CNN
After being humiliated by its outgoing board, the Florida governor has hit upon another idea to punish the company. Ron DeSantis has unveiled the latest act of retaliation against Disney for speaking out against his "don't say gay" law: he's threatening to build a new state prison next to the company's central Florida theme parks. – The Guardian
Bullying companies to push your political agenda and reward your cronies is common with communist dictators. Take a look at these examples from Latin America to recognize that DeSantis' stunt with Disney is straight out of the COMMUNIST DICTATOR'S PLAYBOOK.
Republicans communist dictator playbook
More than 36.5 million tourists. Disney is responsible for more than 1/5th of all tourism in the state.
Disney accounted for more than one-fifth of the state's gross domestic product.
Employs more than 70,000 people in Florida, and those jobs are important for the local economy.
Disney World brings in an estimated $5.5 billion in revenue each year.
Disney World pays millions of dollars in taxes each year, which helps fund important programs in Florida.
Disney chief Bob Iger calls Gov. DeSantis' actions 'anti-business and anti-Florida'. "A company has a right to freedom of speech just like individuals do," Iger said. "It seems like he's decided to retaliate against us." Iger took issue with the formation of the new board to oversee Disney's properties, saying it appeared designed "to seek to punish a company for its exercise of a constitutional right." – LA Times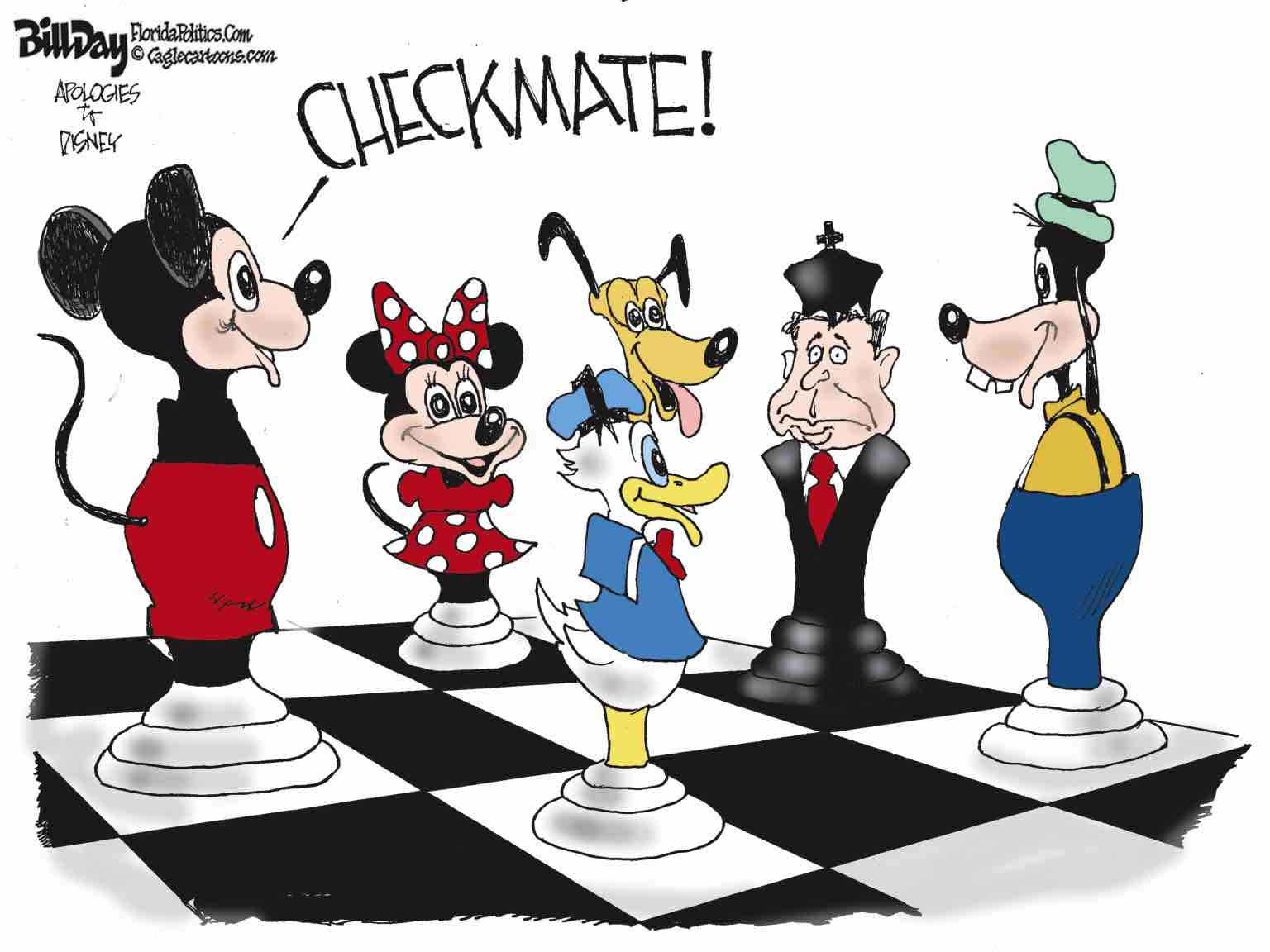 Republicans scare voters with 'socialism' tag to hide their corporate extortion
Weaponizing "socialism" is a familiar trope from conservative politicians, but one with an incredibly poor record. President Harry Truman explained that "socialism" had long stood as the reflexive response of Republicans to the New Deal. It was, he charged on the campaign trail, simply "a scare word they have hurled at every advance the people have made in the last 20 years." To prove his point, he rattled off an array of New Deal policies — Social Security, FDIC, price supports for farmers, public power and labor rights — that conservatives had denounced as "creeping socialism." "Socialism," the president argued, "is their name for almost anything that helps all the people." – MSNBC
Nationalization comes from dictatorships and corruption
Nationalization threat remains real for businesses operating in many countries across South America. It paints an unsteady picture of governments grabbing resources to cover their own poor economic decisions, and in doing so, destroy even more value within the country.
– This selective presentation of facts for the image of current corrupt politicians only provides more incentive to take advantage of the people.
– Dictators making decrees and super-taxes destroy companies
– The excuse of nationalization were framed to stop American Imperialism, but in truth it was a money grab
– Periods of privatization provide politicians ample chances to line their pockets
And this is why South American economies have the reputation of being a pendulum that alternates between dictatorships masked as socialism and massive phases of privatization, which fundamentally comes down to shortfalls in correct planning and honesty. – ResearchGate
Recognize the Communist Dictator's Playbook
– Voters may seek extreme options by choosing political parties which promise to single-handedly save the country from its economic or political woes, usually through authoritarian means.
– The often unforeseen cost of electing these parties, however, is that they tend to destroy democratic principles once they enter power.
– Democracies fall into dictatorships when "elites" (people in important positions in society such as political leadership, business, finance, religion, or the military) feel that the democratic system no longer "works" for them
– The system is at odds with their financial or political interests. As a result, they may seek non-democratic alternatives that will protect their wealth, status, or political influence from being taken away by rival elites, or even average voters.
– When voters think that there's a wall between them and how politics gets done in the national capital, they tune themselves out to political happenings. This presents an opportunity for authoritarian-minded political leaders to start curtailing political rights for minority groups.
– This can then start a backslide into dictatorship when the democratic voice becomes permanently suppressed, eliminating any kind of recourse against undemocratic policies such as voter suppression or encroachments onto free speech. – RDI
TakeAway: Stop politicians using political vendettas from destroying jobs. Learn the signs of Republicans using the Communist Dictator's Playbook.
Deepak
DemLabs
DISCLAIMER: ALTHOUGH THE DATA FOUND IN THIS BLOG AND INFOGRAPHIC HAS BEEN PRODUCED AND PROCESSED FROM SOURCES BELIEVED TO BE RELIABLE, NO WARRANTY EXPRESSED OR IMPLIED CAN BE MADE REGARDING THE ACCURACY, COMPLETENESS, LEGALITY OR RELIABILITY OF ANY SUCH INFORMATION. THIS DISCLAIMER APPLIES TO ANY USES OF THE INFORMATION WHETHER ISOLATED OR AGGREGATE USES THEREOF.
Read in browser »
Reposted from Democracy Labs with permission.
---
DemCast is an advocacy-based 501(c)4 nonprofit. We have made the decision to build a media site free of outside influence. There are no ads. We do not get paid for clicks. If you appreciate our content, please consider a small monthly donation.
---