April Elections: WE DID IT!
In Chicago and up in Wisconsin, April 4 was a great day for democracy.
---
Mayor-Elect Brandon Johnson
Congratulations to Brandon Johnson, and thanks to all who helped him win!
Brandon Johnson gives his victory speech on Election Night. Watch the recording.
As of May 15, we'll have a new mayor: Mayor Brandon Johnson, who will prioritize the health and well-being of all people so all communities can thrive.
Celebrating with Brandon Johnson on Election Night (Photos: Teri Watkins)
Let's pledge to work together with our new mayor while holding him accountable, as we do with all elected officials – what democracy is about.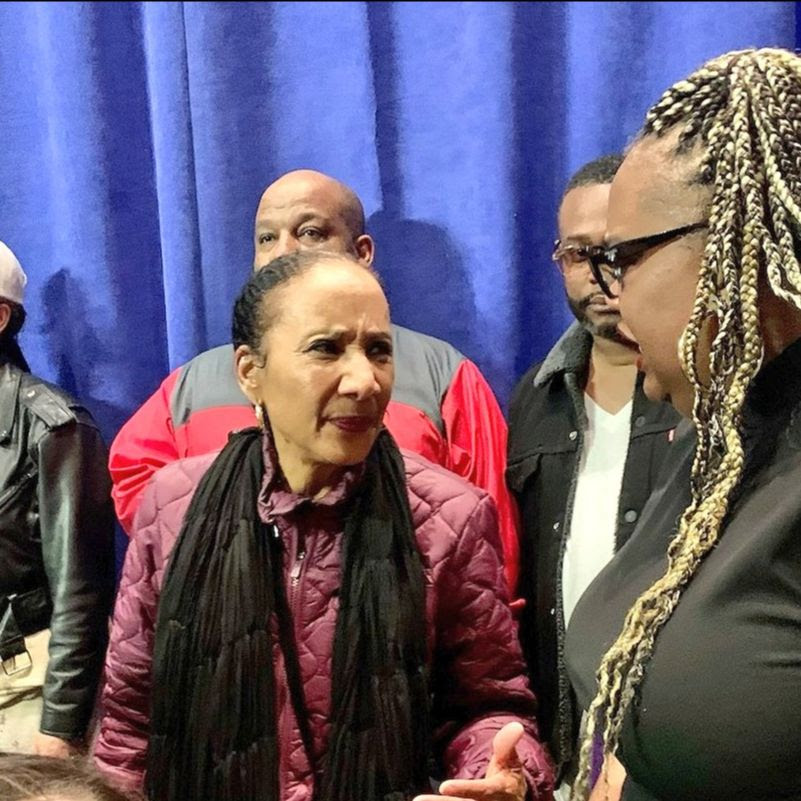 How many organizers & elected leaders do you see at Brandon's party? (Photos: Teri Watkins)
Wisconsin Justice-Elect Janet Protasiewicz
We're also celebrating the election of Janet Protasiewicz, flipping the Wisconsin Supreme Court. Once Justice Protasiewicz is seated, the liberals will hold a majority — with powerful implications for Wisconsin and, more widely, for U.S. democracy.
"State Supreme Courts wield immense power when it comes to upholding or blocking laws and rules that determine who can vote, how they can vote and if their vote is counted," wrote Democracy Docket before the election. "As the country turns to another presidential election in 2024, the justice who fills the open seat on the Wisconsin Supreme Court matters a great deal."

See also this story on Protasiewicz in The Nation.
---
Thanks to Voters, Volunteers, Organizers
Tuesday's results are proof of why we do what we do — because IT MATTERS. When we vote, donate, canvass, text, phone bank, write to voters or use our own voices to encourage friends and associates to vote, we are making a difference. Thank you to volunteers for both Janet Protasiewicz and Brandon Johnson!
We're grateful to citywide Indivisible Chicago Alliance (ICA), which assisted United Working Families and WisDems in organizing events and providing training and support to phonebank and canvassing volunteers.
Congrats to Newly Elected Alders
Congratulations to South Side candidates who won City Council races to replace current alders who are stepping down. Newly elected alders include (L to R below) Lamont Robinson (4th), Desmon Yancy (5th), William Hall (6th), and Ronnie Mosley (21st).
Our Letter Writers Got Out the WI VoteBig, big shout-out to the IC-SS letter-writing crew, who joined our letter leader Steve Kagan to write over 1000 Vote Forward letters to key Wisconsin voters needing extra encouragement to get out and vote in an off-year election.
April 12: Political Happy Hour at the Hideout
From the Blue Beginning chapter of Indivisible Chicago Alliance: This week, join us for Blue Wednesday to hear from two of our favorite progressive alderpersons, Jeanette Taylor (20th) and Matt Martin (47th Ward), to gossip with us about Working with the New Boss*: What do they have to say about the person we just elected? How will City Council deal with him? What will city government and the Progressive Caucus look like going forward?
This event is Blue Beginning's political happy hour for April —a chance to gather and mix it up with comrades and political insiders. Doors at 5:00, program at 6:00. Free for all, but please get a ticket.
---
*The event was planned BEFORE the April 4 election when no one knew who our next mayor would be! Now we know the "new boss" will be Mayor Brandon Johnson, who promises to work with the people.
Organizations and Opportunities
Indivisible Chicago-South Side shares information and actions from other organizations on issues important in our country, state, city, and communities.
---
City Council 101: Free Event, Tuesday, April 18
From the Better Government Association (BGA): Chicago's new City Council will take office on May 15th. But how does it all really work, inside the council chambers? Join the Better Government Association's policy team for an in-depth seminar on the history, rules, and workings of City Council.
Free and open to the public, this seminar will be especially beneficial to new lawmakers and their staff, as well as individuals and organizations active in seeking policy and legislative changes.
WHEN: Tuesday, April 18th, 9am-12pm CDT
WHERE: Harold Washington Library, 400 S. State St., Multipurpose Rooms A & B, Lower Floor
REGISTER: Info/Sign-up

Panels and Speakers:
Where We've Been and Where We're Going: The History and Future of Chicago's City Council with Joe Ferguson, Dick Simpson, Michele Smith
Making the Sausage: The Rules and Workings of City Council with Anna Valencia, Ald. Jason Ervin, Ald. Carlos Ramirez-Rosa, Ald. Matt Martin
Newsletter Notes
SUBSCRIBE: Did someone forward this newsletter to you? If you'd like to subscribe and get our newsletter every Monday morning, click here to subscribe.

SUGGEST: Got an event or resource to suggest for the newsletter? Email us here.
Indivisible Chicago-South Side
---
DemCast is an advocacy-based 501(c)4 nonprofit. We have made the decision to build a media site free of outside influence. There are no ads. We do not get paid for clicks. If you appreciate our content, please consider a small monthly donation.
---